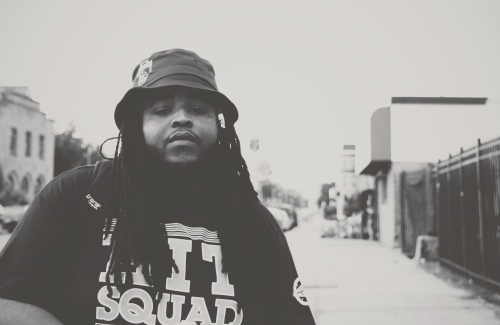 (Photo Credit: Trilogybeats)
Of the new faces emerging from the Detroit hip-hop scene, Nolan The Ninja is arising quickly as one of the city's next notable names. Drawing from the raw and edgy sounds of 1990s hip-hop, Nolan's youthful exuberance shows greatly both as an emcee and a producer. Nolan The Ninja was recently featured on DJ Soko's Domino Effect album with the track he wrote and produced "Concoction".
Nolan The Ninja is set to release his forthcoming Fuck The Hype EP on DJ Soko's Left Of Center imprint on November 10th and we have a little taste of the new release right here with the track ".clockers" along with a short interview about the song and project.
What's the story behind the track "clockers."? What's it about? Who produced it?
The idea for "clockers." originates from the Spike Lee film of the same name, which is one of my favorite movies of all-time. With so much talk about street-life glorification in the mainstream, I wanted to flip the concept(s) and apply it to the rap game. Just like the classic saying by Nas goes, "the rap game is just like the crack game". Every artist is a "clocker" of some sort; hustler. In a rapper's case, we make money off of our words rather than doing dirt; "poetic clocking", as I call it. But then again, the music industry is still just as risky. (laughs) As for the production, it was done by DaG. He's a producer out of Ypsilanti, MI and a good friend of mine. One night, I went to a show that he was DJ'ing at and during an intermission, he played a snippet of the beat. A couple days later, I hit him up and asked for it. Then, presto! The song came to fruition. (laughs)
What sort of sound were you going for on "clockers."?
I wasn't going for a particular sound. I just create what resonates with me and the beat stuck. I usually don't create off of forced intention. Inspiration finds you, not the other way around. At least, that's what I believe.
The EP is titled Fuck The Hype. What's the overall theme behind this project? What are you trying to say?
One thing that I've always expressed in my music is, "do you". Don't worry about what others are doing or what may be of popular demand at the moment. When you create from the heart, you can't lose. I feel that aspiring musicians of my generation are more focused about gaining attention rather than making a powerful impact. My influences are The Roots, A Tribe Called Quest, Wu-Tang Clan, D' Angelo, etc. All of them created groundbreaking foundations that not only carried throughout their era but into my era as well. In otherwords, timeless material. With that said, 'f-ck the hype.' stands for that. It's for my people with ambition to leave a remarkable legacy through their art without having to subject to standardized bullshit.
Nolan The Ninja's forthcoming "Fuck The Hype EP" drops November 10th via DJ Soko's Left Of Center. It will be available via Bandcamp for "Name Your Own Price". For more information, follow Nolan The Ninja on Twitter: @NolanTheNinja.
Calling all HuffPost superfans!
Sign up for membership to become a founding member and help shape HuffPost's next chapter