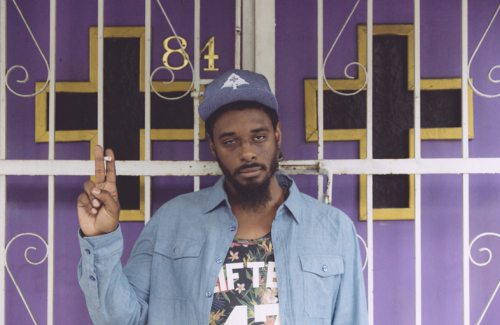 (Photo Credit: Jeremy Deputat)
Quelle Chris has always been an oddball of Detroit hip-hop. From his early days with the group Wasted Youth along with other projects like Awesome In Outer Space or Crown Nation, he defies all aesthetics with music that is a mirror reflection of his own self. With previous album like Shotgun & Sleek Rifle and Ghost At The Finish Line, along with his 2Dirt4TV series, Quelle Chris' eccentricities are transparent roaming around in a spastic nature but its his dark humorous outlook on reality that is the glue that bind its all together.
Recently, Quelle Chris released the third installment 2Dirt4TV titled Innocent Country, a project that wrestles with the ideas of our culture's virtue. Quelle Chris is always working on music, including material for a future solo album tentatively titled Being You Is Great, I Wish I Could Be You More Often, but I was able to get him on the phone for a little bit to talk shop about the new album and working with Jean Grae.
Talk about the new record Innocent Country.
The looseness of it is kind of more in the vain of the first 2Dirt4TV and still carrying on the topical tradition that started with the second one. Chris Keys is on all the beats. He kind of spazzed on them. I always choose the beats that he hates so I think that's always what makes it even better. We never agree until I put raps on them and he's like 'Damn. You were right. That shit is dope.'
What's the theme of this record?
Innocence or the lack there of is mostly what it is. All the shit that is fucked up, but sometimes that's natural too. Just the fact that it's so hard for people to admit they got issues, so we have this country where we all shame everybody on everything publically. That's what the album is about, but there is fucked up shit and that's the way it is. If people can come clean and look at themselves about the faults of themselves and accept the faults of others, then I think we could go a long way.
Do you still make beats on that super low key cheap set up of yours?
Yep. I still have the same computer that I've had for the last eight years or so. That thing's a trooper. I try to keep it minimal in the way that I work. I feel like working with minimal set ups also pushes you. You can look at it two way, you can have a lot of things and you can feel like that gives you a lot of options, but I feel like working with a small amount of things pushes you to have a lot more creativity and it drives a lot more out of you sometimes. I haven't touches a new piece of equipment in lifetimes man.
It's kind of funny that when you are known for dealing with one type of genre of music, and you go ahead and do something else, people still want to only associate you with that main genre you were involved in.
Like me, I do the Awesome In Outer Space. I've done rock. I'm even doing that Racehorses Are Resources joint and that's a little bit of hardcore and a little bit of different types of elements dashed in there. I do so much, but at some point, its hard to get other people to realize all the other things that you do because they're always stuck on what they consider to be your core interest. With me, everyone just knows about my hip-hop. It's like people just refuse to acknowledge it.
It's a struggle sometimes for anybody to go outside the box.
It's something that still challenges to me to this day. I wish I had the answer to it. What I try to do, to whatever extent I can with previous projects and especially with this upcoming one and with Innocent Country, is at least try to focus more on hip-hop, which of course is always going to be my first love, but at least I have the opportunity and freedom to make it as refreshing and unique as I possible can.
Recently, you've been working with Jean Grae.
Yes. She dropped iSweaterGawd. I did all the production on that and a couple bars, then she also dropped Saix. I did three joints on there and wrote a little bit on there. I wrote "Cliché". It was actually a song that I've been trying to find the right place for a long time, so I'm glad it finally found a home there.
How's it been working with her?
Awesome. We have the same sensibilities when it comes to music and what we're looking for, and also what we find wack. It's pretty organic. In the future, iSweaterGawd ended up being a little bit of shorter project, but the intention is, at some point, hit people with a full length.
Quelle Chris' new album "Innocent Country" is available now via Mello Music Group (iTunes | Bandcamp). For more information Quelle Chris, follow him on Twitter: @quellechris.
Calling all HuffPost superfans!
Sign up for membership to become a founding member and help shape HuffPost's next chapter