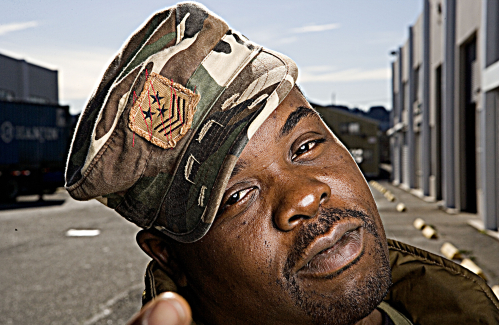 Detroit hip-hop artist Phat Kat steadily has had a career full of quality records, but still never got all the credit he deserved. The acclaim he did get still offers him opportunities to tour all sorts of places around the globe, as one of the emcees that really defined what Detroit hip-hop is all about. Always bucking the trends, Phat Kat has had his stake in all periods of Detroit hip-hop since the mid-1990s, making records that stay chock full of lyricism over hard beats.
Never one to be impatient, Phat Kat took a little break to hone his next chapter, and he's back with a new album Re-Dedication to the Suckers. The project is in two parts - a US version that features seven new songs and a UK version that includes remixes of those seven songs - all produced by a new face in the world of hip-hop, the London-based Agor.
The first single from Re-Dedication is "Revolver" along with "All Madden (Remix)" featuring fellow Detroiters Guilty Simpson and Elzhi. We have a first listen below of "All Madden (Remix)" along with a short interview with Phat Kat about the single and meeting Agor.
How did you meet Agor?
I actually met him when I was on tour in Europe, as usual. I met him through another UK artist named Iron Braydz. He produced a track for me and Iron Braydz. He was young. He started sending me shit. I would listen to it and be like 'Yo, that's dope, but I know you can do something better than that.' I was like his conditioning coach. He would send music and it would be dope, but just knew that he was young, so I knew he was growing. I used to tell him 'You fuckin' only 18 now. A few years from now, you're going to be a fuckin' monster'. Over the years, he's been growing and growing, and now he's turned into a full-grown monster. It's time to unleash him to the world.
What's "Revolver" about?
It's really about what I've been doing since I haven't been putting records out. Just raw lyricism. The lyricism is what I'm focusing on with "Revolver". It's no A-B-C ass shit, its about style and lyrics on that song.
What's "All Madden" about?
That's like a mini-movie, just talking about these garbage ass rappers that's out here. A lot of people just talking a lot, just rapping. I'm doing shit while y'all rapping. That's the whole basis of "All-Madden".
Phat Kat's "Re-Dedication to the Suckers" album is due out October 30th. Digital pre-orders for "Re-Dedication to the Suckers" will be available on October 9th and pre-orders for the vinyl are now available at ronnieeuro.com. The "Revolver/All Madden (remix)" single is available now digitally on iTunes.
Calling all HuffPost superfans!
Sign up for membership to become a founding member and help shape HuffPost's next chapter