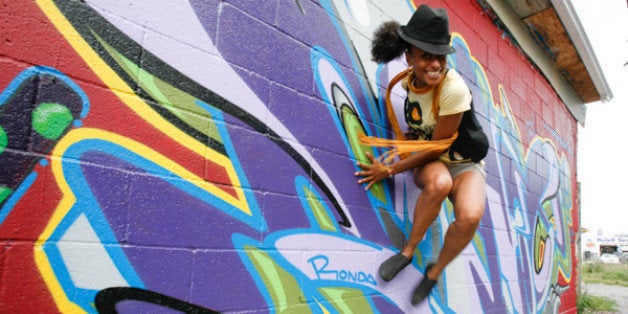 On a hot summer Saturday night, a crowd of hip hop aficionados gathered inside Foot Klan Statepark, an indoor skateboarding facility on Grand River, to hear beats and rhymes by some emerging hip hop artists from the D. The room where the hip hop showcase took place was dimly lit, except for bright, multicolored lighting which pointed towards the stage. Urban graffiti images adorned the walls of the venue and amateur skateboarders performed tricks toward the back of the room.
The crowd gathered around a large wooden stage as Detroit rappers Faded Agenda, Fame the Ripper, and Ams Fresh took turns getting busy on the mic. The Klan became the house of Detroit hip hop that night. This showcase, known as "The Air Up There" has become a gem in the hip hop community. It's been going on since 2009, and is one of the main spots for up and coming hip hop artists to showcase their talent.
Tashif Sheefy McFly Turner, the founder of "The Air Up There" is a hardcore advocate for Detroit music and his showcase is part of the second wave of hip hop hot spots that have embraced the genre and given artists an outlet to be creative.Remember the Days
In the early to mid 1990s, venues such as the Shelter were a staple within the local hip hop scene. Located inside the basement of St. Andrews Hall, the Shelter was one of the main spots where many Detroit hip hop artists got their start. Rappers like Eminem, Royce da 5'9, D12, and Slum Village (with the late J Dilla) performed there before their careers took off.
There was also the Hip Hop Shop, a clothing store on Seven Mile that doubled as an open mic venue. Fashion designer Maurice Malone opened the shop in 1993 and it became one of the main destinations for rap competitions. Its famous rap battles inspired scenes from the film 8 Mile. Unfortunately, the Hip Hop Shop closed its doors in 1997 when Malone relocated to New York to focus on his clothing line.
These venues housed a different generation of artists, many of whom are now in their 30s and 40s. Now, there is a new crop of hip hop artists coming up, and more outlets are being created to nurse this homegrown talent.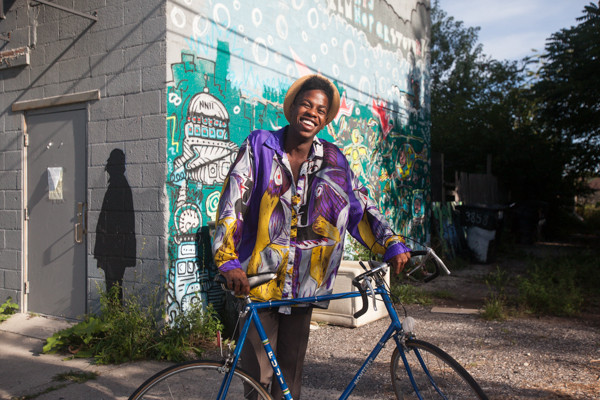 Tashif Sheefy McFly Turner, the founder of "The Air Up There" is a hardcore advocate for Detroit music. Photo by Marvin Shaouni.
"Because of 8 Mile and Eminem, it was like a rite of passage if you played the Shelter. But it's not like that anymore," says Brent Smith (aka 'Blaksmith') a local hip hop artist.
"It's almost like the Shelter (and St. Andrews) is going through a transition period because they see that the newer venues are more environmently friendly for artists," Smith says. "St. Andrews knows they can't just rely on their reputation from years ago."
Smith, 26, is one half of the rap duo Passalacqua and a founding member of the rap group Cold Men Young. When Smith started out, he says venues like the 5E Gallery embraced his music.
This new class of hip hop spots includes showcases like "The Air Up There," and venues the Untitled Bottega, and the 5E Gallery.
"The Air Up There" was originally held at the Detroit clothing store Bob's Classic Kicks. Turner, 24, interned there in high school so the owner let him use the spot to hold a hip hop show. The showcase received a lot of buzz and eventually became a monthly event.
In addition to being a party promoter and artist, Turner is also a hip hop artist. He started this series so he and his music peers could be heard.
Turner says he was surprised at the positive response the show received.
"I wasn't all hip hop oriented when I first started. But, once it got big, I felt like I had a position to play and I had to step up to the plate and make it a staple for the Detroit music scene," says Turner.
The Air Up There was a monthly showcase for two years, and even garnered sponsorships. The showcase went on hiatus for about seven months, but Turner started it back up a few months ago.
Like Turner, artist and Detroit native Flaco Shalom wanted a space to express his artistry. Shalom studied fashion design at Alabama A&M, and the International Academy of Design and Technology in Chicago, but no art galleries in the city would showcase his work. So, in 2011 he started the Untitled Bottega, an uncurated art gallery that welcomes all up and coming artists (not just painters).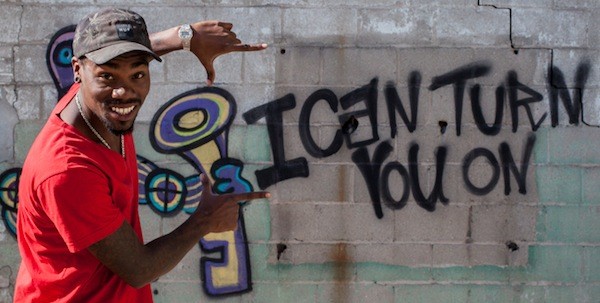 Flaco Shalom started the Untitled Bottega, which will host its grand opening during the Detroit Design Festival. Photo by Marvin Shaouni.
"When no one would accept any of my work, I said it's just four walls with white paint on the inside that puts art up, and I said I can do that myself," Shalom says. "After doing that I said I wanted to do that for other people, and that's pretty much who comes in my doors."
The Bottega hosts many events including fashion shows, fine art shows, poetry sessions, and hip hop showcases. Two well known underground hip hop showcases,"Mixtapes and Pancakes" and "The Carter" are held at the Untitled Bottega.
In addition to being a performance and art venue, the Bottega doubles as a store where artists can sell their music, art and pretty much whatever they want. As a bonus for artists, they get to keep 80 percent of their sales.
The Bottega was originally located on Iron Street in Detroit, but it recently moved to a new location in a 4,000 square feet building on East Baltimore.
The 5E Gallery is another venue that has become a local mecca for all things hip hop. The non-profit visual art and culture gallery was founded in 2008 by DJ Sicari Ware. Ware has worked with stars like Eminem, D12, and J-Dilla, and is also a youth program coordinator for the Detroit Hispanic Development Center. The gallery's mission is to further bridge the connection between art and hip hop culture. The 5E offers educational programs and performance opportunities for DJs, graffiti artists, photographers, bands and poets.
Its most well-known event, "The Foundation," is an open mic session specifically geared toward female hip hop artists and was founded by Detroit hip hop artists Invincible, Miz Korona and 5E Galley co-owner Piper Carter.
Earlier this year, the gallery faced some economical challenges and had to relocate from its building on Michigan Avenue to Cass Corridor Commons.
This summer, with start-up funding from Cognizant through the Kresge Foundation, they started Sonic Maker Space which offers classes in music production, video, photography, electronics, robotics, and painting.
They are currently seeking funding for the purchase of a building and for programming.
Turner says that the 5E is one of the biggest supporters of the hip hop game, and they, along with the Untitled Bottega and "The Air Up There," are continuing to make an impact on young artists. But, regardless of where the music is played, Turner says rappers just want to be able to break out their mics and show off their skills.
"At the end of the day, hip hop is wherever people set the speakers up," he says.
The Untitled Bottega has its grand opening as part of the Detroit Design Festival on Saturday, Sept. 21. More details here.Veronica Grandison is a Detroit-based freelance writer.Photos by Marvin Shaouni
Read more stories about Detroit's past, present and innovative future at Model D.
Support HuffPost
Every Voice Matters
Popular in the Community