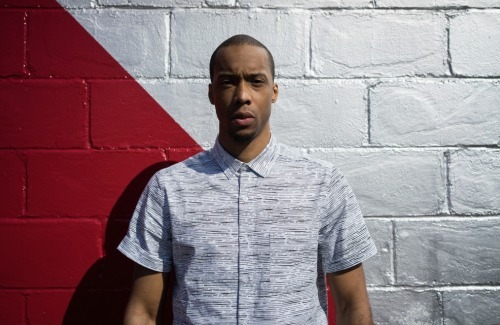 Detroit hip-hop artist Black Milk has definitely come into his own and now solidified himself as a veteran, but that doesn't mean he's taking comfort in his place in music. If anything, it's making him work harder as he searches for ways to push his own creative boundaries, but it's not been an easy journey. While the quality of his projects backed by his hard-working team has made Black Milk one of the more successful and acclaimed independent hip-hop artists and live performers, there's always been a bit of struggle between where his music has pushed him to versus what he envisioned himself doing from the start, but the days are coming where he might be afforded the opportunity to transition into a musical dynamic that's more personally satisfying.

Recently, Black Milk released If There's A Hell Below, his latest project that might be his last album as a rapper for a while as he looks to shift to the production side of things. I chatted with Black Milk on the phone recently about the new album and about the balance he's trying to find between being a rapper and a producer.
About making music that goes beyond just hip hop...
It's hard to make a strategic transition, not necessarily out of the hip hop shit but like I knew I couldn't just drastically be like "I don't do hip hop no more, I do this shit over here". I know I got to make a certain transition so that when I do get to that shit I'm trying to go musically, it'll still make sense because they seen I was giving them a taste little by little. So by the time I get to that point, it won't see so fucking drastic or so out the box. That shit is a process. When people know you as one thing, you can't change it up like that. Most artists don't even know how to do some other shit well, few artists that know how to do multiple different things stylistically and do them all great.
About trying to figure out what's next...
It's not necessarily about going back to what you used to do, it's about really trying to jump on the next thing before it even exist. Trying to figure out where the music game is going and where things are going sonically. It's a progression.
About doing solo instrumental sets...
I've been doing a lot of beat showcases. Straight up instrumental shows. Booked a few dates of just some chitlin circuit ass shit. No major cities where I just played. Put an entertaining set together but it was just me playing beats. Unheard shit. We had the projection going with some visual going while I was playing music. I didn't know how that shit was going go. That shit turned out dope as fuck! I thought people weren't going to show up. Man, they probably going to come expecting me to do a fuckin' rap set. They might be disappointed. That shit was dope as hell! This is what the fuck I really want to do. Some straight up instrumental production type shit. I even notice with that the venues I performed at, some of the people that was in there aren't necessarily hip hop fans but they don't mind really fitting in a setting where there just may be some instrumental shit going on. They will fuck with that. They don't mind that but they might not necessarily go to a hip hop rap show ever. This is a whole other thing situation.
About the beat scenes worldwide and how that affects him as a rapper versus a producer...
The whole beat scene is so crazy. It's still a niche thing, still kind of underground. I don't think it's really reach a mass appeal or commercial level yet. For the most part, there's cats out here making crazy money just to go and sit behind their laptop and play fuckin beats for 45 minutes to an hour. I come from where getting a beat CD is like... I get the same joy out of it just as much as if I was listening to a rap album. I come from like beat tape/beat CD era. To see it in actual genre now, this whole beat generation thing, the whole LA beat scene, and it's kind of crazy how that shit just came. That was where my mind was set from the beginning but because I know how to rap people kind of put me in a position with some of my peers around me saying "you should rap" or "keep rapping". It took away from me focusing on not just production, but more so for producing for other muthafuckas. By the time I put out a couple records, it was like damn I got play the rap role now. I got to be out here acting like a rapper. I like to rap. I like to make songs but damn I really got to play the role now. Live the whole fuckin' rap life. My time was consumed by just focusing on Black Milk. The way music is right now is you see so many people with just instrumental projects and instrumental live performances. The scene is just growing bigger by the day. Ok. I'm just going to figure out how to make this transition because this is what I want to do but I don't want to make it like a drastic turn.
About his rap album future...
Even with this album, I kind of see this as being one of my last rap albums for a little while, not my last album, but just for a little while. I just want to really focus on production and producing for other muthafuckas. That's why I banged out two albums back to back last year and this year. I want to get this shit out and I'm just going to focus on beats for the next two years. I need to figure out the live show. I still do enjoy that shit a lot, playing with Ab and all them guys. If I decide to take a break from the rap shit, I got to figure out how I'm going to stay on the road with them, because I do like that part.
About the making of his new album If There's A Hell Below...
When I go into these albums, I kind of have an idea where I want to go sonically and musically but once you start actually making the beats and dumping the tracks and trying to sequence the album together as you go, you kind of just go with the flow and the music just kind of tells you what to do. It reaches a point where you aren't in control anymore. You're just trying to make sure it all makes sense at the end. Leaving spaces, letting beats ride out, and putting interludes at certain parts of the album, it's kind of just trying to keep a flow or certain energy throughout the music. It's never like really strategically planned. You start with like two or three and you just build around, you build off of that. At least that's how I work. This album is a continuation of the last album No Poison [No Paradise]. It has a lot of that same vibe; it's just not as conceptual. With No Poison, I created a character, and it was talking from third person walking you through the life of this character and upbringing. This new one is more so first person where I'm still talking about the some of the same things, living in a place like Detroit, just stuff I see and people around me, but I feel like this one isn't as dark as the last album. It just a different edge, but it still has a lot of the same similarities as the last album.
About having Pete Rock & Bun B featured on the new album...
Me and Pete been going back and forth for a while, just building a relationship and talking off and on, and sending beats back and forth to each other. We've been going back and forth for probably three years now. I was about to finish the album, thinking it would be dope if I had Pete Rock on the album. I was doing one of the last recordings of the album. I'm going to see if he'd be down to do a verse and yeah he was down with it, came through, knocked it out. I finally worked with all three of my favorite hip hop producers - Pete Rock, Dilla, and Premier. I finally have a piece of recording with all of those dudes. That shit was it for me personally. I was a super fan. He's one of the main guys that made me want to get into this production thing. I got connected through Bun B through Hex. Bun B was suppose to do some work when we was working on Random Axe a few years ago, but we never got a chance to finish it. So when this time came, it would be crazy to have Bun B on the album because people wouldn't expect that for one, he's a legend, for two, people wouldn't expect it. The song worked though. I thought the song came out dope. Even with this album, I tried to do something a little different production wise and my delivery. I wanted to do something where the tempos of the beats were a little slower on a few tracks, trying to expand the flow a little bit, double time flows here and there. Certain things that I haven't done a lot on previous albums, so I was trying pick little elements of what the current thing is today but like make it my own.
Black Milk's new album "If There's A Hell Below" is available now. For more information, please visit blackmilk.biz.
(Photo Credit: Rick Williams)
REAL LIFE. REAL NEWS. REAL VOICES.
Help us tell more of the stories that matter from voices that too often remain unheard.