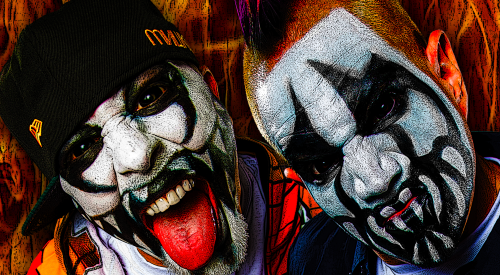 When you follow a rap group like Twiztid for so long, you realize that for some artists, it isn't about if you like their new song, or how many albums they will sell the first week, or if this song will get radio play; it's more about how lucky they are to have created something that is lasting and really means something to so many people out there. Let's take a journey into the Twiztid universe.
Part I: The Darkness
"It's not creative freedom, we've always had the freedom," explains Paul Methric, better known as Monoxide Child, one half of the Detroit horror rap group Twiztid. "What it is, is that we've learned how to write songs now. We've learned how to compose an album from start to finish and make that motherfucker as entertaining from point A to Z. All the way through." There's something still fresh and exciting about the music they are doing today, even after 17+ years in existence as Twiztid. Shunned by much of the music industry for years because of their ties to one of the most hated groups in music, Insane Clown Posse, the industry is starting to get over themselves and finally treat Monoxide Child and his partner in crime Jamie Madrox, born Jamie Spaniolo, as a real musical entity.
It's showing in their music, especially in their 2012 release Abominationz and more so in their recently released album titled The Darkness, where the dastardly duo is coming to their own realizations that this thing they are doing really is bigger then they are and they are forever in a learning process to keep elevating this powerful universe to new heights. "For us to see something like that, it took a long time before we actually trusted to where its like, alright this is it," explains Monoxide Child. "There's nothing after this, it's bigger than you, its bigger than me. We've got a responsibility now."
And with that responsibility, the darkness continues to shine brighter each day in the world of Monoxide Child and Jamie Madrox. It's not just the music has has kept us, the fans, especially me, emotionally invested in Twiztid, it's that all those things in our lives that we struggle with, that takes us into those dark places that somehow feel a little less painful in this world that they created. Something happened with the inception of Twiztid with their debut project Mostasteless on ICP's Psychopathic Records in 1997; a new universe was born, a universe that listened.
Madrox and Monoxide love to chop it up with their fans, whether it's before or after shows, or through all the social media avenues. "That fucking Twitter is a phone number to him or me," says Monoxide Child. "You basically have our phone number. Anytime you want to say anything, you just go right there."
And in talking with them, you just get a sense that it's not just a show to sell more records or merchandise; they know they are in a position where these people who have stuck with them for so long sometimes are in need of just someone they can to turn to, even if its for a few minutes. "It's not unlikely for them to come with problems from anything," explains Jamie Madrox. "He are honored, but at the same time it sucks that you have no one in your world that you can go to and express yourself, so you turn to him and me. We take the time to listen because, again, it could be something."
They get hit with all sorts of things from their fans, whether it's someone scared to come out of the closet, someone who lost their father, or even celebratory news like they got their Master's Degree or they just gave birth to their first child. Twiztid really tries to have an open ear for their fans, and there's been people that have expressed that their music has saved their lives. "Most of them already don't have a relationship with their parents, with their teachers, with their friends," describes Monoxide Child. "They don't have the relationship that they are looking for. They are missing something and by some grace, we can give it to them and we'll continue that for them."
While the Twiztid universe has been rolling strong since around 1997, it was the time before that when Methric and Spaniolo, joined by a third person, Bryan Jones (known as The R.O.C.), unknowingly were on the journey as the rap group House Of Krazees that would lead them where they are today, and that is where my story with them started.
Part 2: Home Sweet Home, The Place Where The Lunatics Roam
As a teenager and avid hip hop fan back in the 1990s, I do remember this feeling that most of the rappers I listened to were larger than life creatures and in my mind were as big and so far removed from my world as sports heroes or movie stars. I was in my little box just outside the northeastern border of Detroit, old enough to be aware of the slew of record stores we had like Record Time, Melodies & Memories, and Hot Hits, but not old enough to be able to physically go out and frequent the music scene. All ages shows seemed more prevalent back then, but still, many of these rappers seemed a million miles away from my existence, until the music of a small group of then up and coming artists entered my life.
Before the word "Juggalo" existed in our cultural lexicon, your average teenager might have a Carnival Of Carnage t-shirt on at school or might be playing the Ringmaster tape loud from their car as the Insane Clown Posse became a regional phenomenon. Before selling out stadiums along with millions upon millions of records, Kid Rock was putting on better shows locally then most national touring bands with his Polyfuse Method and Early Mornin' Stoned Pimp albums that infused rap, rock, and funk. And before trailing off into his own universe, Esham redefined what rap imagery was with his "acid rap" along with how street rap would sound in Detroit for the next 20+ years. Behind all these artists was another group that crept their way into the Detroit music scene that was like an amalgamation of the horror raps of ICP, the rock influence of Kid Rock, and the "acid rap" sound of Esham, and they were known as the House Of Krazees.
Back then, before they were Monoxide Child and Jamie Madrox, Methric and Spaniolo were known as Hectic and Mr. Bones in House Of Krazees along with the third member known as The R.O.C., real name Bryan Jones. Through my older brother, the first House Of Krazees tape I ever heard was their Outbreed EP, and I immediately was a fan. The type of fan that signed up for the fan club and loved it when I got flyers, stickers, newsletters, and catalogs in the mail. I would soon collect the rest of their discography, all on cassette tape. This was a time before I was involved in the music scene, but I still frequented the record stores on my side a town, and even though I was unaware if the music scene as whole even had any respect for House Of Krazees, I knew that like ICP, Esham, and Kid Rock, these guys had a strong, young fan base in the Detroit area, whether they even knew it or not, and it was a very special time.
From their perspective though, they were really naive about the potential of the group, and the fact that even if House Of Krazees didn't work out in the end, they really were planting the seeds for future endeavours. "Our first show as House Of Krazees we did 500 kids," says Monoxide Child. "We looked at that and was like we sucked because we were looking at Esham, ICP, and Kid Rock, and they would have 1000-1500 kids at their shows. Then, through time, you figured out these dudes only had like 40 people at their first show or this one only had 60 people at his first show. In retrospect, we were really onto something we had no clue about."
Even though they might not have understood what House Of Krazees could have become, it all still mattered to them personally. They loved music and those three had fun doing it. "We had a blast because we were just together," says Monoxide Child about the House Of Krazees era. "We could have been doing anything. We could been a three man basketball team. It's the fact that us three were together. We were together all the time, wherever we went. If you seen one, there were other two. It was definitely funner because you had a lot less responsibility, it little more care-free. There wasn't the pressure of success."
Even through that care-free attitude and not really knowing where it would take them, they still had that passion for the music back then that hasn't changed to this day. "Only thing we did have was just the want," explains Jamie Madrox. "We had the want to do it. That was it. That's all we really had that was definitely 100% was we just wanted to do it. Hell or high water, we were gonna do it."
After a slew of cassette releases, the era of House Of Krazees would eventually come to an end. Methric was even a couple weeks away from starting a truck driving job and had a baby on the way when Spaniolo had a new idea that would eventually give birth to the Twiztid universe.
Part 3: Welcome To The Freek Show
The House Of Krazees thing just reach it's end. For various reasons, it just wasn't working out anymore and the guys had to start thinking about the future. But one day, Spaniolo just asked Methric to give it one more try because he had an idea that could work. All wasn't lost from the House Of Krazees situation though. The seeds they were unknowingly planting at the time would come back to be of value for them in this last ditch effort.
During that time, they had done a bunch of shows and made friends with the Insane Clown Posse's Joseph Bruce (Violent J) and Joseph Utsler (Shaggy 2 Dope), or Joe and Joey as they would call them. They knew that if they got some new material together, that they were cool enough with ICP that they would at least listen to what they had to offer, and soon enough, that day would come. "I remember that shit like it was yesterday. This is exactly what happened," explains Monoxide Child. "They were on tour, we were in the studio. They came home and called us, and was like 'What are you guys up to? We coming up.' They come up and hung out. We got in his truck, and he [Violent J] is like 'So what have you guys been working on?' We played it while he was riding around. In that riding around, he continued to just drive up to Psychopathic Records, talk to his people, gave us an advance, and signed us like that."
With the Psychopathic Records deal, Twiztid was given a $3000 advance, and they felt like they made it. Then four weeks later, they were asked to hit the road with ICP for six months, so they went.
While Twiztid was now a part of this crazy Juggalo world and this was at the height of ICP's controversy with the Disney and moving over to Island Def Jam, they were not content on riding on the notoriety of ICP; they were thankful of the opportunity and wanted to show Joe and Joey that they could stand out on their own. "We knew when we started that horror music, this is our milieu, this is what we do," says Monoxide Child. "But the pressure was to find a way to do it differently then they do it. That was the tough part was to not come in and be another fuckin' ICP and just ride their dick as far as we could ride their dick. With that respect, the last thing we wanted to do was just come in and ride their laurels. They gave us a shot that we legitimately appreciated so we wanted to show that to them, and to this day we are still showing them that."
Twiztid, in many ways, is so much different than what their previous group was stylistically; they grew as artists. Twiztid is what happens when you favorite comic book or superhero movie feverishly busts out in music form. It had the dark images with underlying universal themes, explosive production, along with well-timed humor throughout. "We try not to tell people a lot of times what our intentions are in songs," explains Jamie Madrox. "What's cool about it is if we don't tell you what it is, when you tell us, we are like 'Oh shit, I didn't notice that'. There's things that people will tell us about our music that we didn't necessarily hear and thats fuckin' great. Sometimes, there are people that will say it and it'll be spot on. As long as it means something, as opposed to nothing, we're happy."
The Twiztid universe is something special. It's not a marketing plan. It's not a brand. It's something that took a life of it's own because Jamie Madrox and Monoxide Child are never content with anything having to do with Twiztid and the hunger still continues. It isn't just about beats and rhymes, they are trying to giving you those "HOLY SHIT!" moments whether it's on record, at their shows, or with their merchandise, while not crossing the line into being cliché shock rappers. This was a group that two years ago was without a record label home and not exactly sure what to do next, but their blind faith in Twiztid and their fans took them into this next chapter of their lives with their new album The Darkness released on their very own record imprint Majik Ninja Entertainment. Just remember, the darkness doesn't always have to be scary.
Twiztid will be throwing their 3rd annual 420 Show at the Crofoot Ballroom in Pontiac, Michigan on April 20th. For more information and to purchase tickets, visit twiztid-shop.com. Twiztid's new album "The Darkness" is available now via Majik Ninja Entertainment. For more information on Twiztid, visit twiztid.com.
Calling all HuffPost superfans!
Sign up for membership to become a founding member and help shape HuffPost's next chapter