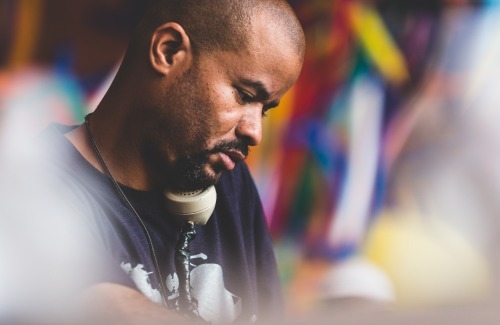 Detroit house music DJ/producer Terrence Parker has been solidified as a legend inside the electronic music world. Guided by his personal faiths, Parker has always been unique within the bounds of house music, infusing a turntablist style of cutting and blending hardly seen in the genre. Having a third eye for the impossible, Parker can find the conduit between various forms of music that wouldn't work together on the surface, and bring an incendiary new life to it. Following his relationship with God, his music has always been a revival of sorts digging deep in into the gospels of soul music and unleashing that passion on the dance floor. Terrence Parker has a new album out, Life On The Back 9, released on techno legend Carl Craig's Planet E Communications, that touches on the origins of Parker's soul music pedigree modernized with the flare of today's vibe. Terrence Parker answered some questions for me about the new album and how his faith inspires him.
The new album is released on Planet E. How did that all come about?
I was in the early stages of preparing my album when Derrick May suggested I talk to Carl [Craig] about releasing it on Planet E. Soon after talking with Derrick, I was able to arrange a meeting with Carl. The rest (as they say) is history.
There's always a certain level of quality with the music released on Planet E. Did Carl Craig or anyone else contribute to the making of the new album?
While Carl [Craig], M[onty] Luke, Marc Romboy, and Louie Vega all have contributed remixes for singles from the album project, the production of the album itself is 100% GOD working through me, and featuring the vocal and lyrical talents of Kelly Gunn, Merachka, Coco Street, and Reno Ka.
Your new album is a mix of the soulful gospel house music you are known for along with a deep techno sound. What was your approach in producing this record?
I wanted to make an album that showcased my deep Detroit techno roots (going back to my first release with the group Separate Minds alongside Trackmaster Lou & Marc "MK" Kinchen), as well as roots in gospel and soul music. I also wanted this album to show how I have grown and matured since my Tragedies of a Plastic Soul Junkie and Detroit After Dark albums. I also wanted to celebrate the vibe of the 80s and 90s with a bit of a contemporary edge. People like to put music in a box and label it for convenience. I don't want to label my music. I simply make music, and I wanted this album to reflect this idea (so much as people may not be quite sure how to label this music).
How do you feel you have been able to stay in your niche in house music after all these days (your longevity)?
It is all by the grace of GOD. I have no special plan or secret formula to how my name has stayed relevant throughout these years. It has truly been a faith walk. Only GOD could have sustained me as HE has.
Whether it's your music or the persona that you show to the public, you always show your faiths/believes in such a positive manner while never being preachy. Talk about how important that is to you.
Life is hard... period. People often go to a club to dance, or drink, or take drugs as a way to escape the daily trials and tribulations of their life. While it is my job as a DJ to take them on a musical journey to help them escape for a few hours, I also feel compelled to share how I make it each day or leave something they can take with them to help with everyday life. Eventually the effect from the drugs and alcohol fade away. Even at some point the music stops playing. At that moment each one of us is left to ourselves to deal with the issues and struggles life has brought our way. People need to know that GOD loves them, GOD is aware of their problems, and GOD cares. HE wants to have a relationship with each one of us. Some people think they cannot connect to GOD because of the old King James language of thus, thou, and thine. I just talk to GOD the same way I talk to everyone else, and GOD speaks to my heart in the same way. GOD loves us so much HE meets us where we are, so with GOD's help I talk to people about GOD and my faith from a place of love and not a place of condemnation.
As someone with an exceptional turntablist skill in a genre where it's rare to see that, do you feel that is something you are still fully appreciated for?
Some people love it. Others hate it. That's fine. Not everyone gets what I am trying to do when I play an acapella by Katy Perry and mix it with Richie Hawtin's "Spastic". I try to take music you have heard 100s of times and present it in a different way.
Where do you find your inspirations in life and in music?
I am first and foremost inspired by GOD in all things. HE helps me to recognize the gifts and beauty in other people (their music, writings, or simply their personality, in HIS creations in nature, and through everyday life situations). Through the stories of others and their sufferings and triumphs.
Family seems to be very vital to you. Speak on the importance of that.
I was married for 20 years and unfortunately divorced just over two years ago. From our marriage came two children, one daughter who is in her 2nd year of college, and one son who is 11 years old. Although my marriage ended, my ex and I are still friends. I praise GOD for this incredible blessing. My ex and I have always put the children first and continue to do so. I know this has helped to maintain a family structure for the kids. When they see that Mom and Dad can get along peacefully it gives them a sense of peace. It hasn't been easy for any of us. But with GOD's help we've been blessed to have a strong connection. While music and DJing are important because it is my career choice, it does not trump the importance of the people in my life. GOD first, family second, and everything else comes after this. Keeping things in its proper perspective.
What's next for Terrence Parker?
Going forward where GOD leads me
Terrence Parker's new album "Life On The Back 9" is out now via Planet E Communications. For more information: terrenceparkermusic.com
Related
Popular in the Community