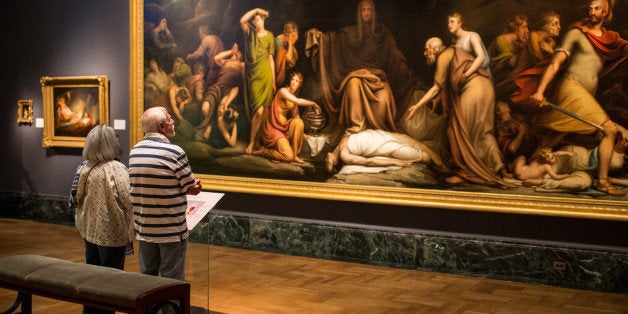 Detroit's unprecedented bankruptcy is bound to have long-lasting implications for residents, creditors and other cities. But after Detroit was found eligible for Chapter 9 bankruptcy protections Tuesday, culture-conscious folks were concerned with one of the other affected parties -- the Detroit Institute of Arts, where the city-owned collection of private art remains in jeopardy.
U.S. Bankruptcy Judge Steven Rhodes ruled Tuesday that the city, which has long-term debts estimated at over $18 billion, was eligible for bankruptcy, but did not rule on whether selling DIA art would be permitted. According to the Detroit Free Press, he did say that one-time cash infusions would not fix the city's finances and, before selling its assets, the city "must take extreme care that the asset is truly unnecessary in carrying out its mission."
After the ruling, the museum issued a statement saying they support state-appointed Emergency Manager Kevyn Orr's "efforts to address the City's current financial crisis."
"The DIA hopes that Judge Rhodes' ruling today, which confirms that the City is eligible to proceed in its Chapter 9 bankruptcy case, will lead to a quicker and more effective resolution of the crisis," they said.
The future of the city-owned museum, where one can find works by international artists from Caravaggio to Chihuly, has been under discussion since before July bankruptcy filing. Creditors insist the collection should be monetized before they take a hit, and others have said art shouldn't be put before city pensioners, who are expected to see cuts to their modest earnings. DIA supporters have argued that it is a cultural resource necessary for the city to rebound and has legal protections.
Their museum's statement went on to reiterate support for the city's revitalization and commitment to raise fund its operation independently from the city.
"Protected by a charitable and public trust, the collection has survived several municipal fiscal crises and financial downturns, including the Great Depression, free from threats to its existence," they said. "The DIA remains hopeful that the Emergency Manager will recognize the City's fiduciary duty to protect the museum art collection for future generations."
Under Chapter 9, Orr and city stakeholders will draw up a plan of adjustment requiring concessions from creditors and possibly including plans for the DIA. On Tuesday, the city manager said an assessment of the DIA's collection would be done in "the next week or two" after he hired New York auction house Christie's to appraise several thousand of the museum's pieces.
A few of the most notable works have had values estimated at $100 million or more; the entire collection is likely worth billions. Selling so many rare pieces would be unprecedented, however, and art world professionals predict it could flood the market.
Orr has repeatedly said that monetizing the DIA collection must be considered, and others have also pushed for it. In a filing last week, a group of creditors including the city's largest union said they should have a role in determining the museum's value and asked Rhodes to compel the city to cooperate with a committee made up of creditors.
The question of what should happen to the Van Goghs and Picassos in a city with broken streetlights, a bare-bones transportation system and a police department struggling to face one of the nation's worst crime rates has been hotly debated locally and in the art world. Notably, New Yorker art critic Peter Schejelahl wrote in July that art should be sold to ease the city's financial distress, saying, "Art will survive. The pensioner will not." After a virtual tongue-lashing, he retracted his "hasty opinion" two days later.
The DIA has said that selling any art other than for improving its collection will ruin its reputation, making it difficult to attract donors, acquire work or host traveling exhibits. The leader of a neighboring county, where residents voted last year to pay a tax to raise millions to support the museum's operating budget, has already said selling work would likely void the agreement.
"The art collection of the Detroit Institute of Arts is held by the city of Detroit in charitable trust for the people of Michigan, and no piece in the collection may thus be sold, conveyed, or transferred to satisfy city debts or obligations," Schuette said.
Those rooting for the DIA to remain intact will likely be pleased by the museum's determination to fight whatever legal or political battles are necessary to preserve the collection.
"If the art is placed in jeopardy, the DIA remains committed to take action to preserve this cultural birthright for future generations," museum officials said in Tuesday's statement.

Before You Go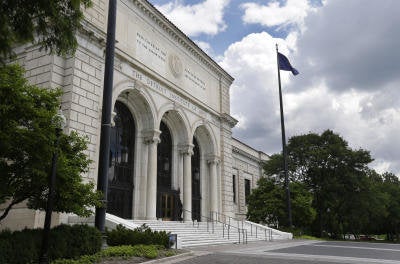 Detroit Could Auction Off Priceless Art
Popular in the Community