It took Jean Wilson just four hours, a dozen helpers, $6, a few Facebook posts and one idea to make a big difference for a group of Detroit kids.
Wilson, a local artist and self-described "tinkerer," is in the process of buying a building in Detroit's Core City neighborhood to use as a studio and a workspace, which she envisions neighborhood kids using. The shop isn't ready yet, but Wilson and a group of volunteers spent Saturday afternoon near the building, fixing up bikes for more than a dozen kids who live nearby.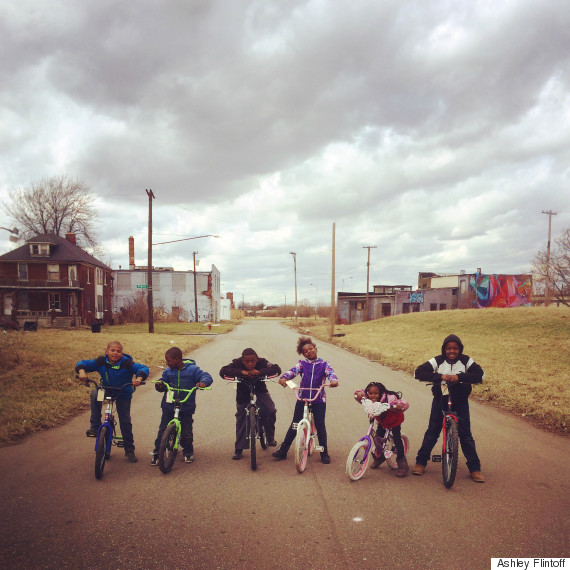 Detroit kids on their new bikes. Courtesy Ashley Flintoff.
It began when Wilson was at the building last month, checking out the property.
"I walked around the block and a bunch of kids came out of the house and asked, 'What are you going to do there?'" she said. "They pointed me to their pile of bikes ... they were twisted and broken and had flat tires and whatnot. I thought, why not, let's help these kids."
Her social media messages led to donations of several bikes, and on Saturday, volunteers replaced chains, fixed brakes and did other simple repairs on the donated and original bikes. Using parts from the different frames -- and buying one new tube and brake cable -- they cobbled together about 15 working bikes, enough for all the kids.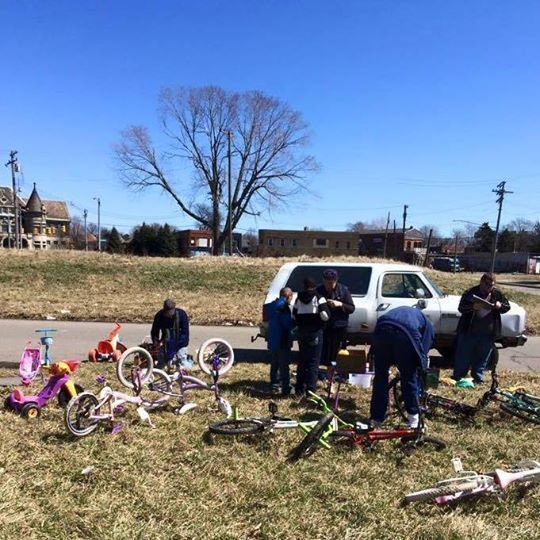 Volunteers fixing up bikes. Courtesy Jean Wilson.
"I don't think they're the kind of kids who are used to getting things handed to them, and there aren't a lot of programs [nearby]," Wilson said. "[The volunteers] would give them the bikes and they would just get up and take off, and they were outside the whole day. ... It's a sense of freedom and mobility to have a bicycle."
The children ranged in age, from 3 years old to teenagers. The volunteers were a mixed group, too -- one of Wilson's neighbors, Brittany Baker, brought several members of the robotics team she coaches at a high school across the city.
The four students had been fleshing out their resumes, and Baker said the bike fix-up seemed like an opportunity for them to use their skill set for a good cause in their community.
"Even though we've never built bikes before, we've built a robot," Baker said.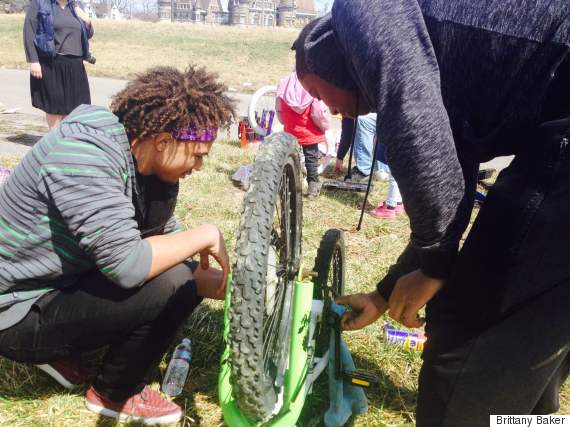 Members of the Southeastern High School JungleBots robotics team at work on bike. Courtesy Brittany Baker.
Baker said the younger kids peppered her students with questions about high school, robotics and bikes.
"These small, informal conversations [are] a way to let kids get to know success is here in the city," Baker said, "and it's really cool for [my students] to see outside of their own neighborhood."
Wilson was most impressed by the kids as young as six who wanted to help out and learn. She hopes to do a similar, but larger, event next spring.
"It wasn't really much more than, 'Gosh, this needs to be done, I think I have the resources to help, and I did.'"
BEFORE YOU GO
PHOTO GALLERY
Americas Best City Bike Paths