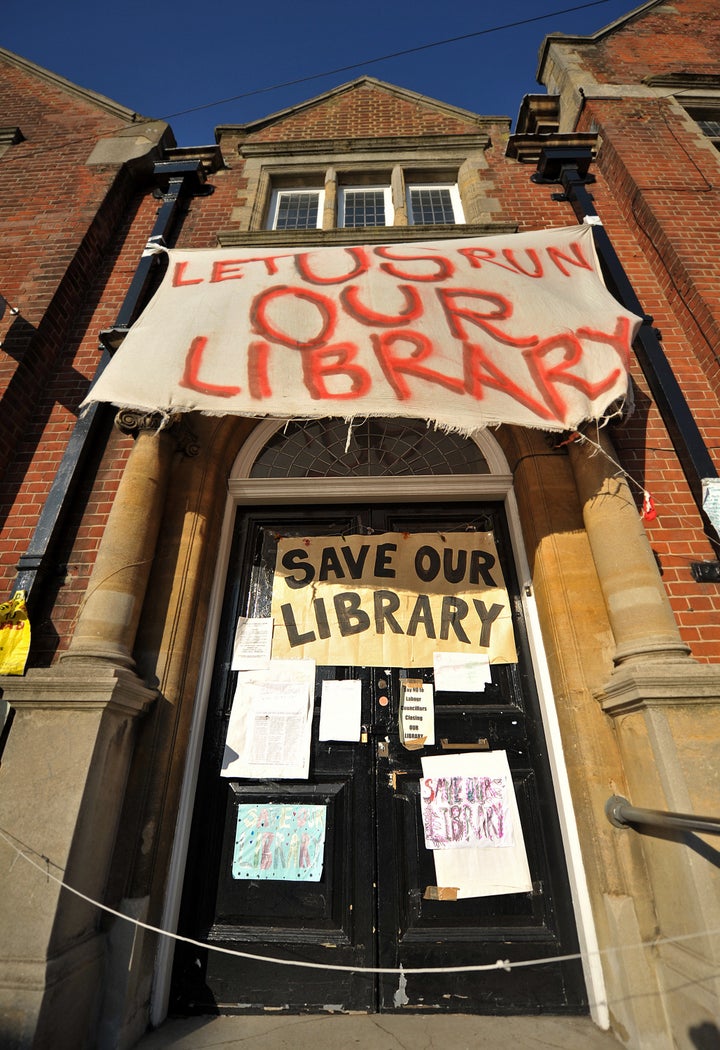 The 11 protesters that were led out of a building and into a police van Thursday night may have been the last patrons of the Detroit Public Library's Lincoln Branch.
The branch closure protests were organized by the Hawthorne Neighborhood Block Club, Hull Street Block Club, BAMN, and Occupy Detroit. Around 50 people turned up to protest outside the Lincoln branch.
Protesters planned a sit-in beginning early in the day and a rally just before the library's normal closing time of 5 p.m. But DPL shut down the entire library system at 4 p.m. without advance notice, according to Laurie Stuart, a librarian at the Frederick Douglass branch and president of UAW 2200, which represents some DPL librarians.
(Stuart said the union, though not supportive of the library closures, also did not endorse the protests.)
By 4:30 p.m., the Lincoln library had closed and the public had been made to leave. But 11 protesters and three security guards remained.
Joyce Schon of the civil rights group By Any Means Necessary (BAMN), was one of the sit-in participants. She told The Huffington Post that protesters were threatened with felony charges. A video uploaded to UStream purportedly captured the group inside the library and an official off-camera telling the protesters they had to leave.
BAMN National Coordinator Donna Stern said one idea was to leave all the equipment and books in the libraries and run the branches with a volunteer staff.
Juliet Machie, deputy director of DPL, said the commission was open to suggestions, but noted using exclusively volunteers would be difficult due to union rules.
"Our library board made a commitment to review all the recommendations," Machie said. "There are things you can use volunteers to accomplish in a library system but there are also certain functions that are at the core of being a trained librarian."
"We got here because of revenue shortfalls and at the end of the day you've got to make hard decisions," Machie said. "Demand for our services is going up, and funding is going down."
Emma Howland-Bolton knows first-hand the demand for library services. She is a fifth-grade teacher at Mason Elementary and a member of Occupy Detroit's facilitation team. The Lincoln branch is less than a mile and a half away from the school and is an invaluable resource for Howland-Bolton's students.
"Our school does not have a working library so that's the library we use," she said. "Kids go there to do there homework ... to access the Internet, use the computers, take out books. It's a quiet, safe, public space where they can get work done."
Her fifth-grade students have a science project due after winter break. Howland-Bolton said most were planning to do their projects at the library.
"It's upsetting because this isn't a library that no one is going to," Howland-Bolton said. "It's a hub of the community."
Her students wrote letters to the library commissioner and made signs for the Thursday night protest. "They have a very developed sense of justice," she said.
Howland-Bolton provided a letter from one of her students to the library commissioner:
Hey,

My name is Benny and please don't shut down our library. It's the best library ever. I go to Mason Elementary and I have to do my science project at home. But I can't, because I don't have a computer. So I have to do my project somewhere else. And that's at the Lincoln branch.

Also I like to read books because my reading teacher said I had to pull my reading level up and I'm at a second grade reading level. And I'm in the fifth grade.

Please don't close the Lincoln branch.

Sincerely,

Benny
Related
Popular in the Community