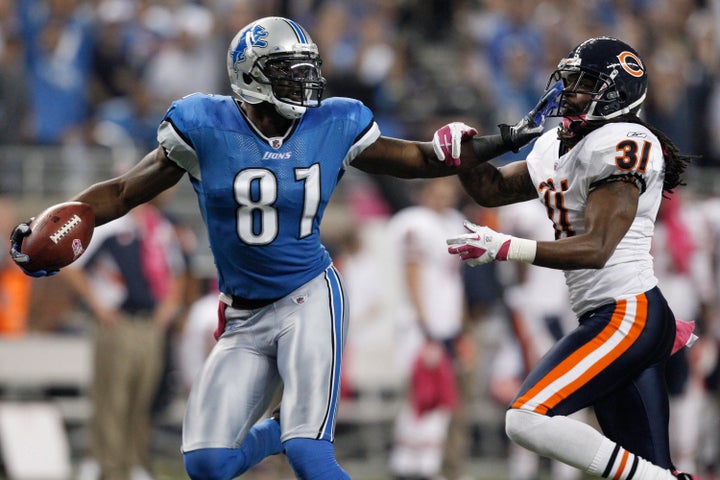 The Detroit Lions are for real, and the sooner we realize it, the better.
Just three years ago, the Lions were about as real as a David Copperfield show in Las Vegas. They were slow to the ball, they didn't tackle, they were uninspired and they continually missed on draft picks. For the first time in franchise history, they went winless. A once proud franchise in an even prouder city, the Lions were wretchedly moribund.
But after the 0-16 debacle in 2008, the Lions started to build.
Detroit selected Matthew Stafford first overall in the 2009 draft. Stafford was a big-armed kid from Georgia who drew praise for his natural talent, but some questions about his ability to consistently win and his tendency to throw interceptions. Then the Lions went out and got Brandon Pettigrew and Louis Delmas. As Monday night's game proved, Pettigrew is becoming one of football's premier tight ends and Delmas is already an elite young safety.
In 2010, the Lions signed veteran DT Kyle Vanden Bosch, a top-notch pass rusher and leader. Detroit also drafted Defensive Rookie of the Year Ndamukong Suh and nabbed Jahvid Best, who displayed high-end speed and his own Barry Sanders imitation in the backfield.
Finally, in 2011, still wanting to add depth to an already huge defensive line, the Lions got Nick Fairley, a run-stuffing beast who loves to attack the quarterback. And let's not forget about Titus Young either. The rookie out of Boise State shows all the signs of becoming a true slot receiver opposite the great Calvin Johnson. And then, of course, there is Mikel Leshoure, a rookie running back from Illinois who, until he tore his Achilles in the preseason, was supposed to be the thunder to Best's lightning.
But as talented as the Lions have become, they are still young and immature. For much of the first quarter in Monday night's match-up against the Chicago Bears, the Lions were overzealous and drew unnecessary penalties. They looked undisciplined, nowhere near ready for prime-time football; they were a 4-0 football team that looked 0-4.
But head coach Jim Schwartz, whose swashbuckling style and authoritative, stern voice clearly fits this team well, got his young defensive line on track with the help of veteran defensive coordinator Gunther Cunningham.
By the second half, the Lions had launched a defensive blitzkrieg. They were mean, they were physical and, most important, they were relentless. The Bears' Jay Cutler could never find a rhythm because every time he dropped back to make a throw, he was either on the ground or so flustered he made bad decisions.
And as dominant as the Lions defense can be, the team's offense is just as dangerous, if not more. In just his third year, Stafford has gone from mistake-prone thrower to animated passer. Stafford has already tossed 13 TDs (second most in the league) and just four interceptions -- he is a surefire Pro Bowler. He is calm in the pocket, makes excellent pre- and post-snap reads and, unlike many young quarterbacks, tends not to lock in on his first option.
That option, of course, is Calvin Johnson, or "Megatron." Drafted second overall in 2007, Johnson is the most unstoppable presence in the league and a potential MVP. His nine touchdowns through five games are a league record. His 38 touchdowns since 2008 also lead the league. He is big, fast, can jump, has incredible hands, and, oh yeah, he's really, really big.
Johmson and Stafford have very quickly developed a dynamic rapport. Looking like Randy Moss in his early Viking and Patriot days, Johnson merely puts his hand up and Stafford knows all he has to do is throw it up -- Johnson will do the rest. The pair has mastered the back-shoulder throw and fade route as well.
And Stafford has what every young quarterback covets: a safety valve at tight end. Pettigrew though, is much more. He fits the new breed of athletic and agile tight end (think Jermichael Finley and Antonio Gates). He can line up on the perimeter or the slot and he can block, too. Like Johnson a few seasons ago, Pettigrew is a superstar in the making.
And then there is Jahvid Best. The concern about Best has always been one of size, or lack thereof. A diminutive 5'8", he slipped all the way down to No. 31 on draft day, in large part because scouts didn't believe he could run inside. Best is clearly a burner, but he isn't limited, like, say, C.J. Spiller.
Against a battered but still highly respected Chicago Bears defense -- that includes Brian Urlacher and Lance Briggs -- Best repeatedly gashed inside, breaking tackles and sealing the game. All in all, he averaged over 13 yards per carry running between tackles, according to ESPN Stats & Info.
For the Motor City, a 5-0 pro football team may as well be a Super Bowl victory. The Lions organization maintained the worst record in the NFL over the past decade, and the team hasn't been to the playoffs in 11 years. This 5-0 start is its first in 55 seasons -- not quite dating back to Henry Ford and the Model T, but close. Monday night's electric sellout crowd of 67,861 at Ford Field -- the largest in the stadium's history -- induced nine false start penalties for Chicago. Detroit can and will support a winner.
Some may say that Monday was just another football game, or that the Bears aren't that good. But it wasn't just another football game -- it was the first time Detroit hosted a Monday night game in 10 years. For a city that's endured what Detroit has during that time, going 5-0 with the whole nation watching is a big deal. The Lions are still an extremely young team, and they may be another year or two away from true contender status. But the mere fact that we can say that -- well, that's pretty cool.
The NFL is a league of parity, and Detroit's season thus far is proof. One way or another, the Lions are going to be here for a very long time: The core six of Pettigrew, Suh, Stafford, Best, Johnson and Fairley average just 24 years old. They will only get better.
Email me at jordan.schultz@huffingtonpost.com or ask me questions about anything football-related at @206Child for my upcoming mailbag.
Plus, check out my brand new HuffPost sports blog, The Schultz Report, for a fresh and daily outlook on all things sports and listen to our weekly radio show, Sports Blitz Now.
Popular in the Community