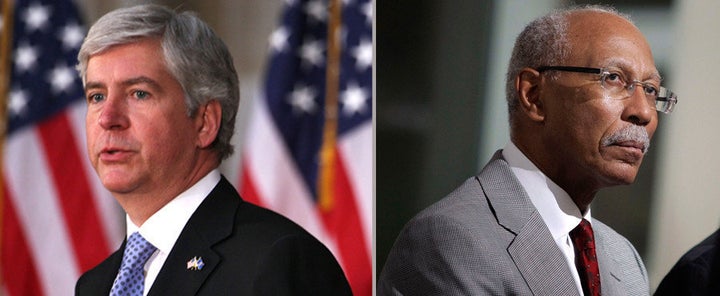 Joined by City Council members and faith, labor and business leaders, Detroit Mayor Dave Bing defied reports that Gov. Rick Snyder would begin a financial review of the city.
"I'm here today with City Council, with labor, with our faith-based community and our businesses to say we are opposed to the governor beginning this process," Bing said. "The presence of everyone here today shows we all agree. We have a majority of our City Council. We have labor, we have business and we have a community that understands what needs to be done to keep our city solvent."
He continued: "I am leaving no stone unturned, and before the state takes any action they must commit to do the same."
"This is our defining moment and we're going to take it and run with it," Bing added. He closed his speech with an appeal to Detroit residents to "stand together and maintain our city."
"Detroit needs to be run by Detroiters!"
"We have been urging the mayor and City Council to come together and agree on a shared solution that could be viable," Wurfel said. "That has not happened yet, so timing is becoming tougher and tighter."
Wurfel stressed that a preliminary review would not necessarily lead to an emergency manager, but said the governor was unwilling to rule out the possibility of appointing one.
"It sounds like the situation there is severe, so it would be hard to imagine -- the thinking has been, why wouldn't the city want that kind of assistance?"
In his speech, Bing criticized the state for evading two key forms of assistance: repaying the $220 million owed in revenue sharing to the city of Detroit, and helping the city collect income tax.
"I've asked the state to see what we can do about the $220 million owed to the city of Detroit that helped put us in this postion in the first place," he said. "Also we've requested assistance in the collection of the city's income tax -- a service Lansing could provide to help us collect up to $155 million in additional revenue on an annual basis."
Snyder told the Free Press that the state "has no choice but to intervene and offer a hand to avoid a manager before the city runs out of money by April," according to the paper's report.
UPDATE: 8:25 p.m. -- The Free Press reported that U.S. Rep. John Conyers, who represents Detroit, has asked Attorney General Eric Holder to review Michigan's authority to appoint an emergency manager for Detroit. Conyers's spokesperson could not be reached Thursday. A spokeswoman for the Department of Justice confirmed to HuffPost that the department had received the letter and was reviewing it, but declined to comment further.
Opponents of the emergency manager law, Public Act 4, have long said that it is unconstitutional. In September, a U.S. District Court judge dismissed a challenge to the law from Detroit's pension boards.
Calling all HuffPost superfans!
Sign up for membership to become a founding member and help shape HuffPost's next chapter