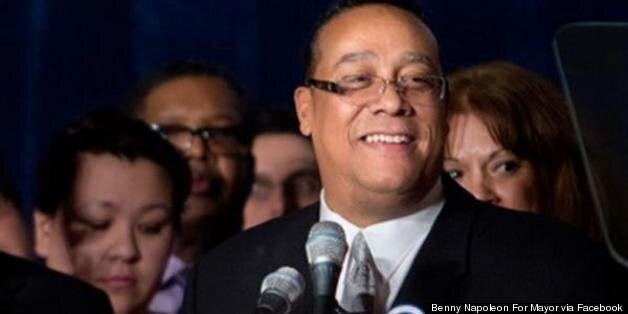 Wayne County Sheriff Benny Napoleon leads the field in the race to become Detroit's next mayor, according to a new poll released on Thursday -- but the poll isn't counting on incumbent Mayor Dave Bing to be a candidate in August.
The poll, conducted by Main Street Strategies of Lansing, shows Napoleon (a HuffPost Detroit blogger) holding a four-point lead over former DMC CEO Mike Duggan out of a field of six candidates.
When Detroiters in the poll were asked to choose from six candidates, Napoleon was the top choice for 39% of Detroiters sampled in the poll, followed closely by Duggan at 35%. In third place, candidate Lisa Howze is polling at 9%. Candidates Krystal Crittendon, Tom Barrow and Fred Durhal polled at 7%, 5% and 4%, respectively.
"With three-and-a-half months to go until the August primary, this looks increasingly like a two-person race between Napoleon and Duggan," Main Street Strategies Partner Joe DiSano said in a release.
And when the race was narrowed down to just the top two candidates, Napoleon's lead widened significantly. The new poll shows Napoleon leading Duggan 45% to 35% in a two-person election -- and that may be a plausible political scenario after the August primary. However, 20% of respondents said they were undecided, leaving a sizeable audience for either candidate to persuade -- or for a third mayoral hopeful to capture.
"Of course it is encouraging that the vast majority of Detroiters are responding to our effort to unite all sectors of the community to truly transform this city that we all love - together," Jamaine Dickens, a spokesman for the Napoleon for Mayor campaign, told The Huffington Post in an email. "We are focused on creating a movement that will change the attitudes and outlook in and about the city of Detroit for generations to come."
DiSano told The Huffington Post in an email that he's not affiliated with any mayoral candidate in Detroit, and that the poll was paid for and finished by the firm itself.
"These results didn't surprise me all all," he said. "It just confirmed my belief that this is a two-person race. The only surprising finding is the Napoleon is the second choice for a strong majority of voters currently supporting other candidates."
DiSano also said he doubt that Detroit Mayor Dave Bing, who has not announced whether he will run for a second term, and was not included in the poll, would declare his candidacy. "I don't think there is any chance will Bing get in and I don't think he is much of a factor at this point," he told The Huffington Post.
"Dave Bing is a political dead man walking," he added.
Robert Warfield, spokesman for Mayor Bing, wouldn't comment on Bing's future political plans to The Huffington Post, who requested comment.
"As the Mayor has previously stated, he continues to be focused on the challenges facing our city and has not made a decision on whether he will seek a second term as mayor," Warfield wrote in a reply.
Those numbers temper a March poll released by the Mitchell Research and Communications Firm of East Lansing, which gave Duggan a 2-1 margin over Napoleon when every candidate was considered, and favored him by 12 percent in a head-to-head contest. But that poll sampled 581 voters, about half of the number of respondents of today's poll from Main Street Strategies, which sampled 1,277 likely Democratic primary voters in Detroit.
The Mitchell firm, which produced the March poll with Duggan in the lead, has previously taken heat for incorrectly predicting Michigan's African-American voter turnout in the 2012 presidential election, which New York Times' pollster Nate Silver called "troubling" on his statistics and polling blog, FiveThirtyEight
John Roach, director of communications for the Duggan For Mayor campaign, appeared unfazed by the results of today's poll.
"Another recent independent poll by showed Mike up by 21 points and this one shows him down by just four, barely outside the margin of error," he told The Huffington Post in an email. "We think the reality is probably somewhere in between."
"Either way, this election is very winnable."
Calling all HuffPost superfans!
Sign up for membership to become a founding member and help shape HuffPost's next chapter
BEFORE YOU GO
PHOTO GALLERY
Detroit Mayor's Race 2013