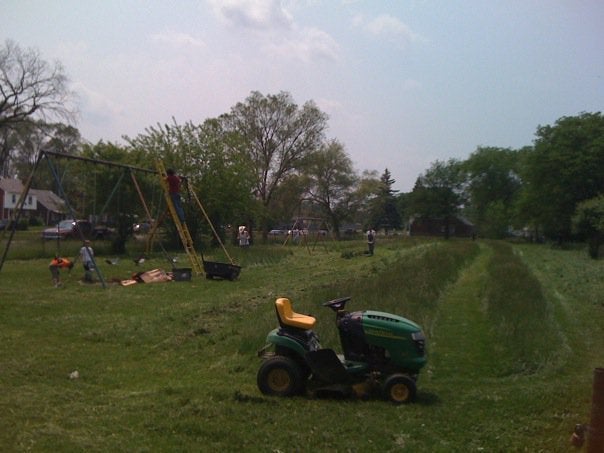 Do you get a thrill from lawnmowers (or other things that go)? Do you like to hang out and drink beer? Do you think kids should have safe, clean parks to play in?
If so, then you understand the simple secret behind a group that is making a powerful, positive impact Detroit's landscape: You can do something you enjoy and help people at the same time.
Tom Nardone started the Mower Gang in 2010 when he was looking for a way to give back that would also be social.
"I thought to myself, I have to do some volunteer work, but I have to do something that fits me," he said.
So Nardone started the Mower Gang shortly after Mayor Dave Bing proposed closing 77 city parks as part of a larger plan of budget cuts. From the beginning (see this this inagural website post), the Gang has been just as much about having a good time as addressing a critical need:
I am forming a group of people to help keep the unmowed areas of Detroits Parks from falling further into disrepair. Don't get me wrong, this will not be a group of goody-goodies. This will be an outlaw group that does what it wants, when it wants. The only difference between us and the Hells Angels is that we will ride lawn mowers and smack-down grass and weeds.
Nardone quickly saw interest from friends and strangers, and a small group started going out for a few hours a week to mow.
One of the Gang's early projects was discovering -- and fixing up -- the velodrome, a bike-racing track at Dorais Park at Mound and Outer Drive. The discovery inspired Andy Didorosi, a Mower Gang volunteer, to start the Thunderdrome, a racing event that brought all sorts of two-wheeled vehicles to the park, and simultaneously recruited more volunteers for the Gang.
In March 2011, Nardone held a road rally, where people competed in a scavenger hunt that also helped the group collect information about 90 parks and their surrounding communities, so members can mow where they are most effective.
"The goals are fixing up parks that kids use," Didorosi said. "So it's totally a children-based thing."
For the most part, volunteers bring their own mowers, though the group owns a few and other supplies. They have spent about $2000 buying and fixing up second-hand mowers.
The City of Detroit knows of the Mower Gang and has occasionally helped with specific projects, but the group operates independently.
"If you went through all the proper channels you would get absolutely nothing done," Didorosi said. "We get that that's how the city has to work, but we try to figure out what works best for everybody."
This year, the group targeted one problem across many parks: a lack of swings for old swingsets. They counted 200 that needed to be replaced. Through a crowd-funded campaign on Kickstarter, they raised more than $3000 -- at $80 a swing, that's 37 swings.
"The park is one of the bright moments in childhood," Didorosi said. "You learn there, you play there, thats your jam. And if your park is dangerous, overgrown or unusable, well ..."
Nardone does minimal organizational work for the Gang through the group's Facebook page, where long-time volunteers and new ones can get information. For Nardone, it's all about simplicity.
"You dont have to sign up, you just show up."
As 2011 comes to a close, HuffPost Detroit looks to honor those who made an impact in our city this year. The 2011 Detroit Impact series will profile one organization per day until the end of the year. There are 11 organizations included in the series (see them all in the slideshow below), but there are dozens more doing good in and around Detroit. For full coverage of the people and organizations helping others, visit HuffPost Detroit Impact.
PHOTO GALLERY
Detroit Impact 2011
Calling all HuffPost superfans!
Sign up for membership to become a founding member and help shape HuffPost's next chapter
BEFORE YOU GO