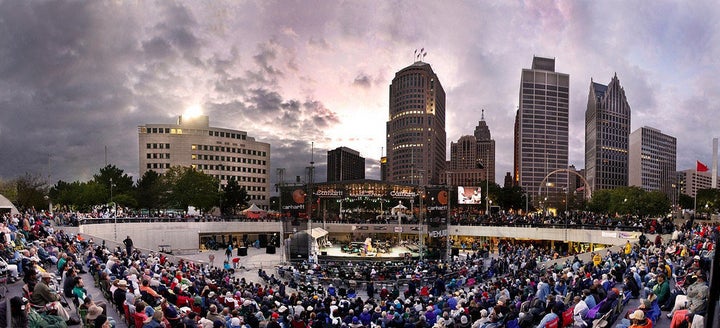 Detroit music runs deep. It's a river of sound with changing currents that carry many traditions: blues, techno, jazz, hip-hop, noise and the many strains of rock and roll, from punk to metal to garage to folk.
And as fun as Detroit music is to listen to, it's just as fun to look at. That's the idea behind a new photo exhibit at the Whitdel Arts Gallery in southwest Detroit that seeks to chart the visual ebb and flow of the city's rich musical legacy.
"Detroit Music: A Photographic Retrospective" brings together the work of three local photographers, Doug Coombe, Marvin Shaouni and Trever Long, with the words of Detroit music writer Jeff Milo. The show will feature 85 photographs of performers as diverse as Andre Williams, Insane Clown Posse, Daniel Kroha of The Gories and the Electric Six.
The Whitdel's Lisa Krug organized the exhibit. "I thought we were long overdue to highlight this important aspect of culture within our city," she told The Huffington Post in an email. "I personally contacted these three photographers because of their long and valuable contributions ... many times unpaid."
Doug Coombe has spent two decades capturing images of the musical worlds of Detroit and Ann Arbor and has shared them with Metro Times readers since 1999. His work has graced the pages of Rolling Stone, Spin, Mojo and many other publications, and he has covered nearly every aspect of the region's music scenes.
Marvin Shaouni walks the line between musician and photographer. He played bass, drums and guitar in a variety of local bands, including Caelum Bliss, Life of Crime and the folk group Blueflowers. Since 2008, Shaouni has been the managing photographer for Model D. He has exhibited photos on both coasts -- in the Pulse Contemporary Art Fair in Los Angeles and Fred Torres Collaborations in New York City.
Trever Long is a Detroit-based photographer whose specialties are live events and creating promotional work for musicians and other artists. He has a Bachelor of Fine Arts from the College for Creative Studies and has trained in illustration and painting, artistic traditions that add a narrative flair to his work. Long collaborated with Jeff Milo in 2010 to compile the book "Detroit:Now," which documents contemporary local artists, such as musician Audra Kubat and performer Satori Circus.
Visitors to the gallery are sure to get an inside view of Detroit they've most likely only heard before.
"It really is a beautiful collection and I believe it truly highlights the pride we have in our city, music and our own talent pool of writers and photographers," said Krug.
"Detroit Music" opens Friday, March 30 from 6 to 9 p.m. DJ Carjack will provide music for the event. The show runs through April 28. The gallery is open Saturdays from 12 to 3 p.m. and is located at 1250 Hubbard in Detroit.
For more information see whitdelarts.com.
Calling all HuffPost superfans!
Sign up for membership to become a founding member and help shape HuffPost's next chapter