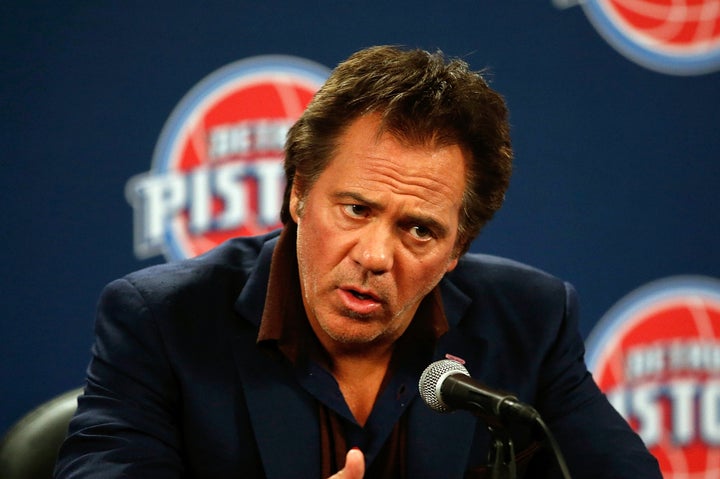 Shortly after buying the Detroit Pistons six years ago, private equity investor Tom Gores wrote about turning the pro basketball team into a winning franchise: "If you buy a company, you have to make the customers happy or they're going to leave you."
Unless they're behind bars.
Gores's latest high-profile acquisition relies on a captive audience. His firm Platinum Equity is awaiting federal approval to purchase the country's second largest prison phone corporation, Securus, which charges over 1 million prisoners in the U.S. and Canada as much as $22.56 for a 15-minute call.
If the $1.6 billion deal goes through, Securus's current owner, another private equity firm, would walk away with a cool $960 million return. That's nearly a billion dollars straight out of the pockets of prisoners and their families, disproportionately those of color, who pay for the calls.
That mind-blowing sum highlights the growing role of private equity in the criminal justice system. Investors like Gores have bought up corporations like Global Tel Link, Securus's main competitor; Keefe Group, the largest prison commissary provider in the country; and Corizon, the largest U.S. provider of correctional health care.
It also highlights how privatization, especially when fueled by private equity, warps the role of government. Just last week, inmates at New Orleans' Jefferson Parish jail lost the ability to see family and friends face-to-face when the jail signed a contract for Securus's video visitation software. Visits that were once free will now cost nearly $13 every 20 minutes over video.
In private hands, public services become tools to redistribute wealth upward, from working and poor communities, particularly those of color, to investors and corporate executives—from prisoners trying to better their lives and families devastated by an overreaching criminal justice system to billionaires like Gores, who once dropped $30 million on a parcel of Beverly Hills land to build a private soccer field for his children's teams to practice on.
That's not what government is for. It's about helping make sure everyone has the necessities of a decent, healthy, and passionate life, like education, clean water, and public space. It's about rehabilitating those caught up in the criminal justice system, not punishing and profiting off of them. It's about representing the many, not the few.
As the distance between the many and the few grows, government must help close the gap rather than make it worse, and we've got to continue to fight to make that happen.
Popular in the Community