In the latest cover story of a pro-gun magazine, Detroit's police chief defends his assertion that "responsible" and "good" residents in one of America's most dangerous cities should be able to protect themselves with guns.
The June issue of America's 1st Freedom magazine, published online by the National Rifle Association, includes a story with Detroit Police Chief James Craig who argues the value of the 2nd Amendment in light of the city's recent rash of self-defense shootings.
"What I have said, and continue to say, is I believe responsible, good Americans have a right to protect themselves from an immediate threat to their life or to the life of another," Craig told the magazine in the article "A Show of Courage."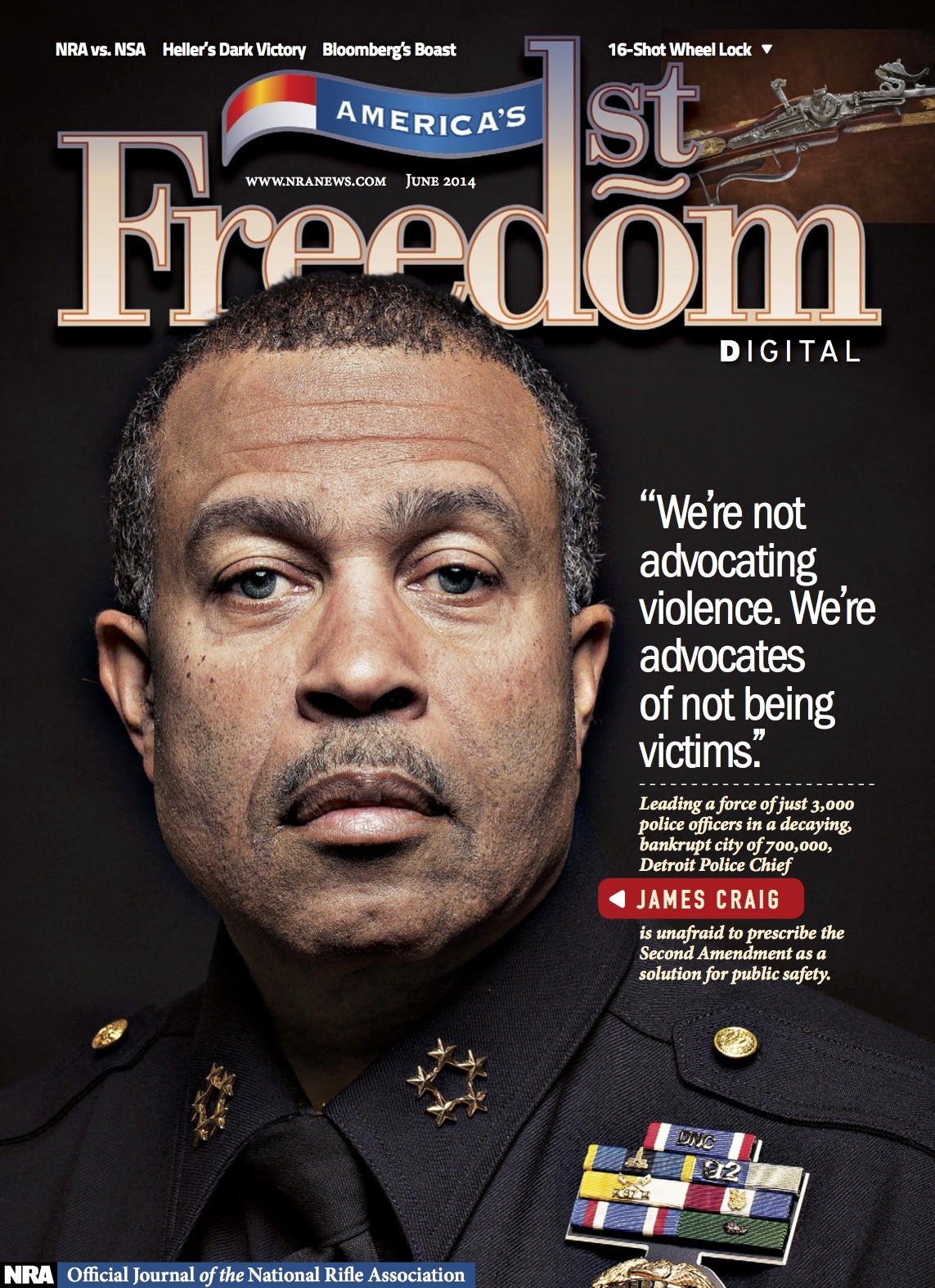 "This is not about inciting vigilantism," he continues, "because in my view when you talk about vigilantism, you're talking about someone who has made a decision to do law enforcement's job -- go out and enforce the law. This is not that at all. This is about self-defense, protection, an imminent threat to life, very different response. So I say, let's talk about the victims; let's talk about the number of violent criminals in possession of guns."
Detroit has one of the highest crime rates in the country, though violent crimes were down 15 percent in the first quarter of the year compared to 2013. Additionally, the murder rate dropped 14 percent in 2013 -- but Detroit still recorded the same number of homicides as New York, 333, despite having less than a 10th of New York's population.
In the America's 1st Freedom article, Craig said that police response times to emergency calls had improved, but sometimes victims can't rely on police for protection:
You know, if a citizen is in danger -- an immediate threat to life -- even if the officer can get there, and even if the community member has the opportunity to contact police, as we all know if there's an imminent threat to life, it happens in an instant. At some point, are you going to ask this violent predator, "Can you wait a few minutes so I can make this 9-1-1 call?"

Some have criticized Craig's repeated, vocal support for Detroiters arming themselves, like Detroit Coalition Against Police Brutality spokesman Ron Scott.
"We are appalled at recent statements made by the Public Information Department of the Detroit Police Department and attributed to the Chief which separate which separate the so-called 'good citizens' from the 'bad citizens,'" Scott said in a statement last month, according to CBS Detroit. "These kinds of incendiary and slanted statements only add to the sense of fear and promotion of violence that we are now experiencing in this city."
Craig, who was born in Detroit and began his law enforcement career there, took the chief position last June after leading Cincinnati's police department. He held a press conference Monday to address the magazine cover and article, saying Detroiters had praised him for speaking up for their right to arm themselves.
Calling all HuffPost superfans!
Sign up for membership to become a founding member and help shape HuffPost's next chapter
BEFORE YOU GO
PHOTO GALLERY
Pivotal Moments In The U.S. Gun Control Debate