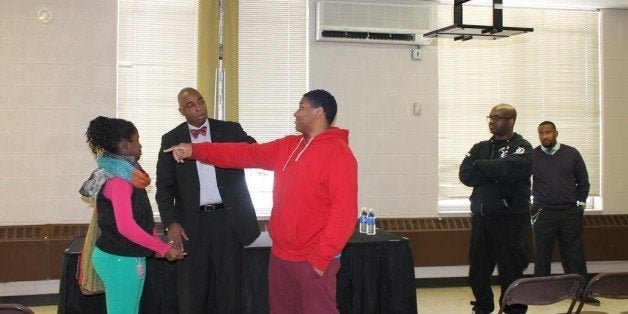 As activists across the country question police tactics and the number of black men and boys killed by cops, a group in Detroit is hoping conversations with officers can begin to heal the mistrust some youth have toward authorities.
More than 50 teenagers, along with their parents and grandparents, came to Triumph Church on Feb. 21 for Honor the Line, an event conducted by the BALL Foundation (Bridging Athletic, Learning and Life-Skills) to "bridge the gap between young men and law enforcement."
BALL founder and president Randy Henry came up with the local program (similar efforts exist elsewhere) and partnered with Detroit Police Chief James Craig, who spoke about how he'd met the challenge of strained community relations while working in departments from Los Angeles to Portland, Maine.
"How do we build that trust, how do we build respect? With our dialogue, with our communication," Henry said. "That's the main reason I put this together."
Beyond building trust, he wanted youth to leave with real-life skills for interacting with police safely.
The teens in attendance, mostly black and male, separated into small groups. Local and state law enforcement officers then spoke informally and conducted role-playing exercises to show how to act when stopped by an officer.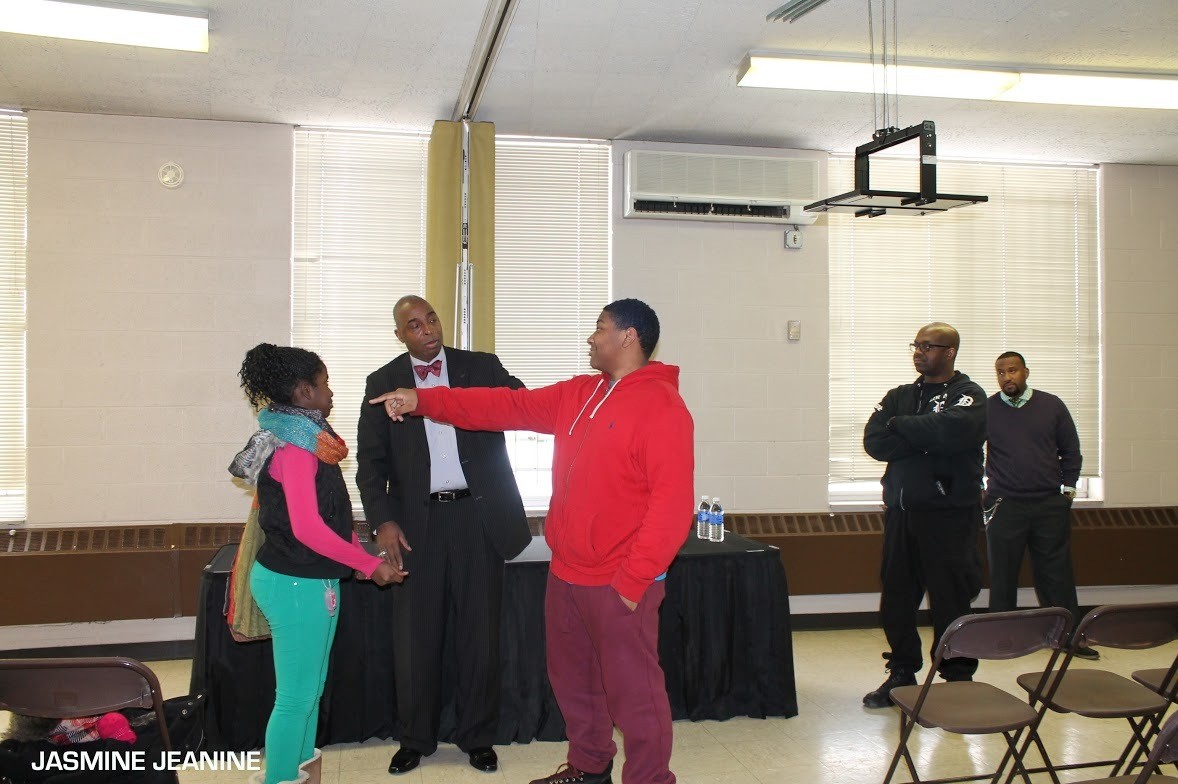 Students act out a police stop at the Honor the Line event. Courtesy the Ball Foundation.
Students were also given the chance to air grievances and ask questions. In one room, 16-year-old Adam Harris had something he wanted to get off his chest.
"With all the stuff that's been going on in the world ... I look at police officers iffy," Harris said, later referencing the police shooting of 18-year-old Michael Brown in Missouri last year. "How do you expect for young people just to be cool with authority and all that when we really don't understand it, and the things that we see?"
Sentiments similar to Harris' have been echoed constantly in recent months. In an earlier Q&A with Craig, one of the few teens to talk voiced his suspicion, saying police are "crooks" who "come for their own thing."
But Harris' comment seemed different; it was spoken directly to an officer in a mutual attempt to understand each other, and he was really trying to find an answer.
Better Detroit Youth Movement co-director Harlan Bivens didn't have a simple answer for Harris, but he advised him to worry less about other people, like friends' negative attitudes about police or how an officer might mistreat him, and instead concentrate on what he could control, like the reaction he wants to have if he's stopped by police.
Throughout the afternoon, speakers repeated the importance of respecting officers. Henry said in police interactions, both sides are accountable for the outcome. He added that youth "have to honor people in authority positions," not just cops, but parents, teachers and coaches.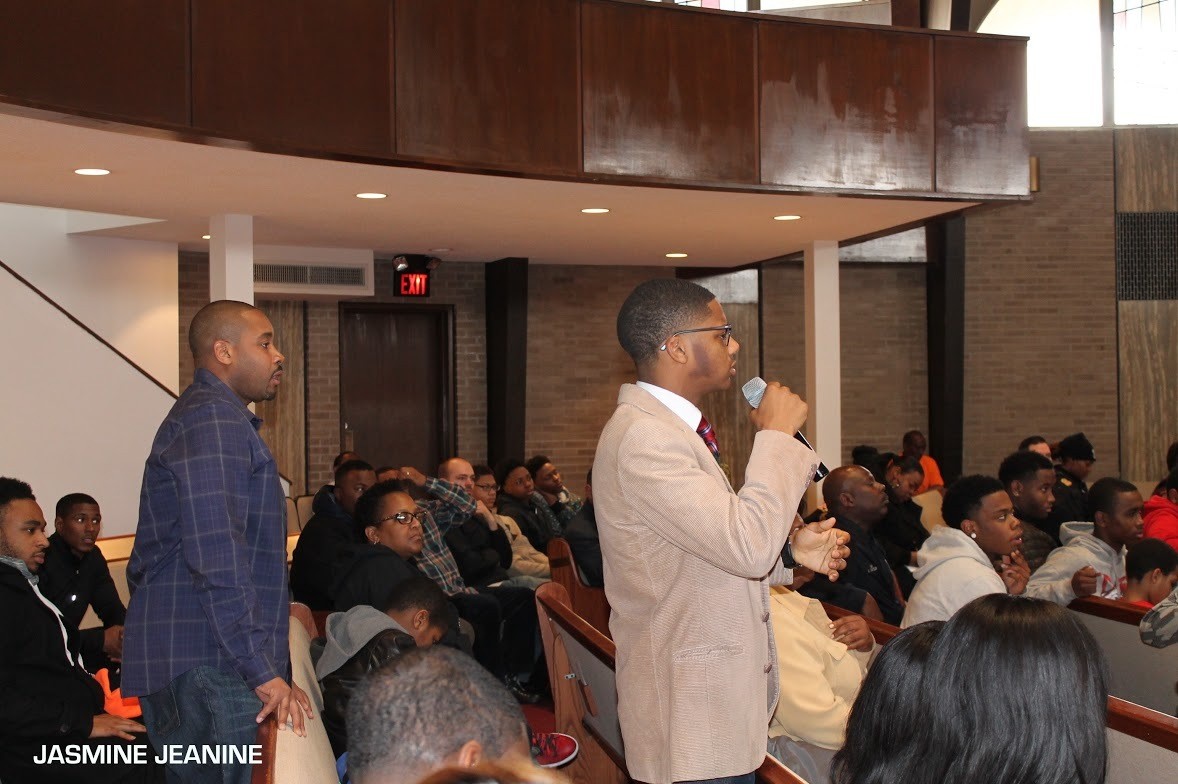 A student asks Detroit Police Chief James Craig a question at the Honor the Line event. Courtesy the Ball Foundation.
As it emphasized respect, the event seemed to gloss over the reasons why young black men feel distrustful of police, as well as how wide of a gap organizers are trying to bridge. Teaching kids that they're responsible for behaving properly if they want to guarantee their own safety might also strike some as an incomplete strategy for dealing with police-community discord, particularly in light of cases like 12-year-old Tamir Rice of Cleveland, Ohio, who was holding a toy gun at a park last year when a responding police officer shot the boy within seconds.
Bill Larkin, who attended Honor the Line with his grandson, said he has a good relationship with Detroit officers but pressed Craig to acknowledge the different realities for black and white individuals.
"Why should a young black child have to act different than a white child with police?" Larkin asked Craig after his speech. "We've seen it over and over again, there's always some justification for [use of force incidents]. My concern is, why should my babies have to act differently?"
Craig responded that almost all officers are good cops.
"Do not paint the entire police department with a broad brush because of the acts of one or two," he said.
BALL Foundation vice president Carmen Henry acknowledged racial disparities but said that to create change, people should focus on constructive solutions, instead of dwelling on the negative.
Since Craig took over the struggling department in 2013, he's made demonstrative efforts to reduce crime and be more responsive to residents. Detroiters have generally approved of Craig -- including many at the Honor the Line event -- though the Detroit Police Department has recently come under scrutiny for several controversial drug raids and is now facing a lawsuit.
While the lack of trust between communities and cops is often addressed in the context of police overstepping their authority, in Detroit, ongoing public safety issues mean residents are just as likely to complain that police aren't doing enough.
Harris' mother, Banita, moved her family from Detroit to a neighboring suburb a couple years ago after her home was broken into eight times in seven years.
"I don't feel comfortable laying my head in Detroit right now," Harris told The Huffington Post over the phone. "Until you can call the police and they actually come…"
Harris, who did not attend BALL's event, wants her son to have a good relationship with police.
"I teach him to stay respectful, but you also have to know your rights," she said. "If the police can come into the neighborhoods and show they are people too, and not every police officer is a bad police officer, I think that would help."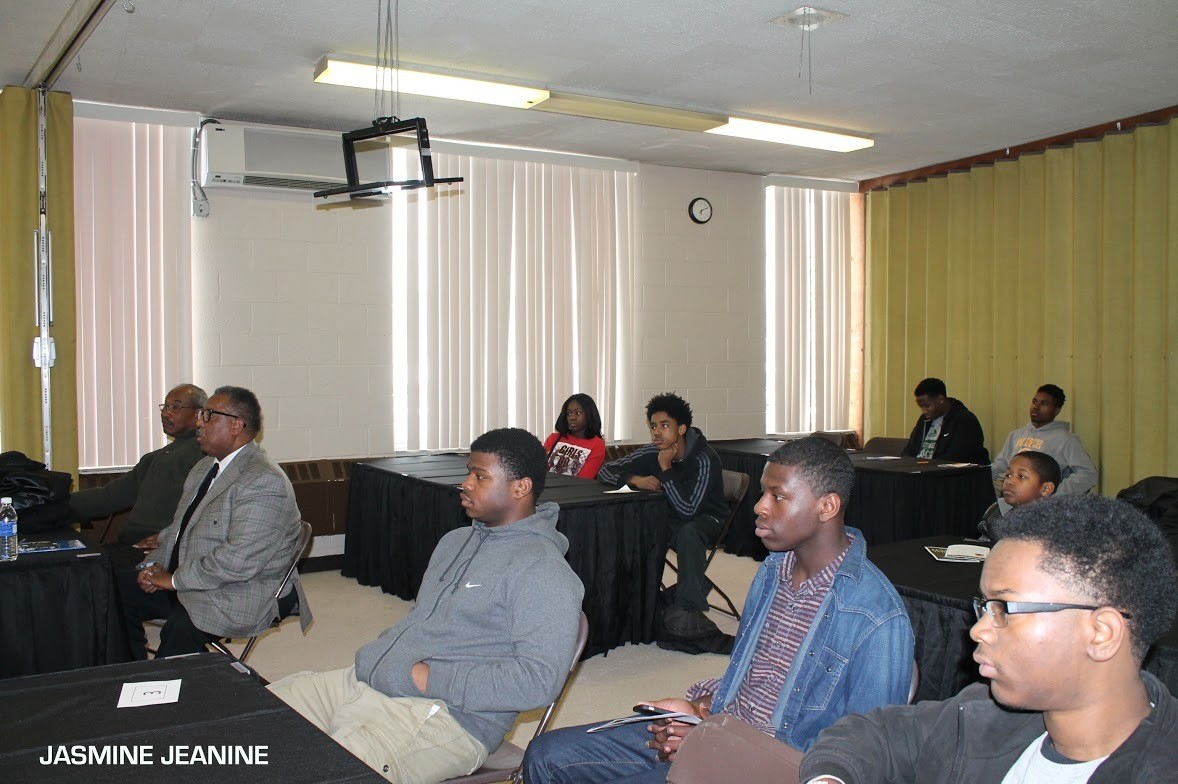 Adam Harris, first teen from the left in gray, and other students listen in a workshop at the Honor the Line event. Courtesy the Ball Foundation.
It's difficult to gauge the impact of one afternoon of discussion, but Henry sees it as a first step. A follow-up event is in the works for April, and Craig said he would continue working with the program.
Some students seemed unmoved by the workshops and left early. Others talked about what they learned; one said she enjoyed telling officers her feelings about police.
Participants were given pamphlets that explained their rights, as well as what they should do if a police officer stops them when they're walking, driving, at their home, or if they're detained.
Adam Harris, who came to the three-hour event with "a negative vibe" about police officers, left with a more nuanced perspective.
"[They] should take their time to put themselves in a citizen's shoes rather than hiding behind their badges," he said, but "people should just look at it different too … just stay calm, cool and collected."
"The best thing I brought out of it is not to look down on police officers," he added.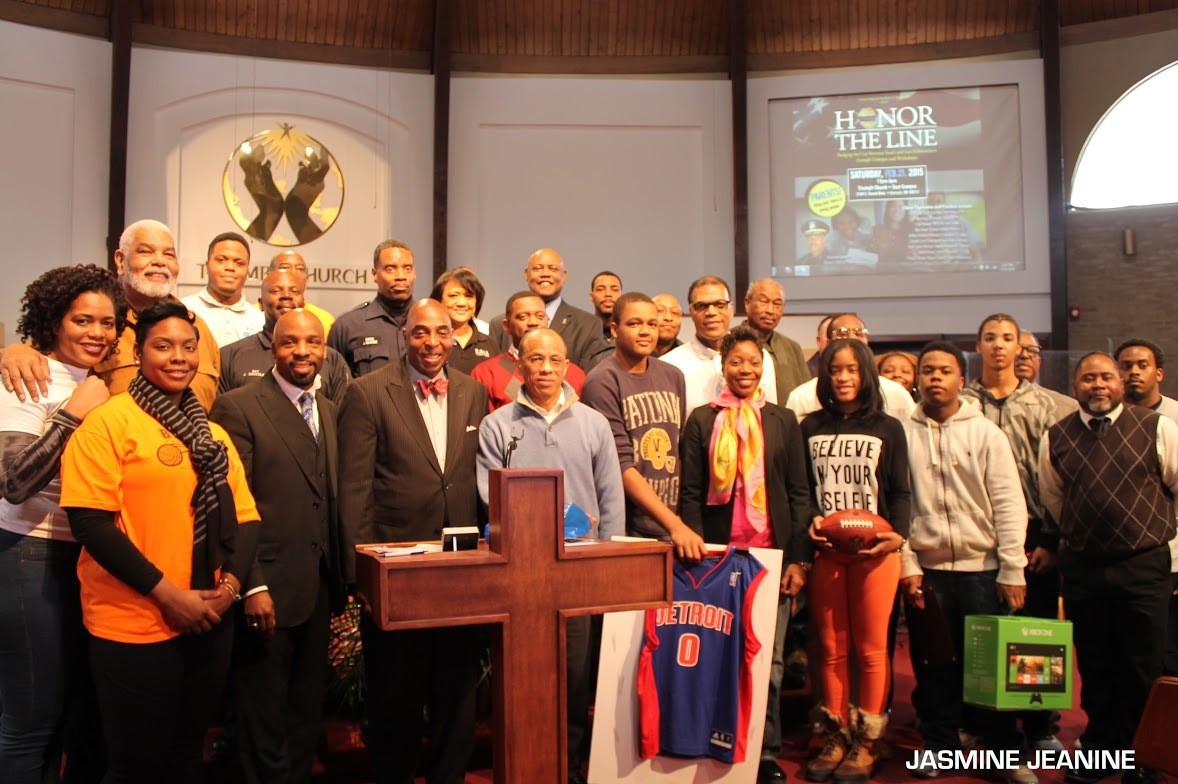 Organizers and attendees of the BALL Foundation event to bridge the gap between police and youth in Detroit. Courtesy the Ball Foundation.

Calling all HuffPost superfans!
Sign up for membership to become a founding member and help shape HuffPost's next chapter