As unique small businesses continue to sprout and help transform the economic landscape of the once-booming automotive capital of the nation, a largely untapped retail concept is quickly gaining steam. Unequivocally of the moment, uncertain, changing -- words that could also describe Detroit and its up-and-coming movers seeking their next -- pop-up shops, temporary stores that "pop up" one day then disappear shortly thereafter, may offer local entrepreneurs just the opportunity they've been looking for.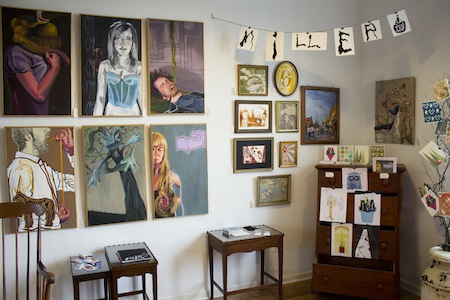 I have a bit of firsthand experience having launched a pop-up of my own last summer. 71 Pop would put a twist on the traditional pop-up model, rotating out several shops in a single space and providing an array of services to the local artists involved including online sales, video profiles, and web consulting. Suddenly my life was beginning to mirror an episode of "How To Make It In America," only replace the NYC flash with Motor City gravitas, as I tried to navigate the murky waters of Detroit's pop-up scene. Unbeknownst to me I was doing something I've avoided my whole life: I was being trendy.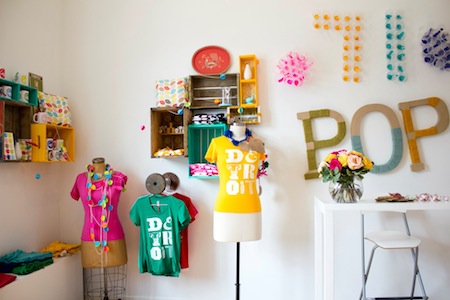 And how? Just days before the opening of 71, The Somerset Collection launched their CityLoft shop at downtown's Lofts of Merchants Row, a concept that grew out of the success of its slightly older yet equally attractive suburbanite sister, Detroit Shoppe. The shop included high-end installations like Neiman Marcus, Betsey Johnson, and Michael Kors for three days during its three-month run last season and will make its way back this December for the holidays.

Though the heavy hitters were just getting their feet wet in pop-up territory, the concept wasn't entirely new to the city. Complex, a women's apparel boutique just minutes from city proper in Birmingham, offers space for pop-up retail. Pop Up Detroit, a roving art exhibition, has been known to dabble in sales. Ferndale's Rust Belt Market had recently built out a DIY flea market, the original collaborative pop-up model. But it was an everyday Joe who was the local forefather of sorts.

A much-respected blogger and entrepreneur, Joe Posch stepped onto the pop-up scene in 2009 with Hugh, a men's store specializing in high-style home wares and novelties, becoming the first of its kind in SE Michigan. "Hugh was a reaction to the recession, when the market for higher-style retail really dried up," Posch explained. "I didn't want to commit. The honeymoon period for a new store is about six months to a year -- I wanted to take advantage of that while I figured out my next steps."

The store was Joe's second foray into Detroit retail. His first furniture store Mezzanine (1998-2009) provided some invaluable lessons for the future. "Hugh was a way to take everything I learned from every mistake from Mezzanine over the years and see if I could actually do things better."

Two years later he's taking home some $50,000 to open a permanent Hugh location in Detroit's cultural center thanks to HATCH, a non-profit retail business competition aimed at supporting entrepreneurs. Joe credits his pop-up experience for helping to rally crowd votes. "I think the fact that a lot of people got a chance to experience Hugh made a difference in winning," he shared.

Hugh proved that even something short-lived can linger in people's minds and hearts, perhaps allowing the opportunity to grow into something more permanent and impactful in the future. And there's plenty of opportunity to go around. Real estate developers with dust-collecting unrentables, community development associations with accessible vacancies, commercial properties looking to attract foot traffic between renters; the pop-up opportunity is ripe too, for their wasted spaces. With all of the talk of creative space-making, the pop-up retail model could certainly play a more literal and potentially more profitable role in that dialogue. "In Detroit pop-up shops actually make people think about spaces differently," says Posch. "They can take unused areas and make people imagine the possibilities."

Detroit real estate fixture The Farbman Group has a history of getting creative with their unused spaces. For the past two years they've given away a year's worth of free rent at Garden Court Condominiums. In exchange the winner blogged about his or her experiences living downtown on their website. On December 2nd the group launches "Reigniting Retail," a pop-up showcase that invites local retailers to showcase their products during a two-day period in the lobby of the Fisher Building. Seasonal pop-ups have always been around; shops like Halloween USA appropriately pop-in to take advantage of the holiday hoopla. But the temporary shops of late seem to be more thoughtful incarnations, with emphasis on involving local brands and artisans.

"As the area has become a haven for art and innovation, [we] recognize this and want to highlight the growth of the market for their creative and unique output," says Farbman Group President, David Farbman. "Detroit's creative class will be front and center, showcasing the drive and passion of the people fueling the city's rebirth".

Posch agrees, "Pop-ups can really act more as agents of transformation and incubators for ideas," he says. "They're also a great way for budding businesses to get exposure."

Even universities are starting to get into the mix. "Our interest in pop-up stores is tied to the flexibility they provide WSU -- we could "test" a number of new and interesting stores in this pop-up setting, see what works well, and then help those businesses further serve our campus community," shares Ian Studders, Associate Director, Leasing and Retail Services at Wayne State University."Pop-up stores could also give us access to businesses that we may have otherwise overlooked."

With plenty of unused space, low start-up costs, and built-in marketing, pop-ups may offer Detroiters a real life crash course in retail business. "Hugh was the best idea I ever had," says Posch. "I tested an idea based on lessons learned and it worked really well."
Popular in the Community