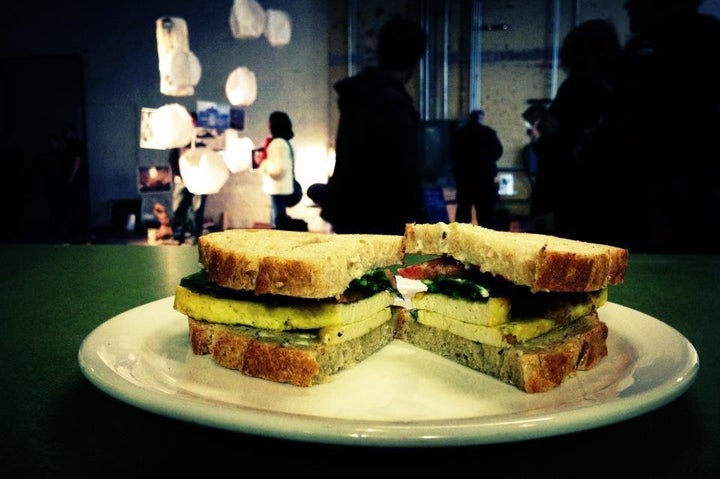 Here's a real deal for those who can't get enough of Detroit's recent pop-up food craze. Two local ephemeral restaurants, Kung Food and Detroit Gypsy Kitchen, will be collaborating for a Sunday brunch.
The chefs are joining together to whip up a tasty meal at the Museum of Contemporary Art Detroit (MOCAD) as part of a Sunday pop-up brunch series at the cultural hotspot's cafe.
Jonathan Kung of Kung Food told The Huffington Post he partners up with the other pop-up on a regular basis.
"Generally it's once a month. Me and Stephanie Selvaggio from Detroit Gypsy Kitchen, we serve different kinds of vegan foods. This week it's going to be beans and rice, a vegan scramble, oatmeal and kale salad."
Natalee Goto, manager of the MOCAD cafe, said the duo is part of an assortment of local, mostly vegan pop-ups -- like Beautiful Soup and Sunflower Mama -- that use the museum as a venue. She says the most memorable meal Kung and Selvaggio whipped up was an egg sandwich, seasoned with tumeric and a little bit of mustard seed, served with a side of tempeh breakfast sausage.
"They usually have a multicultural twist on classic vegan themes," she said. "Jonathan Kung is from Hong Kong. He usually likes to make one Asian-inspired dish like seaweed salad or miso soup. Stephanie is Italian and Lebanese and, when I started working with her last year, it was mostly Mediterranean food. It's a really great selection. It always changes."
Jonathan said his food operation began with a food recipe and photography blog. After meeting Selvaggio through yoga, he started helping her out with meals and eventually branched off into his own enterprise. He still enjoys collaboration, however, because he likes bouncing food ideas back-and-forth with another cook.
Although Kung Food doesn't cook exclusively vegan food, Kung sticks to that diet during his MOCAD sessions with Selvaggio. It's a situation he doesn't find limiting at all.
"Ironically, vegans are some of the most adventurous people," he said. "They're very excited over food. They'll try anything as long as it's vegan. They're not [as] open to ingredients, but for flavor profiles, they're all over the map."
For more about this Sunday's brunch, starting at 11 a.m. at MOCAD, see Facebook.
REAL LIFE. REAL NEWS. REAL VOICES.
Help us tell more of the stories that matter from voices that too often remain unheard.
BEFORE YOU GO
PHOTO GALLERY
Best Indie Doughnut Shops