A new GIF shows just how far the Motor City has fallen since 1970. And its population had already started to drop twenty years before that.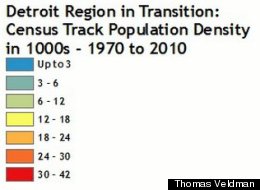 As you can see, a lot more of the city's residents clustered around central Detroit in 1970. But over the next few decades, as companies began outsourcing manufacturing and automobile jobs, the population dispersed and declined. Today, just over 700,000 people live in Detroit, compared to its peak of 1.8 million in 1950.
But there's still hope for Detroit. The Hispanic community has nearly doubled since 1970, and the areas around University of Michigan and Eastern Michigan University, both seen on the western edge of the GIF, still maintains a sizable population. Also, you never know what the city could look like in 20 years.
The creator of the GIF, Thomas Veldman, a research assistant at the GIS Health and Hazards Lab of Kent State University, told the Huffington Post he used U.S. Census tract data to build the visualization.
Related