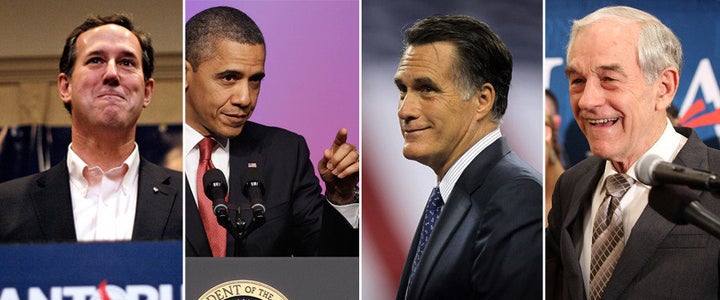 Mitt Romney may have won the Republican vote in Michigan's presidential primary Tuesday, but President Barack Obama was the real winner in Detroit.
Obama garnered 32,980 votes in Detroit in the Tuesday race, according to Wayne County election results. That's even though his name appeared uncontested on the Democratic ballot, and even though Michigan Democrats have chosen to disregard the primary results and instead hold a caucus May 5 to determine delegates.
While turnout was low Tuesday, many Detroiters used the primary election to show their support for the president.
Romney, the son of former Michigan Gov. George Romney, attempted to play up his Detroit connections on the campaign trail in recent weeks, releasing several campaign ads touting his love for the Motor City. He went so far as to call himself a "son of Detroit" in a Detroit News op-ed piece.
But Detroit voters don't seem to see him that way: Romney received just 1,338 votes here.
In the 2008 Republican primary, he managed to win the city with 1,661 votes. But opponents -- both Republicans and likely some mischief-making Democrats -- turned out in greater numbers this year to deny Romney another Detroit victory.
Instead, Texas Rep. Ron Paul won the Detroit GOP vote, with 5,525 ballots cast. Behind Paul was former Pennsylvania Sen. Rick Santorum with 4,047 votes.
Still, Paul and Santorum are unlikely champions in Detroit, where residents tend to vote overwhelmingly Democratic. Neither candidate made much of an attempt to campaign in the city, choosing instead to focus on more welcoming and conservative constituencies in the surrounding suburbs.
Observers consider the GOP contenders' boost in the polls partly a function of Michigan's open primary process, which allows voters to cast ballots regardless of party affiliation. Tuesday exit polls showed that statewide, as many as 10 percent of Republican ballots were cast by Democrats, many of whom chose Santorum or Paul over Romney.
The Santorum campaign even made robocalls to Democrats, encouraging them to vote for him as a direct challenge to Romney.
The results in Detroit had little impact on the statewide Republican contest, and Romney won where he needed to in Oakland County and other GOP strongholds. And while Romney may have been born in Detroit, he grew up and attended high school in the wealthy suburb of Bloomfield Hills. Support for the native son was much more evident there Tuesday: Rommey nabbed 78 percent of the vote.
But considerable turnout for Obama in Detroit and in Southeast Michigan overall foretells the challenge the eventual Republican nominee will face in Michigan in November. Tens of thousands of voters turned out for Obama in Macomb and Oakland counties, in addition to those who put him ahead of the GOP contenders in Wayne County.
Detroiters voted 97 percent for Obama in 2008 when voter turnout was high. Tuesday's primary results show they're likely to do it again.
Kate Abbey-Lambertz contributed to this report.
REAL LIFE. REAL NEWS. REAL VOICES.
Help us tell more of the stories that matter from voices that too often remain unheard.
BEFORE YOU GO