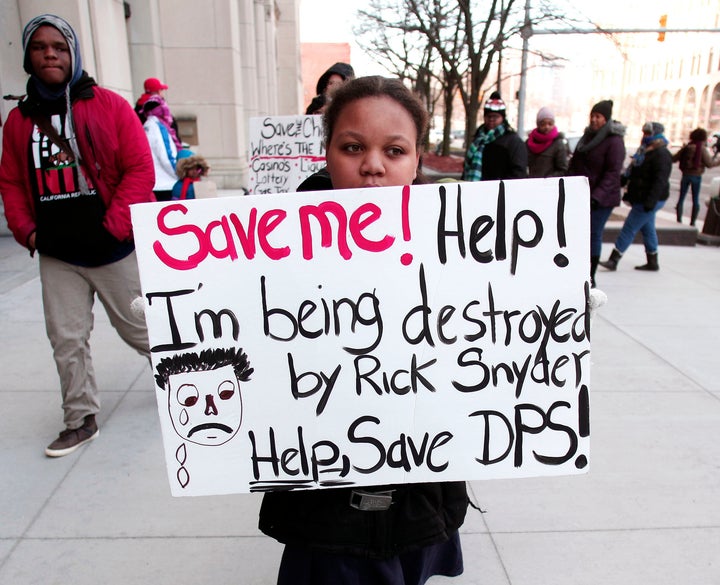 It's been a year of strife for students in Detroit public schools, but on Tuesday, a promise to help kids in the underfunded district was kept.
Mayor Mike Duggan announced the official launch of a program to guarantee two years of free community college to all eligible students who graduate from high school. The Detroit Promise Zone covers kids who have been accepted to one of the city's five community colleges and who spent their junior and senior years at a city high school -- public, private or charter.
The public program builds on the private Detroit Scholarship Fund, which has been offering subsidized tuition to local students since 2013. The Detroit Scholarship Fund has been supported by two private groups, the Michigan Education Excellence Foundation and the Detroit Regional Chamber. They have agreed to fund the Detroit Promise Zone for the next two years. At that point, the promise will be upheld with tax dollars, according to a statement from Duggan's office.
In the future, the mayor said he hopes to also subsidize four years of tuition at public universities.
"It doesn't matter whether you're a high school senior preparing for college now or a second-grader whose college career is years away," Duggan said in his statement. "The Detroit Promise will be there to help make a college education a reality."
In late January, the American Federation of Teachers -- one of the nation's largest teachers unions -- filed a lawsuit against the district, arguing that it has forced students "to spend their young lives in deplorable surroundings, risking their health and safety in the process, and imposing on students and their teachers an atmosphere that interferes with their securing a minimally sufficient education."
The Detroit Promise Zone is designed to make sure that "a family's financial situation is no longer a roadblock to our city's young people getting the education that they need," Penny Bailer, chairwoman of the Detroit Promise Zone Authority Board, said in a statement.
Detroit's efforts follow in the footsteps of other cities. The Kalamazoo Promise program was established in 2005 to subsidize tuition for students in that Michigan municipality seeking to attend public universities. Since then, a number of other cities and states -- like Chicago and Tennessee -- have launched their own initiatives to fund community college for local youth.
"My kids aren't able to pay for even community college," she told the Detroit Free Press. "This will help."
Rebecca Klein covers the challenges of school discipline, school segregation and the achievement gap in K-12 education. In particular, she is drilling down into the programs and innovations aimed at solving these problems. Tips? Email Rebecca.Klein@huffingtonpost.com.
Related