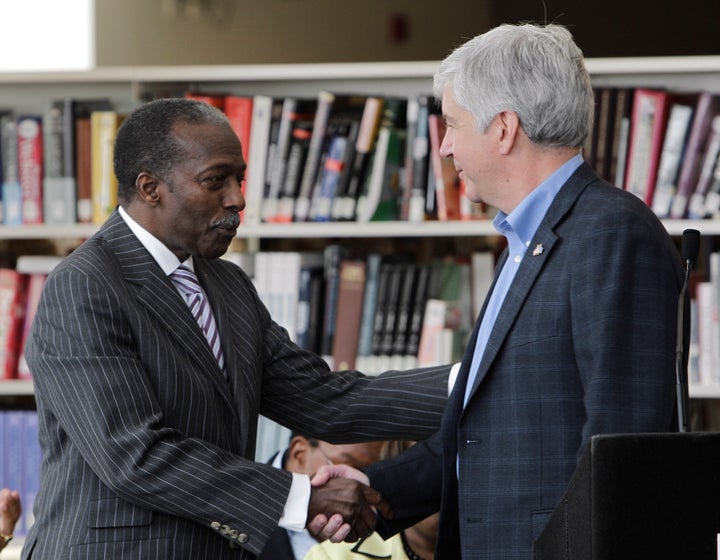 This story has been updated.
Detroit Public Schools officials released the district's proposed 2012 budget Thursday, a plan rife with cuts and changes.
All DPS employees will take a 10 percent salary hit in the fiscal year beginning July 1, 2012, and, like public workers throughout Michigan, will be expected to contribute more to their benefits plan. Language about recruiting new teachers stresses hiring from external pools such as Teach for America.
Beyond the pay cuts, the district is also eliminating 853 positions, reducing its head count by roughly 8.5 percent. Administrative personnel cuts include 12 principals, 36 assistant principals, 40 guidance counselors, 18 clerical staffers and 43 central office supervisors. Also getting the axe are 4 librarians, 304 classroom teachers and 72 teacher aides.
According to the district, the cuts are part of a plan to streamline education and reroute 90 percent of funding to the classroom.
Mounting debt has crippled Detroit Public Schools, with the district's current deficit reaching $327 million. The new budget calls for issuing $200 million in long-term bonds to reduce the deficit to $127 million. It also cuts $231 million in expenses and slashes $48 million in contracted services.
"We must create and maintain an organization that totally accepts its responsibility for making this the top rate school district that it can be. That begins with this budget," Roy Roberts, the Detroit Public Schools emergency manager, said in a press release. "The budget that is being submitted is fiscally sound and balanced."
DPS presented its budget to the Michigan Department of Education and State Treasury earlier on Thursday, DPS spokeswoman Jennifer Mrozowski told The Huffington Post. On Monday, a public hearing will consider the proposal. State law requires that it be finalized by June 30.
The budget announcement comes after a tumultuous week for the Motor City's schools: On Monday, Gov. Rick Snyder (R) and Roberts announced a new management plan that would create a new authority to govern the city's lowest-performing schools. Two days later, 30 Michigan residents filed a lawsuit that challenges Roberts' control of the district.
And on Thursday, the Detroit News reports, Detroit's religious leaders gathered at Greater Mount Tabor Baptist church, where they called for Roberts' resignation and promised to amass the 161,00 signatures required to put Public Act 4 up for a referendum on the November ballot.
The ministers said Roberts' aggressive school closure plan and further cuts will hurt Detroiters' learning.
"We don't want our Detroit Public Schools siphoned off and killed," Rev. Charles E. Williams II told the Detroit News. "Education is a public institution that our tax dollars pay for. It is not something for corporations to turn into a profit on the backs of our children."
Clarification: An earlier version of this story reported that DPS teachers would receive a 10 percent pay cut. In fact, all DPS employees will receive a 10 percent reduction in pay.
Calling all HuffPost superfans!
Sign up for membership to become a founding member and help shape HuffPost's next chapter