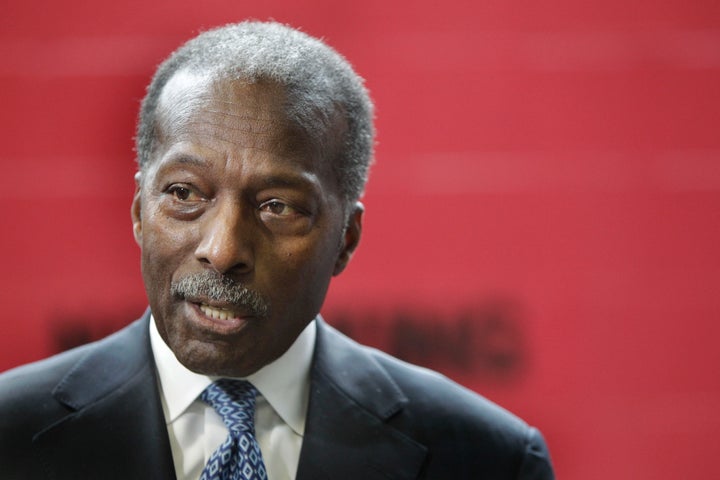 Less than a week after Detroit Mayor Dave Bing said the city was in "very serious" financial shape, the city's schools plan to announce they've dramatically reduced their deficit, The Huffington Post has learned.
Though recently reported to be short $327 million, Detroit Public Schools emergency manager Roy Roberts told HuffPost in an interview that the district's deficit now totals less than $100 million. He is expected to announce that news at a Monday press conference.
"We're going to be under [a] $100 million deficit," Roberts said recently. When asked how much under $100 million the deficit was, Roberts declined to elaborate. "I don't want you coming back next week and saying I told you 'white' when it's really 'red,'" he said.
The debt-addled district has had to make cuts in personnel and teacher pay as the city's population -- and school enrollment -- dwindled in recent years. Roberts, a former GM executive, took the reins of the district in May, succeeding its first state-appointed emergency financial manager, Robert Bobb.
What's helped with financial planning this year, Roberts said, is "we've got more kids in school than we forecast." Overall enrollment has risen to exceed budgeted projections by almost 300 students, and the district responds to unexpected needs caused by teacher retirements and resignations.
When asked for details about how DPS cut its deficit, Roberts said he altered the district's costly debt-reducing practices. "We were spending 100 million a year taking care of the debt," Roberts said. "We were using short-term notes. We said, 'why don't we do long-term bonds?'"
The state approved Roberts's plan to use long-term bonds. "We got a firm that was good at doing it," Roberts said. "We got it at this peak, at 4.78 percent. And here we are."
Next up, Roberts said, will be presenting a new deficit-reduction plan to the state. "I want to go to the state before we go forward [publicly]," he said. "We had a plan in front of them until we finished up [fiscal year] '11. Now we finished better than we thought we would."
"We have two goals: educate kids and get rid of the deficit," he said.
Though Bing recently announced public-sector pay cuts and up to 1,000 layoffs, Roberts said he has "no immediate plans" to take similar measures. (Roberts has already cut DPS employee pay by 10 percent and increased employee benefit contributions.)
On Friday, DPS circulated an email to reporters saying, "Detroit Public Schools Emergency Manager Roy S. Roberts on Monday will hold a press conference to give a six-month financial update and revised deficit projections." Roberts is expected to lay out more details about how deficit reduction was accomplished then.
Calling all HuffPost superfans!
Sign up for membership to become a founding member and help shape HuffPost's next chapter