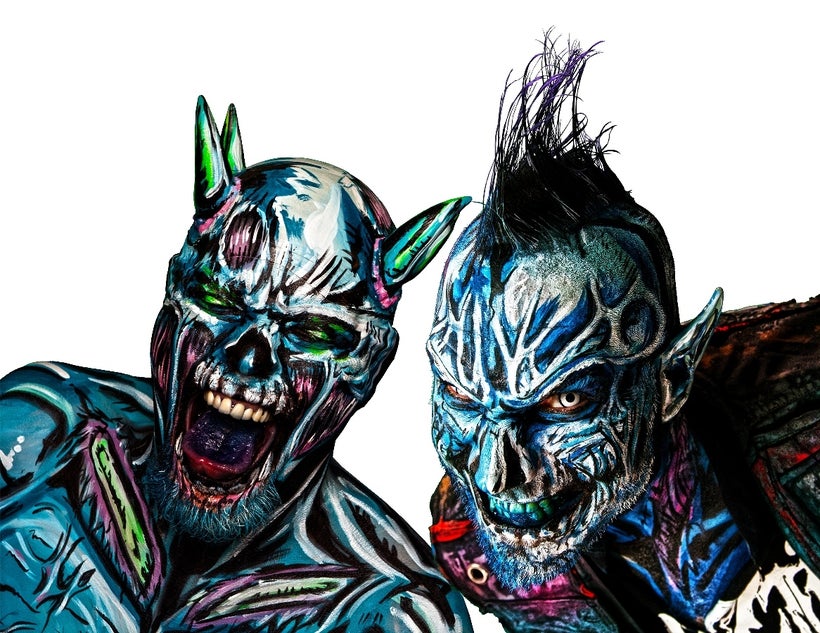 The Majik Ninja Entertainment universe has been in full swing in 2017. It's been a formative year for the label founded in 2014 by the Detroit horror-core rap duo Twiztid after parting ways with their previous label Psychopathic Records. Starting off the year with the release of Twiztid's The Continuous Evilution Of Life's ?'s, Majik Ninja has released a slew of projects spanning their complete roster. With crowning releases like The R.O.C.'s Digital Voodoo or Young Wicked's The Return Of The Prodigal Son, Twiztid and the crew have established themselves as their own entity. When you look at Majik Ninja Entertainment as a whole, they have changed with the times. While the inclusivity always preached amongst the Juggalo community still exists, there's definitely something different this time around. While they continue their attempts to honor the history of their fan base, there's a levity that fits into rap music as a whole.
In honoring their history, Twiztid is currently on the road celebrating the 20th anniversary of their first album Mostasteless, which will include a pair of dates for their annual Fright Fest on October 30th at the Majestic Theater in Detroit, Michigan and October 31st at Pop's Concert Venue in Sauget, Illinois. Mostasteless was turning point in the lives of Twiztid members Jamie Madrox and Monoxide. After their previous group, House Of Krazees (along with now Majik Ninja artist The R.O.C.), ended and the two were about to go back to living normal lives with real day jobs, the duo gave it one more shot. It worked. The Insane Clown Posse took notice and signed Twiztid to Psychopathic Records.
Mostasteless would come out in November of 1997 and Twiztid would quickly become one of the franchise acts of Psychopathic Records. The album would enjoy a reissue two years later through Island Records with a new comic book-styled cover artwork and a new tracklisting, which would include the addition of the song "Rock The Dead" that would become one of Twiztid's most beloved songs.
Twenty years later and not only is Twiztid celebrating this major shift in their lives, but Majik Ninja Entertainment is enjoying their best year yet, and don't have any plans on stopping.
Twiztid is releasing their own comic book Haunted High-Ons through Source Point Press. The comic has Jamie Madrox and Monoxide as fake ghost hunters and all sorts of insanity will ensue. To celebrate the release of Haunted High-Ons, Twiztid will have a comic signing at Comics & More in Madison Heights, Michigan on November 11th.
Majik Ninja also announced the creation of their own pop culture convention, Astronomicon, happening February 9th-11th, 2018 at the Wyndham Garden in Sterling Heights, Michigan. Among those already announced to appear include Carla Harvey (Butcher Babies), Charles Wright (WWE Hall Of Famer), Booker T (WWE), and horror icon Sid Haig, along with a wide cast of others. Keep up on more announcements at astronomicon.com.
Along with all that, Majik Ninja continues to build their roster and have many exciting releases down the line. They recently signed LARS (Last American Rock Stars), a duo made up of Bizarre of D12 fame and King Gordy. Majik Ninja also has upcoming albums from Lex The Hex Master (Beyond Redemption) along with the Year of the Sword album featuring collaborations from the entire roster.
The Majik Ninja universe is now out in the full force and they've created something where there is more a level playing field throughout the artists on the roster. Sometimes, when you are amongst a counterculture that Twiztid and many of the Majik Ninja artists have been a part of for so long, the waters of inclusivity can become muddy and things are no longer the same. With the advent of Majik Ninja Entertainment, those waters are clear again and you can feel everyone is having fun again.
Twiztid is currenting on the Mostasteless Tour and Fright Fest goes down on October 30th at the Majestic Theater in Detroit, Michigan and October 31st at Pop's Concert Venue in Sauget, Illinois. For more information on Twiztid and the entire Majik Ninja Entertainment roster, visit twiztid.com, twiztid-shop.com or majikninjaentertainment.com.
Calling all HuffPost superfans!
Sign up for membership to become a founding member and help shape HuffPost's next chapter
This post was published on the now-closed HuffPost Contributor platform. Contributors control their own work and posted freely to our site. If you need to flag this entry as abusive,
send us an email
.