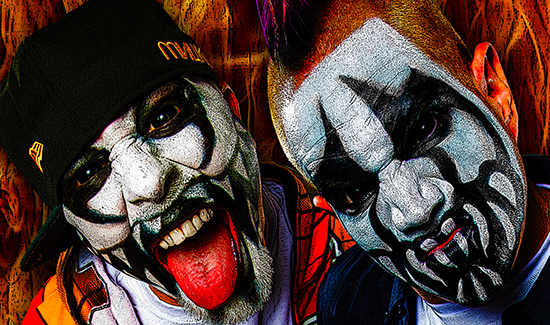 It's the season of the pumpkin, the time of the year best to enjoy the music of Twiztid. The Detroit horror duo has enjoyed a long career of gruesome raps with all the theatrics embedded into it. Earlier this year, Twiztid released their first album The Darkness on their own imprint, Majik Ninja Entertainment, and are currently on their headlining Fright Fest Edition of the Welcome To The Underground Tour 2015.
Twiztid has been doing Fright Fest shows off and on since 2003 and have been doing Fright Fest tours for a few years now, each year getting bigger and better. While on this tour, Jamie Madrox and Monoxide Child celebrated the 15th anniversary of their Freek Show album with a special show in Philadelphia, along with the unveiling of a live band for the first time on a few select dates, including the upcoming Detroit show.
Recently, I was able to chat on the phone with Monoxide Child and we talk about the Fright Fest shows, their face paint, the response to The Darkness, and what to expect from their next album.
What makes a Fright Fest show different than any other Twiztid show?
That's tough but it's the set selection. It's the songs that we do. Everything is a little more darker, a little more intense emotionally, feeling-wise. Not as 'in your face' maybe, but a little more like 'What the fuck is going on?' There's definitely a difference.
This time of the year is like Christmas for Twiztid. How do you like to enjoy Halloween?
I guess the best way is sleeping with a dead chick. (laughs) I don't know! It's become such an almost ritualistic thing to do these shows now on Halloween. We're always doing something. But as a kid, shit, we been going out snatching bags of candy! Dressing up like Chewbacca until I was 14 years old, was in a 9 or 10-year-old kids costume. When I was 14, I shot up like a foot and a half, so none of my shit fit. We were poor as shit, so it was like you either wear that, or you ain't got a costume this year. Your pants are a little shorter this year. That sucked. That was crazy. I used to love Halloween like that. Now, its something totally different. It's not even about us anymore. Halloween has nothing to do with Twiztid. It's more about us trying to put on an event for everybody else.
Behind the whole Twiztid mystique is the face paint. What influences what you guys are going to look like on stage?
There's not as much thought as you would think. For example, "Boogieman." We did that, we got our faces painted how they normally are and I believe it was Roy [Knyrim, the director] was like 'You guys want to do something different with the makeup?'. We're like 'Sure!' It's all about how you're feeling. Like you can see it. I don't want to sound like one of those fuckin' weirdos, but it like speaks to you, it tells you this should be like this. It will tell you when its time to change. Somehow, it has a way of letting you know okay change it up, do something else. We listen to that internal clock that we have. In the long run, there's probably 15-20 different Twiztid looks. Entertaining! When you think you know what we're going to do, we do something else. That's been the whole MO of the band from inception.
Its been a few months since The Darkness came out. How has been the reception been?
Better than we thought. Way better than we thought. We were skeptical on it big time because it was so hip-hoppy. It was way more rappy. It was way more old school I would say. If you just came on from the last few records, if you came on at Abominationz and you heard The Darkness, you might be like 'What the fuck?'. Like two completely different bands, but that's us! That's just what we do! If we keep giving you the same thing over and over and over, there's no fuckin' way we'd be in the game this long. Absolutely not! We got to change it up just to keep you entertained, keep you on your toes.
Do you have any ideas for what the next Twiztid record will be like?
We have an [idea for a] song that we're doing called "Set The World On Fire" with Krizz Kaliko and Tech N9ne. I'm going after some people for this one though. There's people I want to do songs with. 5 Finger Death Punch. Avenged Sevenfold. Its going to be nuts. I promise you. Its going to be one hell of a fuckin' record. It's called The Moment You've All Been Waiting For. Holy shit! We really got to pull it out of our ass on this one!
Twiztid is currently on the Fight Fest Edition of the Welcome To The Underground Tour 2015 and will be hitting Detroit on Friday, October 30th at the Majestic Theatre for a show and an afterparty in the Majestic Cafe immediately after. For more information, visit twiztid.com.
Calling all HuffPost superfans!
Sign up for membership to become a founding member and help shape HuffPost's next chapter