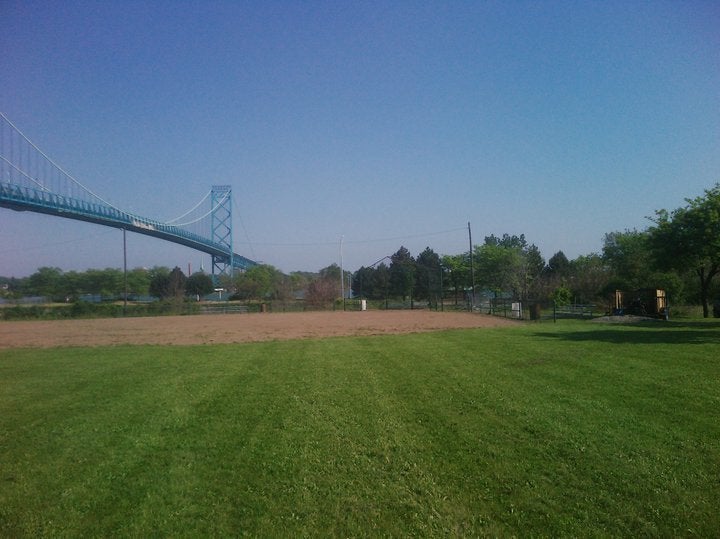 The city of Detroit is closing Riverside Park temporarily due to concerns about environmental contamination.
The 20-acre-park, which is located next to the Ambassador Bridge and includes a boat launch, fishing pier and baseball field, will remain closed to the public until a further environmental assessment is completed.
Some community members were ready to blame the Bridge Company for the contamination and the park's closure. State Rep. Rashida Tlaib (D-Detroit) said she was upset by the news.
"The Bridge Company has pushed the city of Detroit into a box," Tlaib said in a statement. "And now they have legal issues in regards to the park, and they have to take the necessary steps."
"It's been unfortunate as we've been involved in cleaning up the park in recent years," said Joe Rashid, a spokesman for Friends of Riverside Park. "I think at this point it's necessary to get it cleaned. However, they hope to have it done as soon as possible, so we can have it open later this year."
"Everyone wants it open," he added.
Raymond Scott, general manager of Detroit's Buildings, Safety Engineering and Environmental Department, said city investigators found a petroleum-like liquid at a depth of 8-16 feet underground. While Scott said he did not believe the contaminant posed an immediate exposure threat, he said the department needed more information to judge the substance's true safety risk.
"We understand the passion of the residents, the people who spend time at the park," he said. "This is a precautionary issue."
According to Scott, the existence of contamination at the park came out during the court proceedings over the fence. He cautioned against prematurely blaming the DIBC for the pollution, however, noting nearly all of Detroit's riverfront property was once used for industrial purposes.
In February, the city applied for a federal brownfield grant to remediate the land and officials are working on a proposal for an additional, separately-funded investigation.
WATCH: Residents tear down a fence in Riverside Park a judge ruled was illegally maintained by the Detroit International Bridge Company.
REAL LIFE. REAL NEWS. REAL VOICES.
Help us tell more of the stories that matter from voices that too often remain unheard.