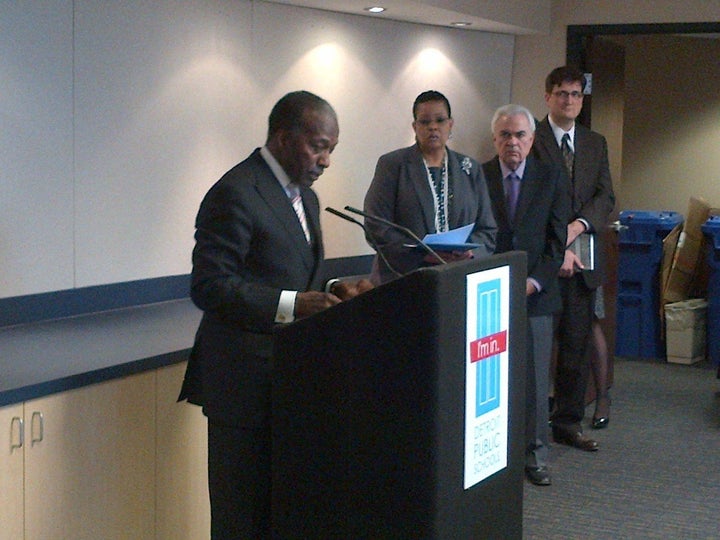 Detroit Public Schools Emergency Manager Roy Roberts announced a big shake-up in the district Wednesday, closing nine schools next year and converting four into charters, to save $7.5 million in annual operating costs. An additional 15 schools will be shifted to the jurisdiction of a new, statewide district for the lowest-performing schools.
The announcement comes after Roberts began meeting with teachers and parents at affected schools starting last week. He said the process had been "one of the toughest weeks" of his life.
The school transformations are Roberts' latest attempt to turn around the district, which faces declining enrollment and a $86.3 million deficit. The administration shuttered 15 school buildings last year.
(SCROLL DOWN FOR A FULL LIST OF SCHOOL CHANGES)
"Rather than continue to support buildings that are far underutilized ... we will consolidate," Roberts said Wednesday. "We have been using an outdated educational model that we must discard."
The district's new model is founded on an ambitious academic plan, tied to the state's common core curriculum and the National Assessment of Educational Progress. Superintendent of Academics Karen Ridgeway said the new focus is on data.
"Beginning next fall, every student throughout the district will have a data-based individualized learning plan to help pinpoint his or her strengths and weaknesses," Ridgeway said.
Those plans will take into account attendance, Ridgeway said. The district is also assembling an "academic blueprint" for parents to increase engagement in their children's education. Teacher evaluations also will be tightened.
Key to the new model is unloading underperforming schools onto charter operators or transferring them to a special state-run district called the Educational Achievement System. In June, Roberts and Gov. Rick Snyder announced the creation of the new system, which will eventually include the lowest 5 percent of low-performing schools statewide.
While 15 of Detroit's lowest-performing schools will move to the new system next year, seven more that qualified for the transfer will remain in the city public school system for a yearlong turnaround attempt.
Public school officials say the district wants to authorize only charter operators with proven track records. Charter operators this year and next year must already run schools in Michigan and show at least 70 percent proficiency for fifth and eight grade students on state math and reading exams.
"We don't have that many high quality operators available," said Doug Ross, the district's innovation officer. "We have to make sure we have only only the best organizations that can really deliver."
Teachers and parents at affected schools expressed disappointment with the closings. Many cited not only concern for their children's education, but for the well-being of communities around the schools.
Emma Howland-Bolton, a fifth-grade teacher at Mason Elementary, said closing the school would "destroy" the surrounding community that has sent generations of students through its doors.
"Ninety percent of our kids walk to school," she said. "That's incredible and that's something that doesn't really exist in Detroit anymore because of these [school] consolidations."
Current Mason students will be assigned to either Farwell Elementary-Middle School or Nolan-Elementary-Middle School.
Maybury Elementary Principal Ellen Snedeker heard the news of her school's closing from Roberts last Friday. She said closing the building and sending students to nearby schools would be a blow to parents in the neighborhood who have long used the school as a community center.
"If you're dispersed over all three schools, you're not going to be able to keep that community together," Snedeker said.
Monica Parga's 5-year-old son attends Maybury. She said closing the school would push her family out of the district entirely.
"If they do close us down, they don't listen to us, we're taking our kids to another city -- Lincoln Park, Romulus," Parga said, noting declining enrollment would only serve to drain more state school aid funds from the district.
Detroit public schools enroll 69,616 students this year. After cuts to Michigan's School Aid Fund, the district receives $6,846 per pupil. After the changes, Roberts said the district would lose 12,000 students to the new system for underperforming schools and another 1,600 to charters. State funding "follows the students," he said.
FULL LIST OF SCHOOL CHANGES

School buildings to be closed: Detroit City High School, Detroit Day School for the Deaf, Jemison Academy, Kettering High School and Kettering West Wing, Ludington Magnet Middle School, Mason Elementary School, Maybury Elementary School, Robeson Early Learning Center, Southwestern High School

Schools to become charters: Cooke Elementary-Middle School, MacDowell Elementary School, Noble Elementary-Middle School, Rutherford Elementary School

Schools to be transferred to the Educational Achievement System will be announced before March 15.
Kate Abbey-Lambertz and David Sands contributed to this report.
CORRECTION: An earlier version of this article identified Monica Parga's son as eight years old. He is five years old.
Related
Popular in the Community