What happens if a city can't afford to keep the lights on, when it's literally plunged into darkness? Photographer and sociologist David Schalliol's series "In Between Detroit's Failing Streetlights" looks at that sobering reality.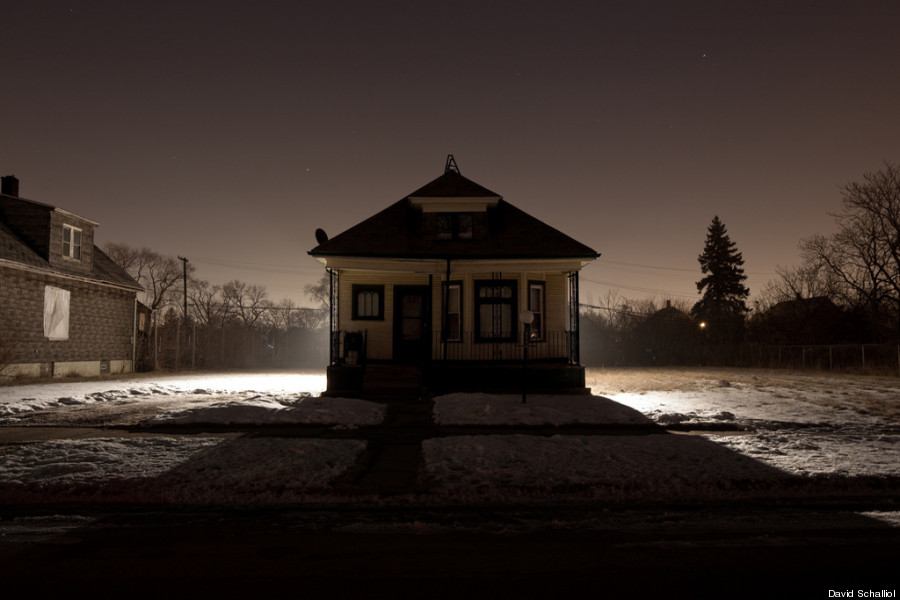 Schalliol, who is a sociology Ph.D. student at the University of Chicago, did most of his shooting for the project while he lived in Detroit in the summer of 2009. Schalliol lived with his girlfriend in the Hubbard Farms neighborhood, down the street from the rundown Hotel Yorba made notorious by the White Stripes.
"While most every neighborhood in Chicago is fairly well illuminated, Detroit neighborhoods are not," he writes in his statement about the project. "Even my street in an active neighborhood in Mexicantown was totally unlit until about a month into the summer, when one light bulb was installed in one of the many streetlight posts."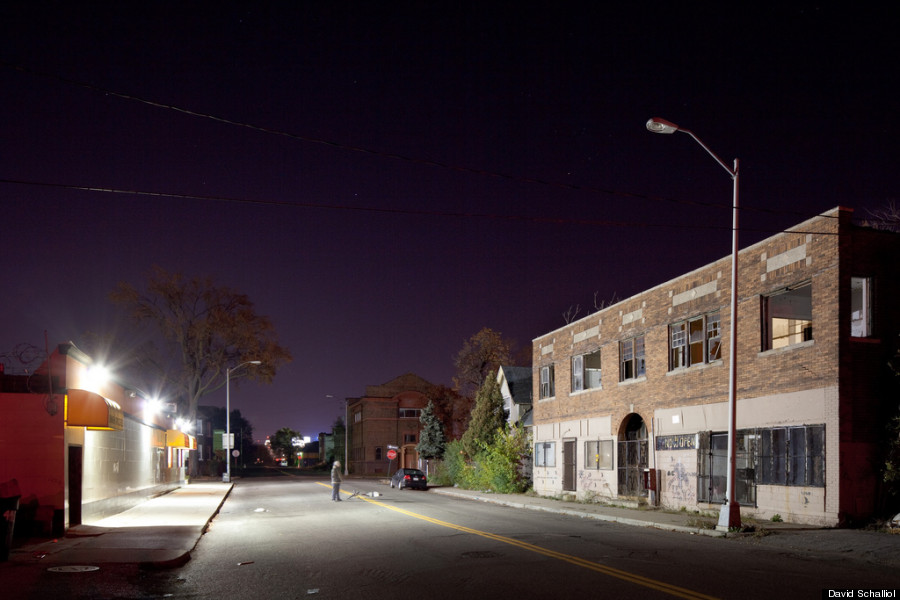 But it's not just replacing bulbs: the antiquated system, which needs more extensive upgrades, make individual repairs more expensive. The lighting authority's director also pointed to the barriers of "copper theft, bulb outages, vandalism, obsolete technology, lack of repair staff and a lack of funds to pay for repairs" in a Deadline Detroit op-ed.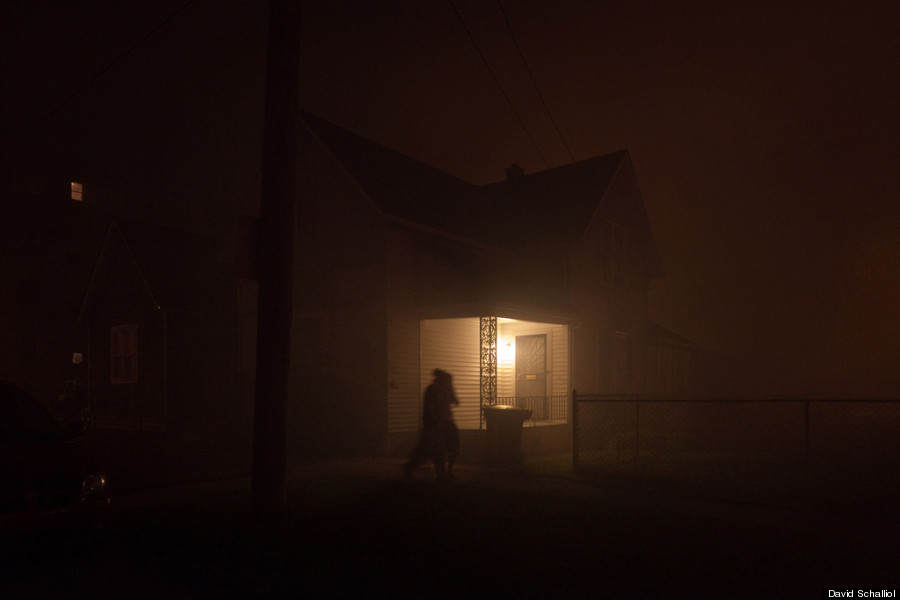 As a sociologist, Schalliol set out to photograph Detroit in a way "that could contribute to the discourse about Detroit rather than simply reinforce the dominant perception of the city as something like an urban wasteland."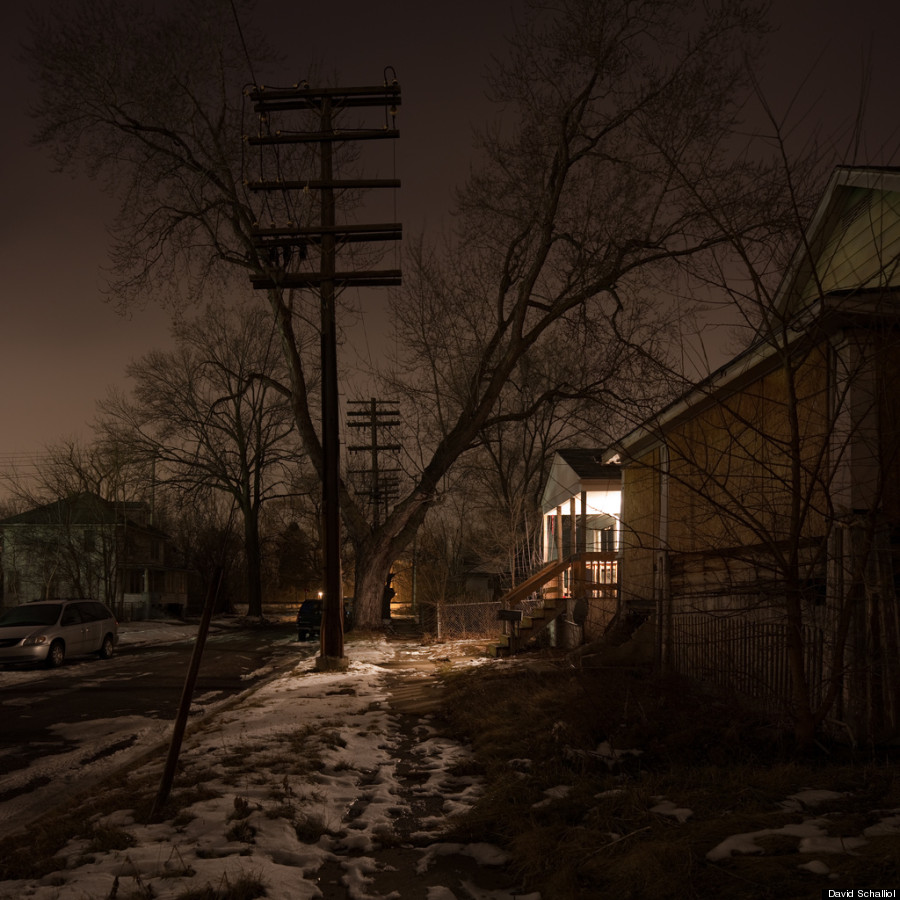 Schalliol's photographs aren't just about the lack of streetlights, but also look at the way citizens and businesses have lit up spaces amid the darkness.
"One consequence of this neglect is that residents often provide their own light," he wrote. "Porch lights and commercial floodlights punctuate darkness nearly as frequently as do public utilities. Streets take on a patchwork appearance from the hues of private light sources: the bluish whites of fluorescent signs, reds of neon gas and pale yellows of porch lights."
"I hope that [the photos] serve as a reminder of the commonality produced by casting light into one's community."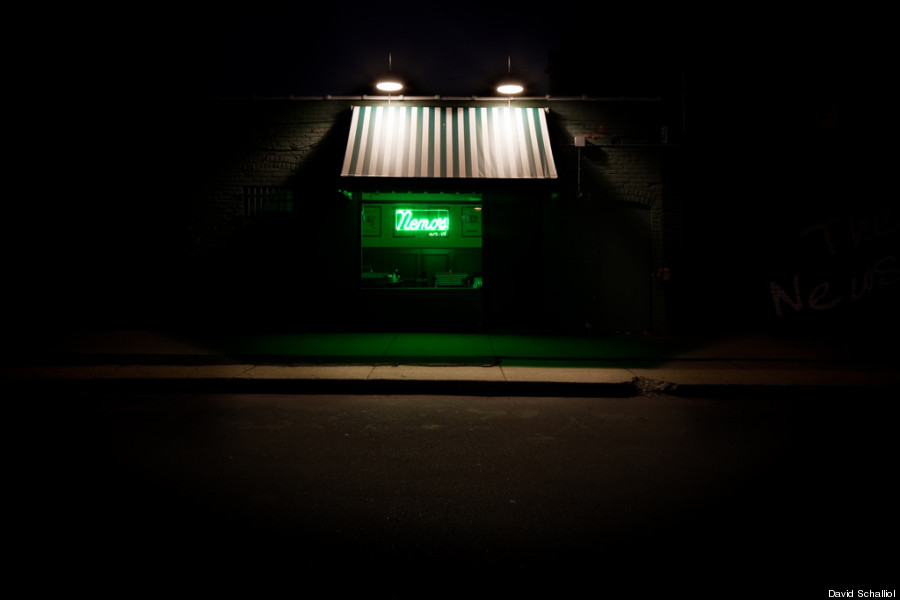 More than just an investigation of lighting, Schalliol's practice of shooting in the dark gives him a different view of the city. He said he thinks it's "critical" that photographers work at all times of day and night.
"I am consistently surprised by how much cities transform throughout the day," he said.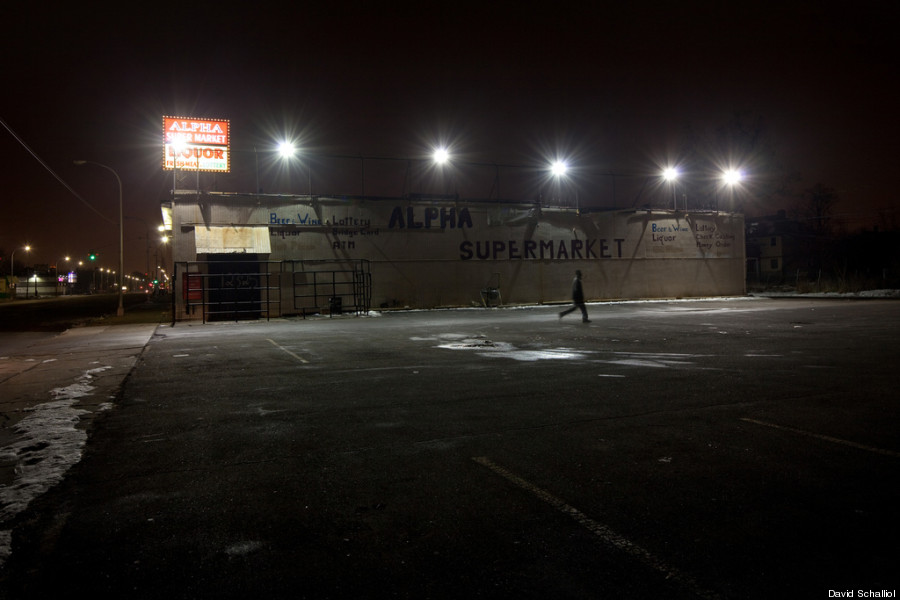 Schalliol said he's aware that he comes to the city as an outsider. But he's been an empathetic one, whose aims to transcend the easy narratives about the city.
"Rather than simply filling a frame with the simplistic narrative of 'blight' or 'decline,' I try to occupy the contradictory position of demonstrating problems and their many solutions," he said. "My first serious visit to Detroit was only in 2008, but the five years since that visit seem like a lifetime for the city."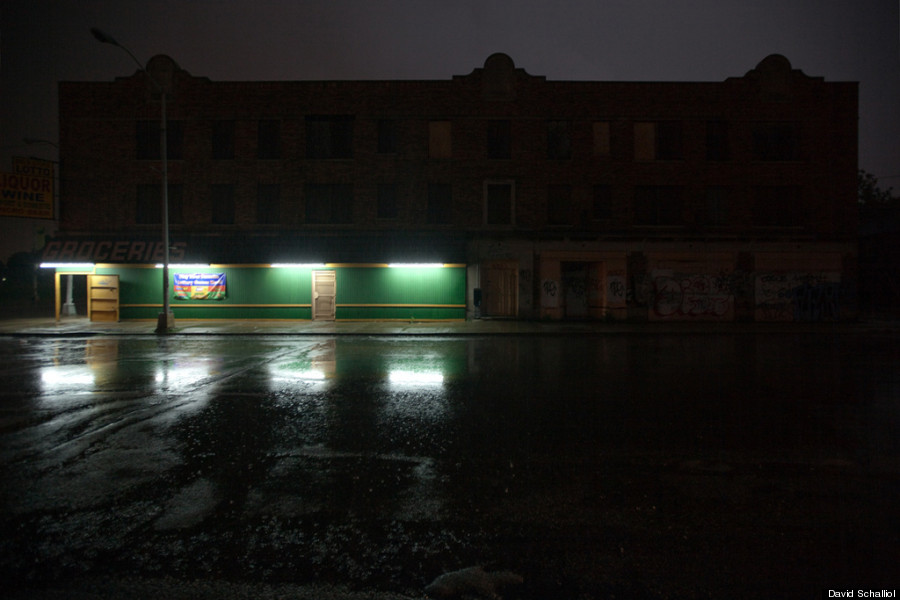 "On one hand, my current experiences in many neighborhoods are relatively similar to my first visit: interactions with residents living full lives against the backdrop of continually declining populations and various private and public schemes to address the related problems. On the other, sections of Downtown and Midtown are almost unrecognizable from just a few years ago, and the populations are changing with them."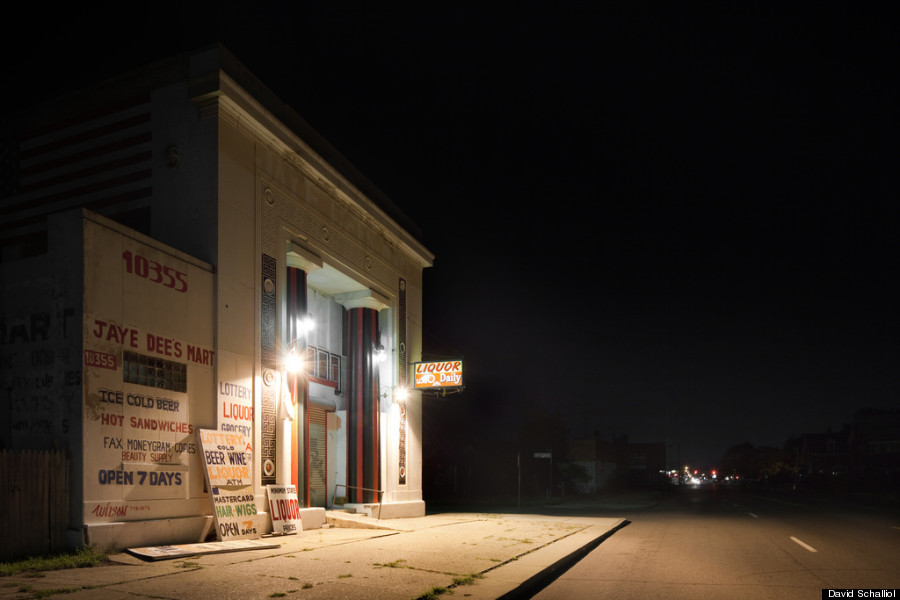 "I am progressively paying attention to the difference between these often divergent trajectories. The more the popular narrative about Detroit is being shaped by an exuberance related to localized resurgence, the more I feel like it's important to reemphasize what's happening outside of those pockets. I am currently working on finding that balance."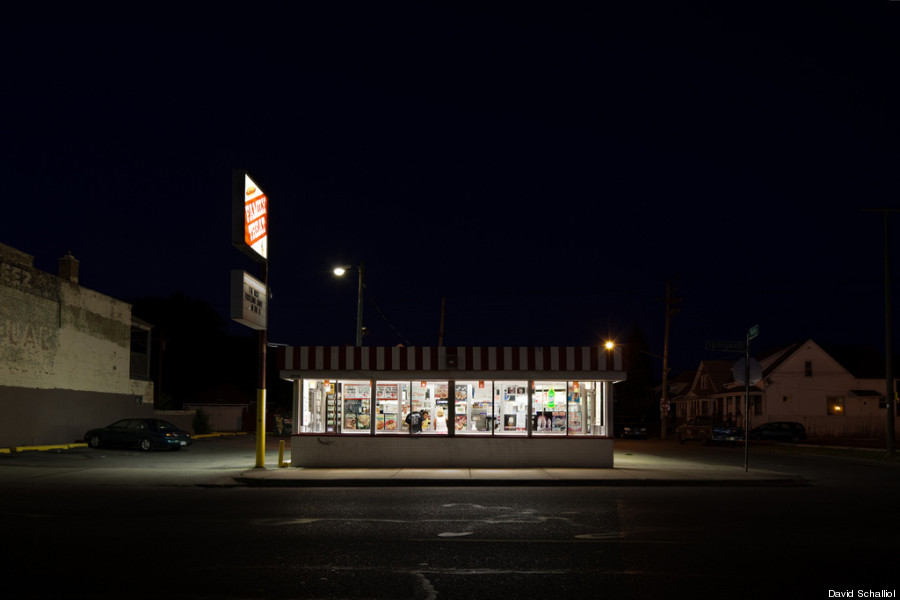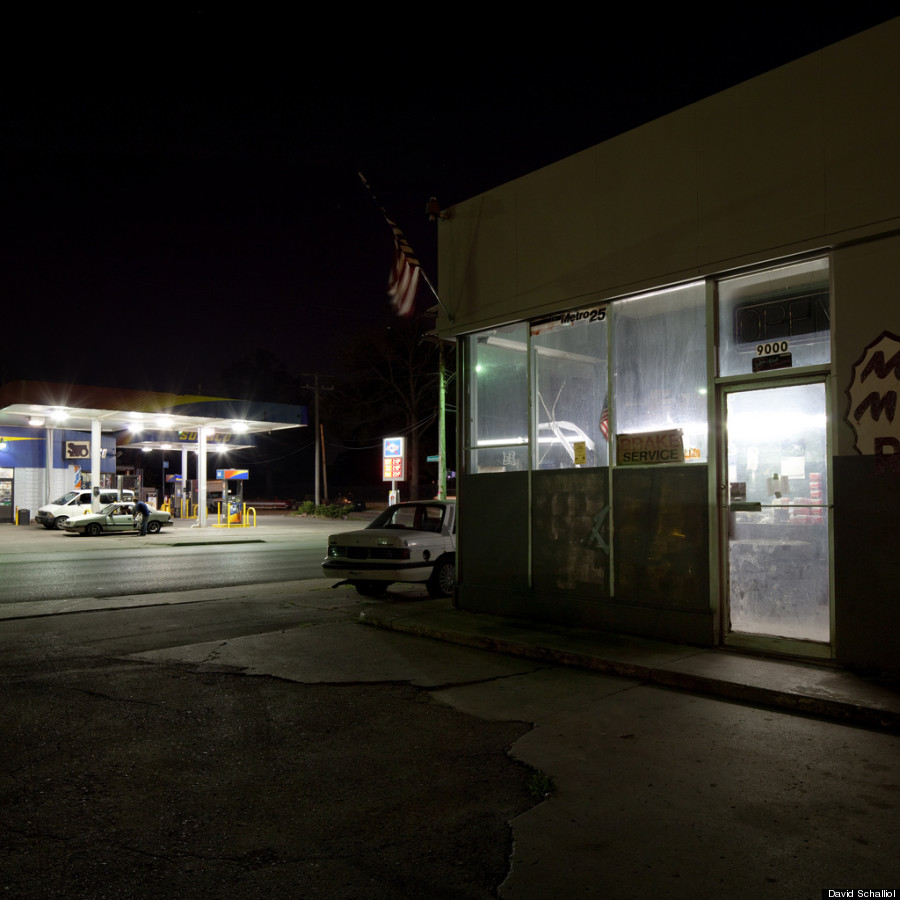 Related
Popular in the Community