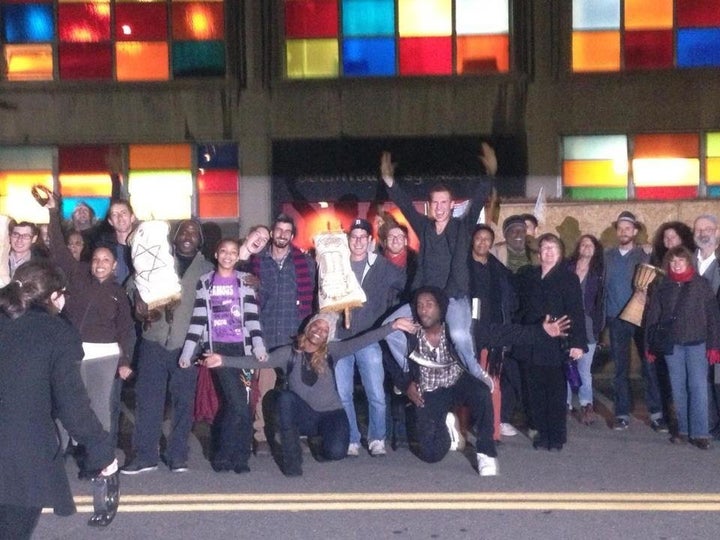 Larry Mongo, the owner of Café d'Mongo's Speakeasy, says visitors are often surprised to find out his downtown Detroit bar is located next door to a bustling Jewish religious center.
"They are a bit shocked that there's an active synagogue downtown," he told The Huffington Post. "Some of them seem -- Jewish and non-Jewish -- like they have taken their first steps on the moon."
In recent years, the Isaac Agree Downtown Synagogue has served as the focal point of a resurgent Jewish community. It's a rather remarkable development, because not long ago Detroit's last free-standing synagogue was on the verge of shutting down.
"The only thing that was happening in the building four to five years ago was Saturday morning services that could barely get a minyan [religious quorum] there," Leor Barak, president of Isaac Agree's board of directors, said. "Now look at us ... We have hundreds of people going through our doors every day. We're a hub for Jewish life in Detroit."
Isaac Agree, which belongs to the conservative tradition of Judaism, was founded in 1921 -- a time when Detroit was home to a large, vibrant Jewish population. As the Jewish population migrated from the city, however, the synagogue's membership diminished. By 2008, the institution's congregation had dwindled to a handful of older, largely suburban members.
The recent transformation has been dramatic. The congregation now has 250 member units -- a figure that includes both individuals and families -- and its Friday evening and Saturday morning services regularly draw around 40 people. In addition, Isaac Agree now hosts regular Thursday morning services, Torah studies, Hebrew lessons and a wide array of other programming.
What led to this resurgence? Barak, the board's 32-year-old president, credits his predecessor Marty Herman with securing a $50,000 matching grant from the Kosins Family Foundation in 2006. But it was an influx of young people like him that brought renewed vitality to the congregation.
Barak was born in Detroit to Israeli parents. He eventually moved out to the suburbs with his family, but later returned to the city. Barak said it was a chance encounter with bar owner Mongo in 2007 that led him to get involved with the synagogue.
"I saw Larry Mongo. We started talking. I went inside [d'Mongo's] and started messing around on the piano," he said. "He showed me the synagogue next door ... It was pretty cool it was still functioning, but it was kind of on its last limbs at that point."
Barak said he doesn't come from a strict religious background, but got involved because he wanted to be part of a positive change. He isn't the only one to get recruited at d'Mongo's, either. A few years back, bartender Courtney Smith began an aggressive campaign to get fellow Jews interested in the synagogue.
"You come in my club, and, if Courtney thought you looked Jewish, she would kidnap [you]," joked Mongo. "Walk from behind the bar and take young people next door to the shul -- and presto!"
Mongo grew up in Oak Park, Mich., a Jewish enclave near Detroit, and later converted to Judaism. He, like Ginger Hopkins, is one of several African-Americans who attend Isaac Agree. Hopkins, 55, recently celebrated her Bat Mitzvah, a Jewish celebration that represents her formal entrance into the faith. Brought up Baptist, she began attending the synagogue in 2003 after leaving the church.
"I'd left the church about three years," she told The Huffington Post. "I was just home studying, and finally I decided I was going to go to the synagogue so that I would begin to understand the sabbath better, to be a part of the festivals and learn about the festivals as well."
Hopkins said the congregation is a diverse mix of people, including some who grew up practicing and others who are now exploring the depth of Judaism they want to practice.
"Our goal is ... to show more people what we're all about and to really create robust and attractive programming that gets people -- not just from Detroit and not just Jews -- in the door," said Anna Kohn, the synagogue's director.
A recent talk on parallels between the Motown record label and the biblical story of Jericho is one example of the synagogue's efforts at outreach programming.
Many of the synagogue's members share an interest in social justice, as well. The congregation is Conservative Egalitarian, meaning women are allowed to participate in all rituals. The board's Education and Social Action Committee does work around food justice and was instrumental in getting the synagogue involved in a community garden and with a local block club.
Also in the works is a crowdfunding campaign to raise $250,000 to make the building safer, better-looking and more secure. It's part of larger plans for a $2 million capital campaign to re-envision the synagogue's facilities to meet modern needs.
Although there's a lot of work to do, Kohn, who started working at the synagogue earlier this year, is optimistic.
"We've been here for 92 years, and we're only getting stronger," she said. "We had a point in time where we really feared for our lives, and we gratefully got through that. And I think it's all up from here."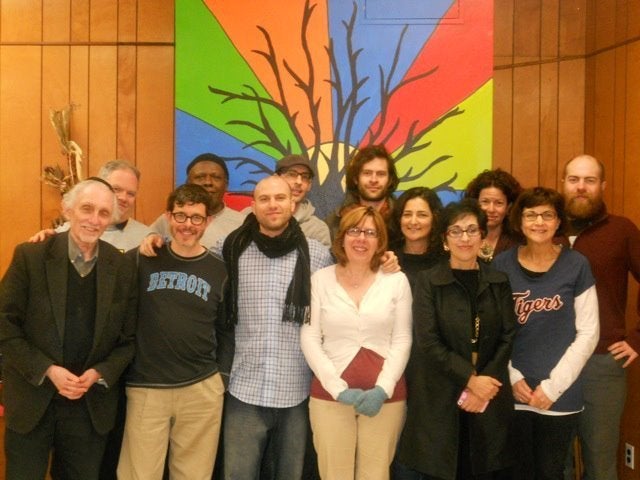 Downtown Detroit Synagogue
Popular in the Community