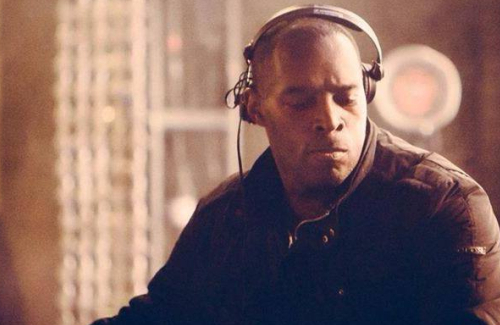 No need to go down memory lane when it comes to Detroit techno pioneer Kevin Saunderson. The story has been told, but even so, those seeds originally planted by the likes of Saunderson continually need care so that the future of electronic music can openly grow through innovation and collective efforts.
Kevin Saunderson is back again at this year's Movement Festival in Detroit presenting ORIGIN's, a lineup curated on the Made In Detroit Stage to close out the festival on Monday, May 25th with a line up of artists from Detroit and elsewhere that embody the core spirit coming from Detroit techno. Recently, I was able to chat with Saunderson about the ORIGIN's stage and how collaboration is important to progress in music.
Tell us about the ORIGIN's stage at the Movement Festival.
We aim to give people some history of music; people who have been influenced by myself or any of the music from Detroit. It's about protecting the origins of the music from Detroit where it started and keeping it going. Let's all feed off each other and just vibe from it. I'm hoping that young producers who will be a part of it will do some collaborations or some other connections happen out of it. Of course, we want to inspire the new kids, the new producers coming out and give them a vision to want to play on an ORIGIN's one year, one day, somewhere in Detroit or somewhere in the world.
What have you taught your sons about music so they can stand out on their own?
When they first decided, they decided at different times. Like Dantiez, when he decided, he didn't come to me, it kind of happened by accident. He moved in with some friends, his friends were DJs and producing. That's how he got his inspiration. He moved back home, and he was like 'I want to make music, I want to be a DJ'. I told him to go on YouTube, learn this, learn that, and get some background work first, and see if that's what you want to do. It isn't as easy as jumping into this. You got to love it. I think what I did is really make him prove that he really wanted it on his own, and in time, as I started to see that dedication, that will, I started taking him around the world with me so he could get a vision on what else is out there. Get a feel for it. I took him to Ibiza. I took to Australia. I took him several places. After a while, I just realized that he was a hard worker, I knew he was serious. His skills started to develop. That's how he earned his way. The other one Damarii kind of followed his brother but also worked hard in the studio producing music. You got to live it. You got to love it. I think they are both doing that. They don't need daddy to play with them; they can play on their own. They sure don't need me to make music with them or for them. We did do some collaboration and actually learned some production tips from them. Now, it's even better because our relationship is a better relationship. We have a mutual interest. This is what I've been doing. This is what they are doing, and I'm still doing it.
Between what you described about with your sons and the purpose of the ORIGIN's stage, there's an air of collaboration in all of it. Speak about the importance of collaborating with others.
I think it inspires some of the best creations from collaboration, I don't know if people really realize that because of the magic that comes through. Also gives opportunity to other artists and it's fun too. Last year, me and Seth [Troxler] did a back to back and then we started talking about doing a track together, which we'll get to. For me, being in the game so long doing this so many years it's an important part of it because of the development to keep you growing.
The element of fun comes into question with me. Do you think too many electronic artists take themselves too seriously?
I think you do the music you love doing, you have to love it, and you have to be inspired. When I make a track, I don't worry about if people will love it or like it. I've enjoyed what I've done. I love doing it. It's a bonus if people do like it because it gives you a different kind of inspiration and confidence, especially when you are doing it at a young age early in your career.
With being a black artist in the music industry and with all the hot-button topics centered around race these days, why do you think the music you do is so important for the people?
I think because it brings unity. It takes out race. People unite together in harmony. That's what it is. You go to our events and people are all on the same level together in harmony.
After all these years, how do you still stay important to this electronic music genre?
In Detroit, we are the roots, the essence, the industry of techno, and the form of electronic music. The soul of the music beats the heart of the city. It's been like that for years. I've been lucky through my life that I've touched so many people. I've been inspired in return. Think about the roots of it and it must grow, and many have grown from it in different ways. It's always important to be a part of it as long as I'm healthy. We have reached people all over the world. It's a great feeling to know we had this impact. When I first started making this music, I was going to Eastern Michigan University and I was DJing and making music on campus. It's all urban black kids coming to our parties. I kept looking at these fraternity's parties going on campus saying this music is for everybody. So the black kids are now listening to dance music and the white kids were listening to rock-n-roll and punk, and they had these enormous crowds, and I kept saying 'You guys need to dance. Everybody needs to dance.' That was a vision and it has come true.
ORIGIN's is presented on the Made In Detroit Stage at the Movement Festival at Hart Plaza on Monday, May 25th featuring artists Dink & TK, Greg Gow, DJ Mink, D. Wynn, The Saunderson Brothers, Phuture, Al Ester, Lee Foss, MK (Marc Kinchen), and Kevin Saunderson & Derrick May Presenting Hi-Tech Soul. For more information on Movement Festival, visit movement.us. For more information on Kevin Saunderson, visit deepspaceradio.com.
REAL LIFE. REAL NEWS. REAL VOICES.
Help us tell more of the stories that matter from voices that too often remain unheard.