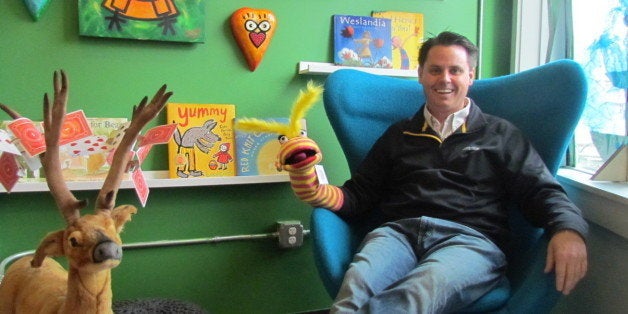 In decades past, downtown Detroit hummed with activity during the holidays, with Hudson's being the place for gift shopping and Christmas-crazy kids. Many Baby Boomers still have fond memories of dressing up to go to the sprawling department store to visit Santa Claus in Toyland. Though Hudson's closed in the '80s, Spielhaus Toys founder Kurt Spieles is trying to bring a little bit of that magic back to the Motor City.
The specialty toy shop, which opened in October, was one of the finalists for the retail competition Hatch Detroit. While Spieles lost out to Batch Brewing Co., the contest gave him a push as he made the cut for D:hive's Pilot project, which allowed him to open a pop-up shop rent-free for two months on a busy strip of Woodward Avenue. The quarterly program from the city welcome center gives each winner support, a small stipend and the space to test out a business. Spieles is the third business to pop-up in the space so far.
Spieles, who worked as an environmental engineer for several years before going back to school to teach high school science and then becoming a stay-at-home dad, started the shop because of his personal experience -- it turned out he had quite a knack for finding unique and interesting toys, so much so that friends started to ask for advice.
He and his wife have lived in Detroit for more than a decade, where they've committed to staying for the long haul and raising their three young daughters. But while Spieles sees many small businesses flourishing in the city, he also saw something missing.
"There's not enough businesses geared at families," he said. In the last several years, Spieles said he's noticed more and more families with children staying in the city.

Though he'll leave the D:hive spot after the holidays, Spieles has every intention of keeping his business downtown and hopes to open a permanent location in the spring. In the meantime, they're filling a niche in the growing local small business scene, with a focus on toys and games that are safe, environmentally conscious, made in America and promote creativity and learning -- you won't find any video games at Spielhaus.
Spieles imagines his competition coming more from online shopping than chain toy stores, but has been affirmed by how many people have shopped at Spielhaus and thanked him for opening a brick-and-mortar shop.
"People are changing the way they think about things," he said, including the importance of supporting local businesses and the kinds of toys families want to bring into their houses. "It's all about community."
And Spielhaus is poised to become the downtown toy shop Detroit's been missing. The name isn't just a twist on Spieles' name: spiels means "play" in German. How fitting.
Below, check out Spielhaus and 11 other businesses in metro Detroit where you can find gifts for kids on Small Business Saturday this weekend, as well as the rest of the holiday season.
Calling all HuffPost superfans!
Sign up for membership to become a founding member and help shape HuffPost's next chapter
BEFORE YOU GO
PHOTO GALLERY
The Best Motor City Shops To Find Gifts And Toys For Kids