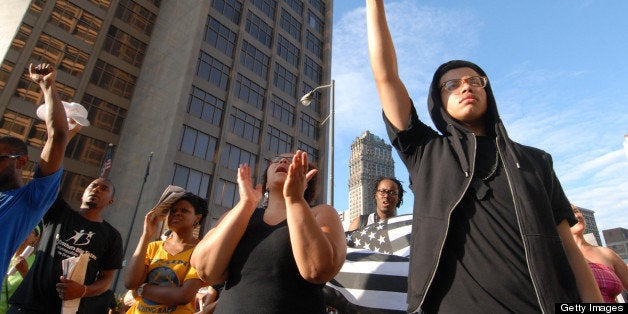 Protestors also called for justice closer to home. Saturday's "not guilty" verdict for Zimmerman brought back anguish over 7-year-old Aiyana Stanley-Jones, shot to death while she was sleeping during a police raid in 2010. Cops threw a stun grenade through a window and burst into the house, led by Officer Joseph Weekley. He accidentally discharged his gun, killing the young African-American girl sleeping on a couch all while a TV crew for reality show "The First 48" filmed.
"I'm out here to fight any way for the other Aiyanas that's to come because it ain't stop at just my grand-baby," she said, according to MLive.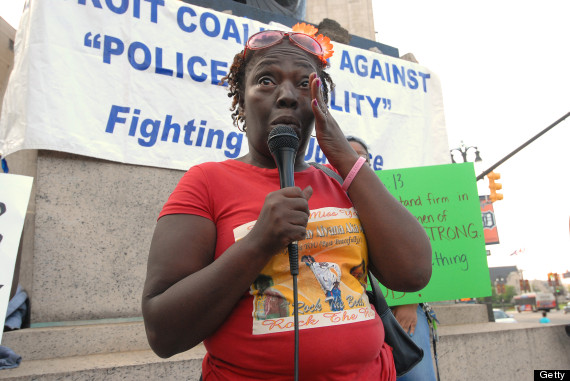 Photo by Paul Warner/Getty Images
Weekley, who is white, stood trial in Stanley-Jones' death earlier this year, but the judge declared a mistrial after a hung jury could not come to a consensus on whether to acquit, find him guilty of involuntary manslaughter or convict him of the misdemeanor of careless discharge of a firearm causing death. During the trial, the defense and prosecution had different tellings of the events that led up to Stanley-Jones' death, with Weekley's lawyer saying he accidentally fired the gun after Mertilla Jones grabbed it, which Jones refutes.
On Sunday, Jones spoke of her experience, and others said Martin's death should bring back the movement for equality, Michigan Radio reports. A couple hundred people attended the rally organized by the Detroit Coalition Against Police Brutality with support from the local chapter of the NAACP, the Green Party and other organizations.
Detroiter Thomas Graves was one of the people who came to witness and document the protest. The high school student, who plans to work in IT and takes photographs as a hobby, turns 17 on Tuesday, making him just slightly younger than Martin was when he was killed. He told The Huffington Post he had followed Zimmerman's case, and felt the verdict was wrong.
"Me and my mom talk about how that could happen to anyone my age, or even me," he said. "It's just a tragedy, for somebody to just walk home and die for no good apparent reason."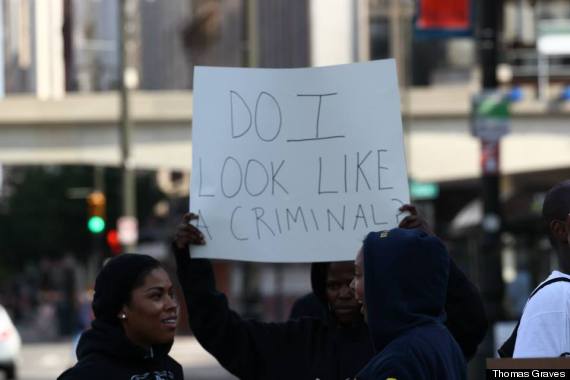 Photo by Thomas Alex Graves.
"I'm a little more careful about places I go at night and places I hang around," he said.
Roger Paz, an activist who attended Sunday's rally, told The Huffington Post it was easy to see how Trayvon Martin's death would resonate in Detroit, a city that is 83 percent African American and has one of the highest murder rates in the country.
"Because of Aiyana, it's very fresh in everybody's minds," Paz said. "Our schools are closing and our children are getting killed -- we're not giving them any options and they're getting killed, and when they get killed there's no accountability."
Related
Before You Go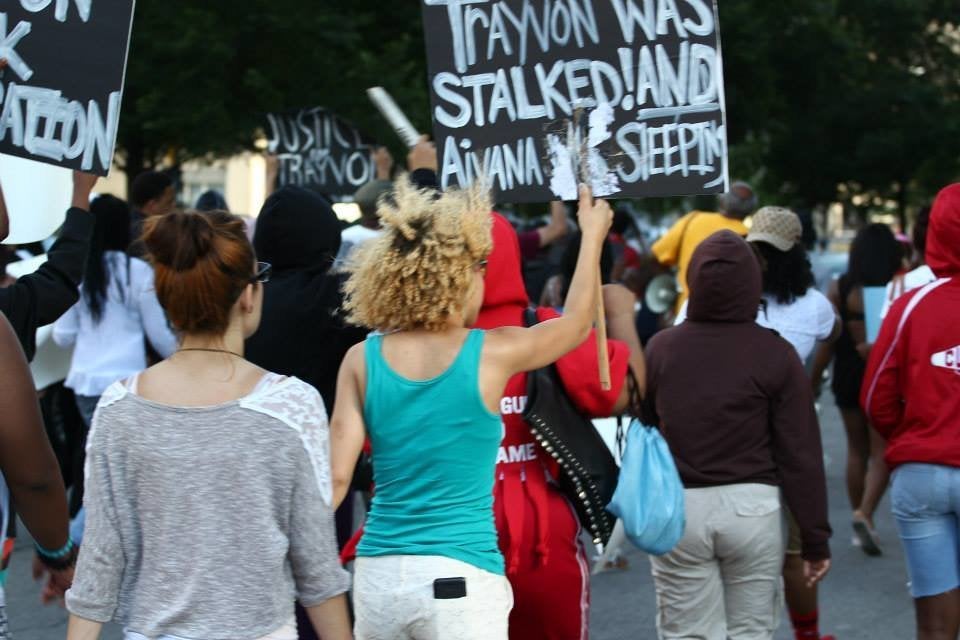 Detroit Rallies For Trayvon Martin And Aiyana Stanley-Jones
Popular in the Community