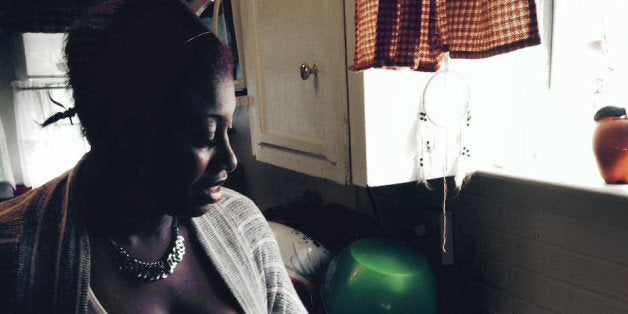 United Nations experts are calling for a federal investigation of the water shutoffs that have affected thousands of Detroiters, expressing concern over the number of low-income black residents who are living without running water.
Two UN special rapporteurs made an informal trip to Detroit this weekend to hear first-hand from people who have had their water turned off or are struggling to pay high water bills.
"We were deeply disturbed to observe the indignity people have faced and continue to live with in one of the wealthiest countries in the world and in a city that was a symbol of America's prosperity," read a joint statement Monday from Catarina de Albuquerque, the UN's special rapporteur on the human right to safe drinking water and sanitation, and Leilani Farha, whose role addresses adequate housing and the right to non-discrimination in housing.
Earlier this year, the Detroit Water and Sewerage Department began a ramped-up program to shut off service to about 150,000 customers who were behind on their water bills. The goal was to collect outstanding debts of more than $100 million as the city is embroiled in bankruptcy proceedings and working to shed its staggering debts. Over 27,000 Detroiters have had their water shut off so far this year.
The water department has consistently said the aim of the shutoffs is to push customers who could pay their bills to do so, and that they will work with those who really cannot afford water. However, the campaign sparked local protests, international attention and waves of criticism over the last several months. The UN rapporetuers first weighed in this summer, questioning whether city practices were violating human rights.
"We were also distressed to learn from the low-income African American residents of the impossible choices they are being compelled to make -- to either pay their rent or their medical bill, or to pay their water bill," Farha and de Albuquerque said.
"We recommend that the Federal Government immediately undertake an investigation into the water shut-offs to determine if they are having a disproportionate impact on African Americans and other groups protected against discrimination," the two experts said.
Detroit officials have argued that the UN didn't look closely enough at the city's recent response, which included instating a brief moratorium on the water shutoffs, making it easier for customers to navigate payment plans and department bureaucracy, discontinuing the practice of tacking overdue water bills onto property taxes -- which could result in foreclosures for residents -- and creating an annual $4.5 million financial assistance fund. The fund serves Detroit and neighboring counties after the city and suburbs reached a deal last month to create a regional water authority.
On Twitter, Mayor Mike Duggan's Chief of Staff Alexis Wiley said the UN experts were spreading myths that should have been dispelled in their meeting with the mayor.
"Unfortunately, it became clear shortly into the meeting that the UN representatives had reached their conclusions and prepared their recommendations before the meeting even began," Wiley said in a follow-up statement.
The city has said that it's not fair for paying customers to be saddled with extra costs to make up for residents who don't. But part of the problem is aging infrastructure, designed for a much denser city. Detroit's extensive vacancy problem only exacerbates the issue: scrappers who steal metal pipes in abandoned buildings can leave water leaking, sometimes flooding, all over the city.
In light of what they heard from Detroiters, the special rapporteurs said the water department's recent changes aren't adequate, recommending the city restore water to those who can't pay and instate other protections, like emergency housing. They emphasized that users should have better access to administrative and legal tools to challenge their water bills, and underscored the importance of collecting and publishing data on water shutoffs by customers' age, income, disability, race and illnesses.
"Denial of access to sufficient quantity of water threatens the rights to adequate housing, life, health, adequate food, integrity of the family," Farha and de Albuquerque said. "It exacerbates inequalities, stigmatizes people and renders the most vulnerable even more helpless. … Water and sanitation does not have to be free. It must rather be affordable for all."
You can help Detroiters who can't afford to pay their water bills by donating to the Detroit Water Fund, an initiative spearheaded by the United Way of Southeastern Michigan.

REAL LIFE. REAL NEWS. REAL VOICES.
Help us tell more of the stories that matter from voices that too often remain unheard.
BEFORE YOU GO
PHOTO GALLERY
13 Devastating U.S. Numbers About Poverty, Income And Health Insurance