Detroit may not have a reputation as a wedding destination, but with its historic buildings, museums and beautiful parks, the city boasts plenty a hidden gem when it comes to romantic spots to tie the knot.
Some 7,000 marriages occur yearly in Wayne County, according to 2009 data from the Michigan Department of Community Health. That might make it seem challenging to have a unique wedding, but there are countless locations in the Detroit area, each with its own style.
At the Detroit Historical Museum, "Saying I Do: Metro Detroit Weddings," on display through May 24, takes a look at local marriage ceremonies throughout time and across different cultural traditions. The exhibit reveals traditional ceremony locations in the city, like the city's first church, St. Anne de Detroit, built in 1701.
What exhibit organizers might not have bargained for was that the show itself would become part of Detroit's wedding history: Jeanette Pierce's now-husband Rich Peresky proposed to her while walking through "Saying I Do."
"It's an amazing exhibit," said Pierce, who met Peresky while giving a tour at the museum for the non-profit she cofounded, Inside Detroit. "We both love history and we both love Detroit -- it couldn't have been more perfect."
Pierce and Peresky made their wedding -- from local rings to local bands -- full of Detroit flavor, topped off with a public ceremony and reception in the heart of downtown, Campus Martius.
"Before I was married I would say, 'Detroit's the love of my life,'" Pierce said. "We wanted to celebrate our love and all the people we love and the city that brought us together."
The couple also took wedding photographs at their favorite city spots, including the Heidelberg Project, the Guardian Building and Rivard Plaza on the Detroit riverfront. They offered bus tours of the city to their wedding guests, both those from the metro area and from out of town, to see the best of what Detroit has to offer.
"[We had] the opportunity to show people what we love about it and all of the wonderful things about it," Pierce said. "It was our way to give back to the city that's given so much to us."
Pierce and Peresky aren't the only ones to use their wedding photographs to show their civic pride. Deborah Lee, store operations manager for the popular John K. King Used and Rare Books, said many couples take wedding pictures at the store, and they've seen at least one in-store proposal.
"It's part of their date experience to come to the bookstore, so we're really happy that they have fond memories and embrace us as part of those memories," Lee said. (For the book lovers out there, the store asks for camera-happy couples to email their plans in advance.)
Dan Nichols, owner-operator of Michigan Wedding DJ, has seen it all after two decades spent working more than a thousand weddings, most in southeastern Michigan. As a professional, he has a unique take on what makes a perfect reception venue. One key factor he says brides and grooms tend to overlook: the location of the bar. If it's too far from the main area, Nichols said, you're going to end up with an empty dance floor all night.
According to Nichols, the best way to make a wedding memorable is to end it earlier than expected.
"You want people still screaming for more," he said, rather than have the party die a slow death. "They remember everybody screaming and high-fiving at midnight."
And a short reception might make your Detroit wedding stand out. "We have marathon weddings," Nichols said, adding Michigan weddings tend to last around six hours. The national average is closer to four.
So what does Nichols play to get Detroit wedding-goers on their feet?
"Motown. At least in Detroit, it never fails."
Whether your wedding song is by the Supremes or the Stooges, check out a gallery of great Detroit wedding locations, from the iconic to the offbeat.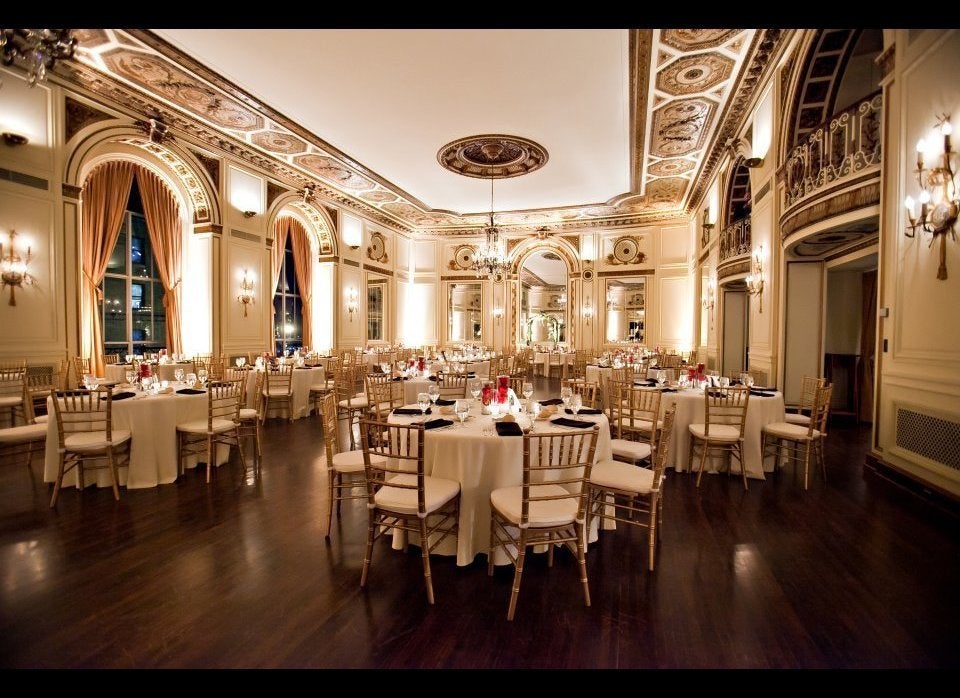 Detroit Wedding Locations