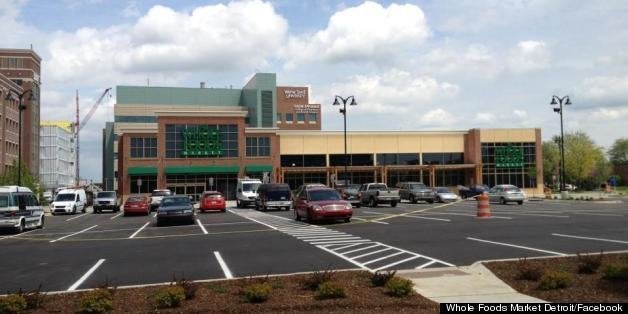 As crowds of well-wishers cheered, the doors to the first Whole Foods Market in the city of Detroit opened Wednesday at 9 a.m. -- one of the most significant national investments recently made to the Motor City's flourishing Midtown neighborhood.
Building a gourmet grocery store in a city facing bankruptcy may be risky business, but Walter Robb, co-CEO of Whole Foods, told an audience of shoppers and browsers that the experience had become personal.
"All of us at Whole Foods have been touched by Detroit and Detroiters," he said, according to the Detroit News. "I hope that spirit now lives in our store and in our team members."
"I'm excited to ride my bike to work," she said.
According to Southern, Detroit's store is a little smaller in terms of size and selection, but she said it feels "electric," which matches the city more than the Troy's "country store" atmosphere.
It certainly was electric Wednesday, as hoards of people waited in long lines for free samples, to pay and even to get inside the doors. The waiting and crowds didn't seem to dampen most shoppers' spirits, who seemed both curious and excited, often running into friends and neighbors -- whether fellow shoppers or employees.
Robb doesn't usually travel for store openings, but Detroit is not a usual destination for Whole Foods, which recorded $11.7 billion in sales in 2012. Of the more than 340 Whole Foods' groceries located across North America, Detroit is the first retail location to reflect the company's new strategy of targeting lower-income and food insecure neighborhoods around the country. Robb has said the new retail strategy, which he says is part of a targeted effort to "combat elitism and racism," could positively impact public health in America.
"What we're trying to do in Detroit is stretch the culture, stretch the mission a little bit," he said during a conference held by the Milken Institute in April. "For us in Detroit, I see thousands of communities across the United States do not have fresh, healthy food."
The Detroit store's prices reflect its location. Southern said the price for the olive bar was more than 30 percent less than at the Troy store.
"They have a mission statement and they stick to it," Southern said, who just made the switch from produce to cheese, about why she chose to work at Whole Foods. "They care about the community and making the store accessible to it."
But it's not just the social mission that makes this Detroit store stand out.
Whole Foods is applying this local approach to stocking their shelves as well, offering goods from about 50 local vendors, everything from beer to baked goods, and sourcing some produce from local farmers.
The new grocery is part of a wave of new retail developments in Detroit's Midtown district, a formerly working-class part of town that has become increasingly gentrified over the last decade.
Though some have raised concerns about the changes in Midtown, for Whole Foods shopper Anthony Brantley, they were part of what brought him to the new store, along with his wife and great granddaughter. A resident of Redford on Detroit's west side, he said driving the longer distance was a small price to pay for the increased sense of security compared to shopping closer to his home.
The market itself is part of a larger mixed-use development project spearheaded by an offshoot of Ram Realty Services of Palm Beach Gardens, Fla. Ram and Whole Foods reportedly contributed about $6.1 million in equity to the project, including 1.9 acres of land provided by Ram, according to the Wall Street Journal. This investment was bolstered by around $5.8 million in state and local grants and tax credits, according to the publication, which were used as incentives to entice the grocer to set up shop in Detroit.
"I remember people saying to me I was crazy, that I was wasting my time," he said. "And if I had taken the time and the capital that I've invested in the last 15 years and put it somewhere else I probably could have done better. Maybe I am crazy. … But there are very few properties I've developed that have given me more pleasure than seeing this Whole Foods emerge."
In what was likely less than a coincidence, less than a mile away, University Foods also threw a party on Wednesday. Though smaller than Whole Foods' endless rows of outdoor vendors, the independent grocer had a decent line for free hamburgers, hot dogs, salad, watermelon and more served during their Customer Appreciation Day.
Some there expressed worry about how the new store will affect business. Ada Parris, a Wayne State University student, was one of the shoppers stocking up on asparagus and other produce at Whole Foods. She said she used to shop at University, but will likely make the switch to the new chain. Parris said she was most excited about the produce and grind-your-own peanut butter station.
But others say a new store could improve local competition. Ron Morris, a Whole Foods employee who lives downtown and promised himself he would work at the store as soon as he heard about it a year ago, thinks that for Detroiters, the more options, the better.
"There's room for everybody," he said.
Kate Abbey-Lambertz contributed to this report.

Before You Go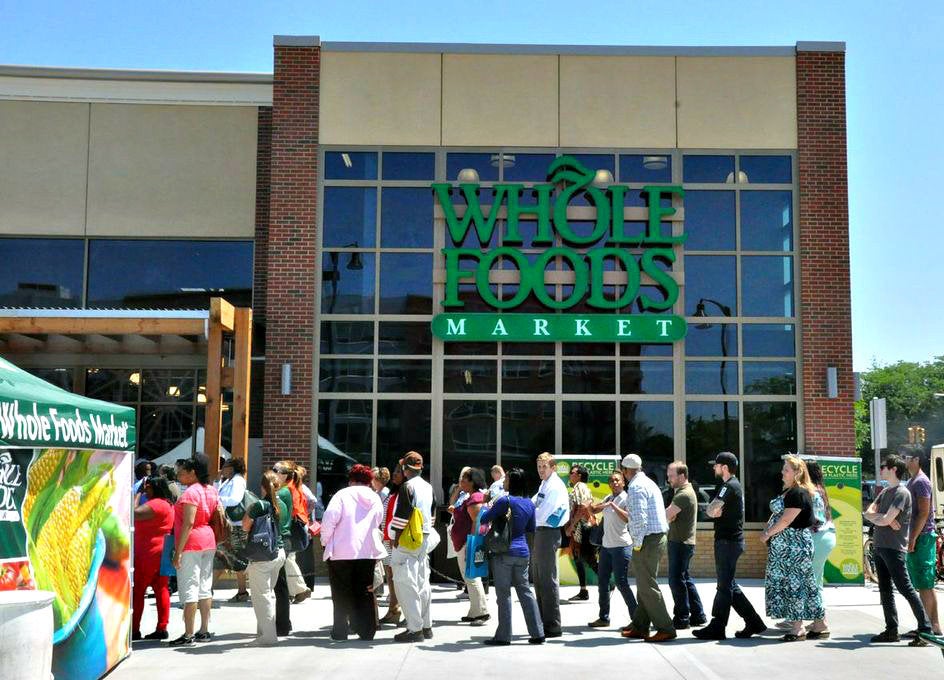 Local & Unusual Tastes At Detroit's Whole Foods
Popular in the Community