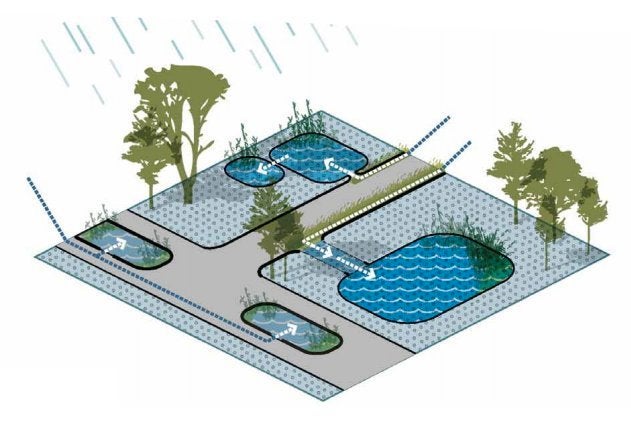 As Mayor Dave Bing's Detroit Works project continues to collect input from community residents for its long-term strategic framework, team leaders are keeping an open mind about converting the city's abundant vacant land for urban gardens and ecologically-friendly uses.
The city could change its zoning for low-density areas to include a combination of housing, parks, and community gardens. Planners are also considering fields that use plants to clean toxic soil; open areas designated for alternative energy or storm water retention; and low-upkeep natural and human-guided landscapes.
"Detroit is unique. Unlike many other cities who are crowded for space, Detroit has many land assets and because of that we're able to look at a number of sustainable strategies for how the city might work," said Chris Reed of Stoss Landscape Urbanism, who is part of the Detroit Works Long-term Planning technical team.
He said allowing for greenspace can have a real impact on pollution in the city; natural landscape can freshen water, remove contaminants from the soil and clean the air.
And Reed believes residents could reap health and economic benefits. For example, switchgrass and other bio-matter can be used as sources of energy, and researchers can study habitats in the city to get a better understanding of how to detoxify soil.
The Detroit Works project's recent round of Community Conversations have been a useful source of information and encouragement for ecologically-minded planners.
"There's lots of positive energy and a lot of information sharing," Reed said. "It's important there are constituencies on the ground that can help move these ideas forward."
Bing's Group Executive for Planning and Facilities Karla Henderson echoed that sentiment.
"We're very interested in what comes out of the community conversations and how that aligns with some of (the team's) recommendations,"she told the Detroit Free Press on Monday.
The East Michigan Environmental Action Council (EMEAC) seems like a natural partner for green initiatives in Detroit, but Patrick Geans, a spokesman for the environmental advocacy organization, said EMEAC's support for Detroit Works depends on its final outcomes.
While he said he'd love to see the city's space used for environmentally-friendly purposes, he noted residents had heard similar promises in the past.
"If all the money gets spent on consultants and marketing campaigns and the community ends up pretty much the same, there's skepticism on behalf of the community on these things," he said.
EMEAC originally engaged with Detroit Works last year as part of a coalition of groups called the Peoples Movement Assembly (PMA), which included the Sierra Club, Zero Waste Detroit and Allied Media Projects, as well as individuals. The coalition criticized Detroit Works for not focusing on genuine community engagement.
"The jury is still out on them," he said of Detroit Works. He said outreach to community groups is a good sign, but added it's up to the individuals and groups involved with the project to keep it community-centered.
Detroit Works also launched its online interactive community urban planning platform "Detroit 24/7" this week to get a virtual perspective on city planning. Visit the site to find out more.
Related
Popular in the Community