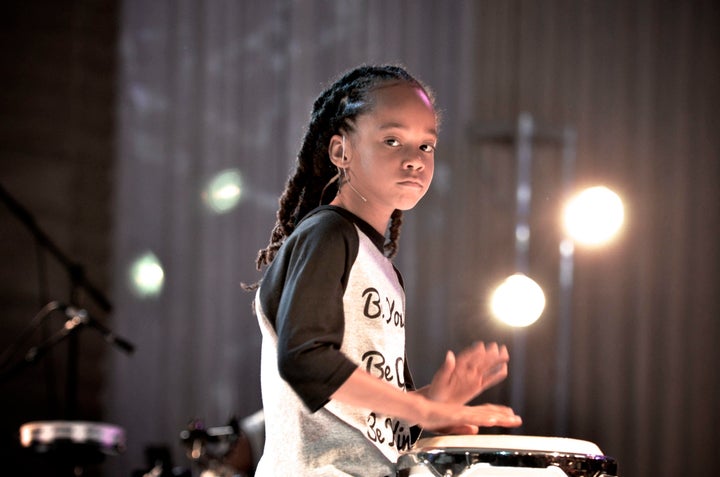 At ten years old, King Thomas Moore has made history as the youngest recipient of the Knight Foundation's Knight Arts Challenge Award in 2016. The matching cash award up to $15,000 will help King launch his dream of a Super Cool Poetry Open Mic Series for children ages twelve and under to help them learn to write and perform poetry.
The son of the internationally-acclaimed poet, jessica Care moore, King was inspired to start his open mic series after he attended many of his mother's events. After his first performance at a jazz café, he noticed a significant void in the crowd – there weren't any kids in the audience and that all open mics he had attended over the years were for adults.
At that moment, King envisioned elementary-aged kids like himself showcasing their poetic talent to other children and like-minded adults. In his view, activities involving poetry and artistic, verbal expression are scarce for children in his age group, particularly in underserved communities. A fact that didn't go unnoticed by King, and he stated that "teenagers, they get a lot of stuff. They have a lot of activities, but elementary kids, they don't have a lot of activities to do." By launching his award-winning 12 & Under Super Cool Poetry Open Mic Series, King hopes that children his age can experience the benefits of creating and expressing themselves through poetry.
Growing up with his famous mother surrounded by art and books, it's apparent that King is destined to be an artist. In addition to his poetry, he plays violin with the Detroit Youth Volume and Detroit Symphony Orchestra Civic Youth Ensemble. He also plays hockey with the Detroit Ice Dreams team. King poetic talents have taken him abroad, and he performed his work for international audiences in Shanghai, China.
The Knight Foundation can help make King's dream come true. But for King to receive the full cash award, he must raise $15,000, and he is committed to doing so to finance his dream. His mother stated, "the total of $30,000 will allow him to cover workshops, the poetry anthology, and a large culminating performance." The mother and son poetic duo believe that raising funds coupled with the award will provide the capital needed to finance a domestic poetry tour leading to the launch of an international program reaching far beyond Detroit.
The Knight Arts Challenge funds the best ideas for engaging and enriching communities through the arts. In 2017, they will give away a total of $7.8 million to ideas in four cities: Akron, OH; Detroit, MI; Miami, FL, and St. Paul, MN.
The Knight Foundation is a national entity with strong roots in urban communities. The Foundation invests in journalism, the arts, and in the success of cities where brothers John S. and James L. Knight once published newspapers. "Our goal is to foster informed, and engaged communities, which we believe are essential for a healthy democracy," their mission statement reads.
King's poetry series recently launched in his hometown of Detroit on Saturday, March 25th. The event was his first 12 & Under Super Cool Poetry Open Mic event since winning the Knight Arts Foundation Award. The event was hosted at a locally-owned bakery, Good Cakes and Bakes. "The kids showed up with poems, and they sang songs," says King. One of the participants of the event noted, "I like that I got to read my poem, and, I got free ice cream."
The impact of encouraging reading and writing combined with a good education is priceless and provides access to a one-way ticket out of poverty. jessica Care moore fully supports her son as he seeks to empower his peers and she provided her reflections on the event and stated, "It's about empowering him to empower his peers. I am very proud of this youth advocacy work he is doing at such a young age."
The next event will take place later this month in Atlanta, GA, on April 29th to continue the celebration of National Poetry Month. The free event will feature a pre-open mic workshop with jessica Care moore for kids. Children can bring or write an original poem on site, read their favorite poem, or pick a favorite to read. King will also read and sign copies of his book, 'A Peace of a Poem.'
For more information and to support King Thomas Moore and the Super Cool Poetry Open Mic Series, visit: SuperCoolPoetry.com.
Related
Popular in the Community