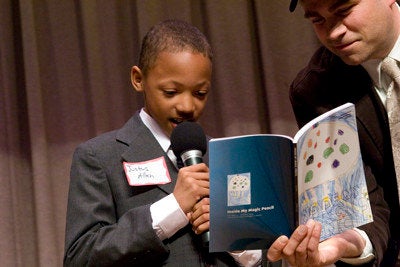 I am a card-carrying believer in poetry as a healer, as fervent as fellow poet Gregory Orr, author of Poetry as Survival.
Like me, I think Orr would be quite pleased to see how poetry is winding its way into the center of healing conversations and efforts in Detroit. Yes, this city, long thought too tough, is suddenly looking for solace and solutions in the art of arranging language through image, metaphor and music to capture the heart's inner song.
I'm proud to say InsideOut Literary Arts Project is a major driver but the art is also creating its own believers. Friday morning, May 4th, along with InsideOut writers Aricka Foreman and Peter Markus, I spoke on a panel for the annual conference of the Society for Arts in Health Care in downtown Detroit. The conference, hosted by Children's Hospital, brings together as caring and generous a group of professionals as one could ever hope to meet. It was deeply moving to look out at a room of over 30 artists, art and music therapists, social workers, academicians and others from around the country and see their rapt expressions as they listened to Aricka and Pete read the poems of our young people. Our panel titled "A Song that Struggles to Survive -- the Healing Power of Poetry in the Lives of Urban Children and Youth" shared our students' stories of loss and abandonment to show how giving voice to some of the darkest experiences can build resilience and help young people to heal.
We live in a sobering world. Last month at the Virgil H. Carr Center, Joseph Verge, featured in my last post, performed an amazing, show-stopping poem based on the realization that he or any of his friends could easily have walked in Trayvon Martin's shoes. Last week, on Detroit's east side, each and every one of the 150 third graders, writing poems inspired by Emily Dickinson's "This Is My Letter to the World" with InsideOut's Dr. Suzanne Scarfone, asked for the killing to stop in their neighborhoods and city. When will we adults take seriously and heed this call straight from the hearts of our children? Stop the violence, they say. Like Stephen Henderson, I too ask, where is the outrage?
Personally, I would like to see a suffragette-style Mothers' Crusade fill the streets next weekend with a "peace spring," or a Peace Uprising. Our state spends more on incarceration than education, a disgrace that should move us to address the underlying causes of violence, blight and abandonment. In the meantime, there are the voices of our children to listen to. InsideOut tries to strengthen each child, one child, at a time. We must give them imagination and compassion, the joy of creativity and invention, the optimism to take a wider view of the world, to transcend deprivation like Detroit's U.S. Congressman Hansen Clarke, to have a voice and turn around and make a difference.
Which brings me to the second conference of this column, coming Thursday, May 10th to WSU's McGregor Memorial Center -- InsideOut Literary Arts Project's second all-day citywide teen writing conference, "Who Understand Me but Me? II."
This conference will expose 140 Detroit students, who are self-identified writers selected from 10 InsideOut high schools, to the wisdom and experience of Ms. Madgett and then engage them in workshops with some of our area's most exciting "rock star" writers. Students selected their top six picks from 13 enticing-sounding sessions such as Samiya Bashir's "Poetry Is Not a Game (Except When It Is)," "Emergence Travel Agency," with Invincible or Nichole Christian's "Tell Me One True Thing!"
Detroit's honored Poet Laureate Naomi Long Madgett will keynote as she presents the 12th annual Lotus Press High School Poetry Prize to one of our students.
All of us have been buzzing as the application forms have come in, the workshop assignments have been made, publicity has gone out, the donations of notebooks, folders, and pens from Barnes & Noble have been secured. It gives me a great deal of pleasure to honor our students this way. It is a dream to help them know that they are not alone as writers but that they have peers across Detroit who also love the pleasure and power of writing. "Who Understands Me But Me? II" is going to give them the same experience as adult writers, to let them know that what they have to say matters. We need their voices, and I can't wait to hear them!
REAL LIFE. REAL NEWS. REAL VOICES.
Help us tell more of the stories that matter from voices that too often remain unheard.