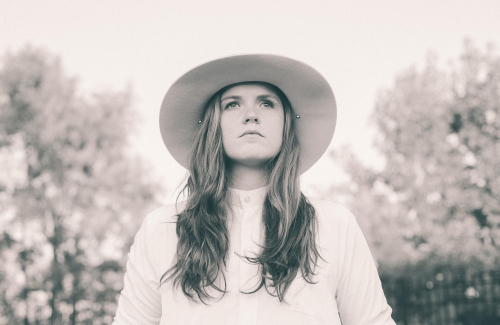 It's been a few years since we've heard new music from Flint Eastwood, the Detroit-based project headed by the multitalented Jax Anderson. Mixing a little bit of the old with the new, Flint Eastwood stands out like a breath of fresh air throughout the rough and ruggedness of our great city.
Flint Eastwood returns with a new EP to be released on October 9th titled Small Victories, a project that became a coping mechanism for Jax to deal with the loss of her mother and universally is about persevering the obstacles in life. Along with the first single from the EP "Find What You're Looking For", we have a short interview with Jax Anderson about the meaning and recording behind Small Victories.
You say the new track "Find What You're Looking For" is an interpretation of your mother's final words, which were "Don't let this break you". That's a pretty universal theme that we all can relate to. How do you personally get through any obstacles that you might run into in life?
This entire EP was a documentation of figuring that out. When my mother passed, it was like a piece of me was gone. She was my greatest influencer, my greatest mentor, and my greatest friend. I had never dealt with death before and my way of processing it was to lock myself away and create until I knew how to handle it. Every song on Small Victories is a different piece of a healing process.
The new Small Victories EP was created in the Assemble Sound church, and they have some great plans as a creative hub. What's your thoughts about what Assemble Sound are looking to do and how was it recording there?

Assemble Sound is an awesome space to create. It amazes me how much it naturally fosters collaboration amongst Detroit artists in particular. With this EP, there were so many instances where I'd be stuck on a melody or guitar part and another artist would stroll through and lay down an idea. It's an amazing place to grow as a musician. Plus Seth and Garret are g's.
The idea of "small victories" being the most rewarding is a healthy way to look at things and try to achieve your goals. How do you go about managing all the baby steps you have to take in your career and in life while staying patient?
You said it best: baby steps. With everything in life, the big things don't come very often - that's why you celebrate the small victories. It's what keeps everyone going. When you take note of all the small things in life your patience doesn't run thin very often because there's always something to celebrate: a good melody, a great guitar tone, a solid conversation with a friend, an idea you can't stop obsessing over, a little old person with the best bow-tie, a great cup of coffee; everything can celebrated if you choose to acknowledge it.
For more information on Flint Eastwood and to pre-order the EP along with tour dates, visit flinteastwoodmusic.com.
REAL LIFE. REAL NEWS. REAL VOICES.
Help us tell more of the stories that matter from voices that too often remain unheard.