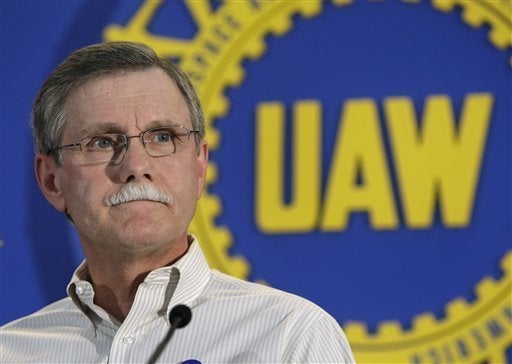 Sunday, on Meet The Press, President-elect Barack Obama, in talking with Tom Brokaw about the auto industry, said, "(Detroit) must put an end to their head-in-the-sand attitude, which has been so prevalent for many decades ... (then about the proposed loans and bailouts) This is not the time to put additional burdens on the American people ... We don't want government to run companies, so conditions on the auto industry must include that it becomes an industry which actually functions."
Sen.Chris Dodd, chair of the committee decided Detroit's immediate fate, was a bit more succinct on another topic: When asked about GM CEO Rick Wagoner staying in his current position, Dodd said, "It's probably time for him to move on."
Well, bravo! Maybe the three CEOs can put together a tour like the Three Tenors to make some money for their imminent retirements.
Thanks to Robert Hyde of the Detroit Free Press' Washington staff, we're able to offer their following cogent explanation of the 31-page draft of the Detroit Three rescue plan, to be voted on this week by Congress, with our comments afterwards. Here's what the Freep had to say about the draft bill early Tuesday morning:
"Detroit automakers would face strict oversight from a federal official and have to drop lawsuits against California's limits on greenhouse gases from cars and trucks under a draft of the rescue obtained by the Free Press.

The final amount of the loans available under the plan was one of the issues still unresolved, with some lawmakers wanting more than the $15 billion that appeared available. General Motors and Chrysler have said they need $8 billion before the end of the year to avoid collapse, and GM has said it could need $6 billion early next year.

Under the bill, automakers would have to submit a restructuring plan by March 31 to what's being called a "financial viability advisor," who would have the power to set negotiations among the company, unions and creditors. If the advisor deems the company isn't making progress, the loans could be called back.
(General Motors decided to make this car, the Pontiac G8 GT, equipped with a Corvette engine and drivetrain, available in the US. It's built by Holden, GM's Australian division. The car, similar to the "new" Pontiac GTO, also from Oz, has, like the GTO, been a sales dud. Both cars were brought to the US because Bob Lutz, GM's VP for North American products, thought they'd be hits).

In return for the loans, automakers would be barred "from participating in, pursuing, funding, or supporting in any way, lawsuits (existing or contemplated) challenging State laws concerning greenhouse gas emission standards."

As with the first rescue plan, automakers would have to pledge stock to the government equal to 20% of the loan value in return for the money, and the loans would be senior to all of the company's other debts.

Foreign and domestic companies have fought California's global warming rules on vehicles, which have been adopted in 17 states, saying they would create an unworkable state-by-state sales limit on some vehicles and complicate manufacturing.

White House spokeswoman Dana Perino said today a deal was "very likely."

Even if the White House and congressional Democrats reach a compromise, winning approval will require significant Republican votes, especially in the Senate where 60 votes are needed to stop filibusters."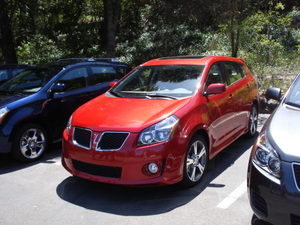 (Pontiac's cute little 2009 Vibe has been a fairly good sales success for several years. People rave about its fun, functionality and quality. Vibe is sister car to the Toyota Matrix; both are built at the NUMMI plant in Fremont, CA. NUMMI stands for New United Motor Manufacturing Inc, and GM and Toyota share the relatively-new plant, built with ideas - and money - from both companies).
It's interesting that Ford is not mentioned in the story. Ford has asked Congress that it be allowed to draw on a rescue fund of from $7 billion to $9-billion. And really, if the other kids are opening their gifts, does anyone seriously expect Ford to not kick and scream for their share, too? I hope Washington brought enough candy for everyone ...
This bill is a band-aid when the patients need several amputations and vital organ transplants. Some in favor of it may point to the amount of ownership Washington will have in GM and Chrysler (and Ford, too, when they start using their asked-for several billion-buck "line of credit").
While of course it's always nice to own part of any failing automotive giant from the last century, if the companies are still not viable three, six or even twelve months from now, what will taxpayers' ownership be worth?
Sure, the companies have huge land holdings, for factories and who-knows-how many-other kinds of facilities, from vast test tracks spread around the country to testing labs, schools for dealers and dealership technicians, and much more.
But a lot of that land may well be contaminated and cost more billions to make it suitable for any use by actual people (racing fans will be all for building new race tracks on such soiled land, but even they are worth protecting; this I know, because I am one). And these days, who is looking to invest in a Superfund site? More problematic, what bank or investment firm would loan any entity the money to buy one?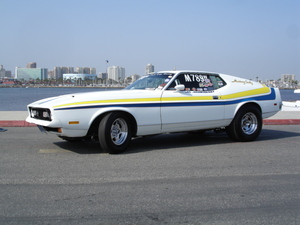 (Sportsmen racers, amateurs who do it for the challenge and enjoyment of running down dragstrips all over the country and building the most-efficient race cars they can, have traditionally bought American products every chance they get; looks like that may change. By the way, this 1972 Mustang belongs to my father-in-law, and that's the skyline of Long Beach, CA in the distance).
For any Asian or Euro carmaker "transplant" looking to buy more production capacity in the US for their cars and trucks, older Detroit Three plants would be tough sells because so many of them would have to be re-built inside and out.
Remembering that Speaker of the House Nancy Pelosi said, regarding what many of us still want to see happen to President Bush, that "impeachment is off the table," I hope the same thing is not happening during Congress' dealings with Mssrs. Wagoner, Nardelli and Mulally, CEOs all.
Madame Speaker, Rep. Barney Frank, Sen. Chris Dodd and Senate Majority Leader. Harry Reid just do not understand the depth of Detroit's problems, nor do their staffs. Who does? Well, me for one - But no one from DC has been calling, at least not yet.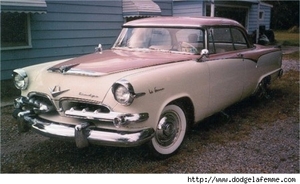 (Dodge aimed this 1950's "La Femme" model at women, who were coming back into the work force in the 1950s, following their stints running factories building tanks, planes, ships and anything else our armed forces needed during WWII, and after a few well-deserved years of rest following the fighting. The car was a bomb; I've never even seen one at auctions or car shows of all kinds. Did someone mention Detroit's arrogance and chauvinism? I mean, besides me).
Does anyone think it possible for any of the Detroit Three to live-up to even the meager conditions, almost all financial, in this bill?
Can they make the called-for changes with the current management teams in-place, or should replacing management be a strict condition for any Detroit rescue?
Is three and a half months, the term of the bill, enough time for the heads of GM, Ford and Chrysler to appear publicly again, and to tell a great story of accomplishment to Congress and all Americans? I'll answer that one for you - No.
REAL LIFE. REAL NEWS. REAL VOICES.
Help us tell more of the stories that matter from voices that too often remain unheard.