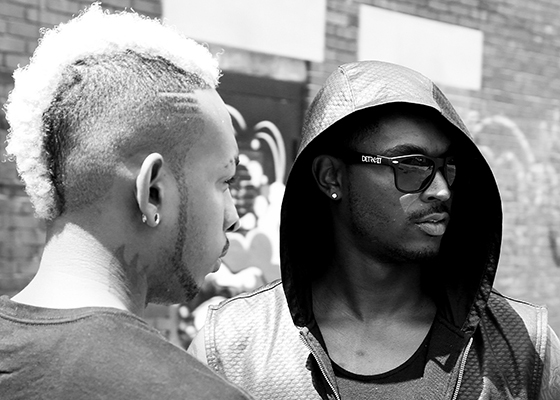 (Photo Credit: Marie Staggat)
Electronic music is well into its own maturation period and the fruits of its labor have been passed down to new generations where they borrow from the past while giving it its own twist. For Dantiez and Damarii Saunderson, they didn't always dream of going down the techno path like their father Kevin Saunderson, but the music bug would eventually hit them both. Diving into music was a way for the brothers to individually figure out the next chapter of their lives.
Recently, I was able to chat with The Saunderson Brothers at Detroit's Movement Festival about their new single "Other World" and their journey's into electronic music.
I just heard the new single "Other World". Talk about what went into making it.
Damarii: I just started off in the studio just working on the original and Dantiez just walked in the room and was really digging this. He just started working on it. This is our first official collab.
Dantiez: That's definitely how it started. I just walked in the room. He was making it and I was like 'Yo! This is dope!' I just sat down in the studio and came up with a little melody for it. The groove was already there. I came up with the piano. After that, we got the music done and we needed some vocals. We sent to our girl Kim Sykes, our featured artist.
Damarii: Funny story. We were looking for a singing and we know singers, but you never know what you're going to get, so I ended up posting on my Facebook that we are looking for a very special singer for a very special track. Sure enough, Kimberly hit us up and said she would love to do something for this.
Once you got done with that and just listened to it. What was your own reaction?
Damarii: I was blown away.
Dantiez: I think Kim really brought her magic to it too, vocally. She's like an instrument herself, so very powerful vocals to go over a powerful instrumental track. Got the job done. We're excited for it.
When you two started working together whether it was DJing or making tracks, how do you work together? What's the dynamic between you two?
Dantiez: It's not the same every time. I could be in Europe and he could be in the studio. I could just be sending him stems.
Damarii: Basically if he just happens to walk in the studio and he likes something that I'm vibing to, its like alright, let me get on this. It's vice versa with me and him too.
You ever tell each other if something is bad?
Damarii: Yeah! All the time! (laughs) If something's bad, we'll definitely be honest about it. I'm not going to lie to him! (laughs)
Dantiez: Maybe not so harsh! Maybe work on this, work on that! (laughs) Constructive criticism always helps anyone.
With growing up with having your father as one of the big names in techno but having each of you having these dreams of being athletes, when you guys eventually went down this road of doing music, how did you bring that up to you father?
Dantiez: It was like I don't want to go to college. I don't know what I want to do in college. I want to put my energy into learning this, learning electronic music, making music, and playing it out. It was literally a 360 turn, kind of sudden, with the whole influx of the American crowd getting more active in the generation that we're in. It sparked our interest even more that it wasn't just a European thing anymore or an exclusive thing. It's being noticed. It came around for us.
Damarii: For me, it was literally a 360 because I came from the sports background. I was drafted by the Philadelphia Phillies. When I got done with it, I was like 'What am I going to do now?' I knew what I didn't want to do. Then we went on a little tour to Australia. I think we also went to places in Europe like Amsterdam and I was just blown away.
Growing up was athletes, what were your fondest moments in sports?
Damarii: For me, it was getting drafted. That's a once in a lifetime opportunity. When I got drafted, I didn't know how lucky and fortunate I was at first. It was my first professional game, I was really nervous. After I got that over with, we were good to go, but before that, I was nervous as hell. I never played in front of that many people before. It was cool.
Calling all HuffPost superfans!
Sign up for membership to become a founding member and help shape HuffPost's next chapter