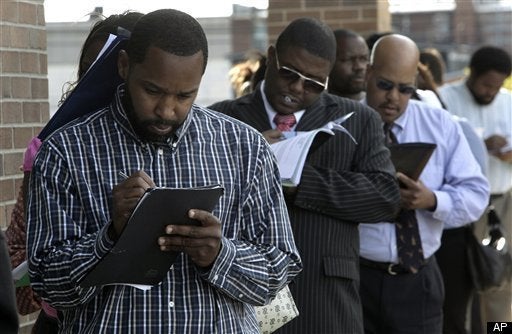 Officially, Detroit's unemployment rate is just under 30 percent. But the city's mayor and local leaders are suggesting a far more disturbing figure -- the actual jobless rate, they say, is closer to 50 percent.
As many have noted, the Bureau of Labor Statistics, which culls federal unemployment data, does not account for all of the jobless in its widely-quoted national unemployment figures. Among those omitted: part-time workers who are looking for full-time jobs and frustrated job seekers who abandon their job search altogether.
(For some context, the official national unemployment rate is 10 percent, but the "underemployment rate" is 17.2 percent.)
Detroit city officials argue that, when workers who are underemployed are added to the calculation, the number of city residents who are out of work is close to one in every two.
The Detroit News reports:
"The Bureau of Labor Statistics estimated that for the year that ended in September, Michigan's official unemployment rate was 12.6 percent. Using the broadest definition of unemployment, the state unemployment rate was 20.9 percent, or 66 percent higher than the official rate. Since Detroit's official rate for October was 27 percent, that broader rate pushes the city's rate to as high as 44.8 percent."
The alarming numbers coming from Detroit officials are supported by another set of recent data from the Bureau of Labor Statistics, which stand in harsh contrast to the more positive national employment picture. The jobless rate in the Detroit MSA (metropolitan statistical area) increased 7.3 percentage points in just one year, the highest increase for any metro area in the nation.
Statewide, Michigan still leads the nation in official unemployment, with a rate of 15.1 percent. Homelessness, especially among those becoming homeless for the first time, is expected to jump at least 10 percent this year.
The employment situation, as The Detroit News suggests, is actually significantly worse for men in Detroit:
For a variety or reasons -- access to transportation, job availability and work skills -- an estimated 48.5 percent of male Detroiters ages 20 to 64 didn't have a job in 2008, according to census figures. For Michigan, it's 26.6 percent; for the United States, 21.7 percent.
The paper's calculations back up Mayor Dave Bing's assertion at last week's White House Jobs Summit that Detroit's unemployment rate was "probably close to 50 percent." Bing was in Washington to press the federal government to channel more money directly into city clean-up projects and infrastructure development. "We've got projects that are shovel-ready," he pleaded.
Popular in the Community