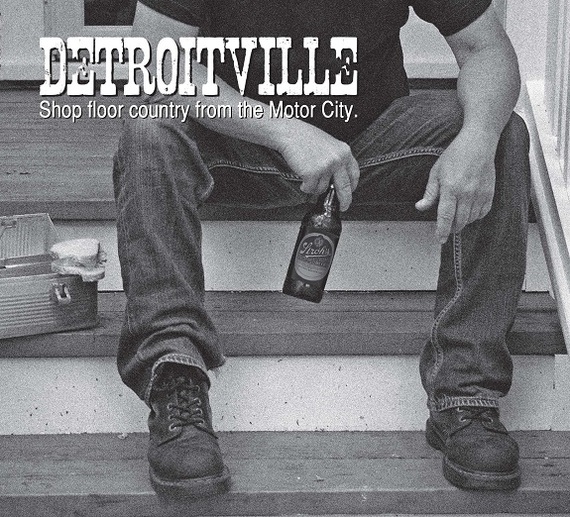 Nick Pivot plays what he calls "shop floor country from the Motor City." His gutbucket, honky tonk lyrics are sure to incite drunken behavior and keep him off any short-list of poet laureate candidates evidenced by his latest, "Fuck You, I'm from Detroit." An anthem for Detroiter's of all stripes if there ever was one. The twangy provocation is just one of six equally stunning tracks on Pivot's new album, Detroitville.
Pivot, the alter-ego of otherwise affable ex-copy writer and auto journalist Mike Nickele who took the nom du plum when he was the news editor at Auto Week magazine.
"I had to write under two names," Mike Nickele told us by phone from his home in Royal Oak, Michigan. When I was at Auto Week and writing my Hunter Thompson type stories, blowing stuff up and acting like an idiot behind the wheel, I was Nick Pivot."
But Nickele has been writing and performing music since he was a teenager. A veteran of various Detroit-area rock bands, Nickele was instantly besotted by country music when an aunt from Jellico, Tennessee exposed him to the country acts headlining the Michigan State Fair, in which she annually took her nephew.
"I was born in the projects on the lower east side of Detroit until my dad scraped up enough money to buy a little house in Roseville, Michigan which actually was a tough, blue-collar town. I went to Catholic School for twelve years. My classmates were listening to the 1910 Fruit Gum Company while I was trying to bring the MC5 and the Stooges to play dances. I realized that classic country music had tons of soul and all those guys were fantastic. Since I couldn't find anyone who wanted to be in a country band I started playing Johnny Cash, Hank Williams and Leadbelly songs at hootenanny nights."
Geography is enough to determine one's profession. Just as some kid in growing up in Los Angeles is likely to gravitate to any number of Hollywood movie industry jobs, Detroit's pandemic car culture offered Nickele, a onetime English major, an auto industry career where he excelled.
"I worked my way through college building Dodge Chargers at Chrysler's Lynch Road Assembly Plant. I got a job at a little newspaper in the GM building where I became the news and industry editor for Ward's Automotive Report and ended up at Auto Week which was tons of fun."

Music briefly took a backseat to fatherhood and career but performing and songwriting has always come most naturally to Nickele, and before long, he was out gigging again.

Upon returning from a position in Milan, Italy he formed a country duo called Skin and Bones joined by a drummer friend banging a tweed-suitcase, mic'd by a 57 Shure microphone. The next few years were paved performing and writing the songs which appear on Detroitville, a record which attracted some of the best players in Detroit, including the album's producer Robert Crenshaw, Gerald Shohan, Sir Tim Duvalier, John and JC Milroy, Benjamin Teague, Stewart Simon, Don Jones, Annie Hull, Liz Mackinder, and Bernard Staples.
"When Mike and I started talking about making a record, I thought of 'I'm Hog-tied Over You' by Tennessee Ernie Ford and Ella Mae Morse and 'Tiger By The Tail' by Buck Owens," Robert Crenshaw told us. "There's a sweet side to Nick that comes out in 'Honky-Tonk Crowd.' There is a beauty to its sad sincerity and vivid canvass that's gets me every time. I had Annie Hull sing three parts, triple-tracked during the last three choruses. That song with those vocals is kind of like Warren Zevon with the Sweet Inspirations to me."
As for the album's stand out, "Fuck You I'm From Detroit," Nickele is nonplussed by the unconventional title.
"Where I come from, if you flip someone the bird with a smile, it's just a friendly 'howdy do.'"
Calling all HuffPost superfans!
Sign up for membership to become a founding member and help shape HuffPost's next chapter