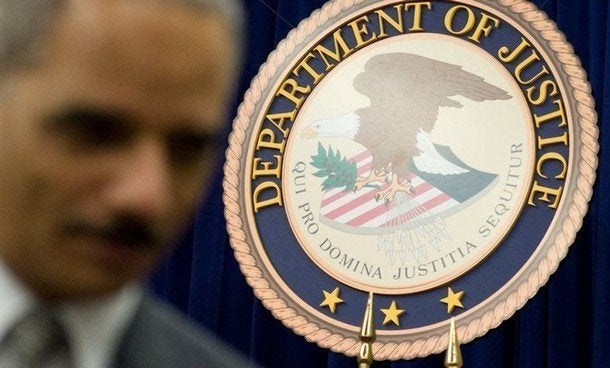 The Justice Department sued Deutsche Bank AG, one of the world's 10 biggest banks by assets, on Tuesday for at least $1 billion for defrauding taxpayers by "repeatedly" lying to a federal agency when securing taxpayer-backed insurance for thousands of shoddy mortgages.
MortgageIT, a subsidiary of Germany's largest lender, egregiously violated federal rules that came with government backing on more than 39,000 mortgages worth more than $5 billion since 1999, according to the lawsuit filed in Manhattan federal court.
By funneling risky mortgages to the Department of Housing and Urban Development's Federal Housing Administration, MortgageIT's loans were guaranteed with the full faith and credit of the U.S. government. A third of those mortgages, or about 12,500, have since defaulted, leaving the government on the hook.
On more than 3,100 of its FHA-guaranteed mortgages that have defaulted, HUD has paid more than $386 million in claims to the owners of the mortgage debt, according to the lawsuit. More than two-thirds of those mortgages defaulted within two years of origination.
As of February, more than 7,500 additional mortgages, with more than $888 million in unpaid principal balances, also had defaulted without HUD paying any claims. About half of those defaulted within the first two years.
The agency expects to pay "at least hundreds of millions of dollars" in additional claims as more risky mortgages default in the months and years ahead, according to the lawsuit.
Meanwhile, Deutsche Bank made "substantial profits" by selling these loans to investors, the suit claims. Federal authorities identified some of the MortgageIT practices that now form the basis of its suit as far back as 2003. Despite warnings, the problems continued.
The Justice Department is seeking damages three times the amount HUD has already shelled out for defaulted mortgages with allegedly fraudulently-obtained government insurance, plus additional penalties for each mortgage that broke federal rules.
While private investors have thus far faced a long, slow war battling lenders and connected Wall Street firms to buy back toxic mortgages investors claim were sold to them fraudulently, the government's suit is fairly straightforward. As part of the FHA program MortgageIT participated in, lenders are required to annually certify that they check basic records like borrowers' incomes, credit history and employment record. The lenders also are required to review loans that quickly default to guard against sloppy lending practices, and act in the government's best interests because taxpayers are bearing the risks for potentially poor loans.
Deutsche did none of those things, according to the lawsuit.
The lender "recklessly selected mortgages that violated program rules in blatant disregard of whether borrowers could make mortgage payments," the government claims. "While Deutsche Bank and MortgageIT profited from the resale of these government-insured mortgages, thousands of American homeowners have faced default and eviction."
Deutsche acquired MortgageIT for about $430 million in January 2007. At the time, Deutsche said MortgageIT was "one of the fastest-growing and largest residential mortgage loan originators in the U.S." and would help the bank expand its mortgage securitization business.
On Tuesday, a Deutsche spokeswoman, Renee Calabro, said that "close to 90 percent of the activity" alleged in the lawsuit occurred prior to the bank's purchase of the lending unit.
"We believe the claims against MortgageIT and Deutsche Bank are unreasonable and unfair, and we intend to defend against the action vigorously," Calabro said in a statement.
In the suit, authorities spelled out a variety of alleged abuses that paint the Deutsche subsidiary as a reckless lender that employed minimal oversight over its operations. When alert employees raised concerns over violations, upper management, including the president of MortgageIT at the time, failed to act, the suit claims.

The firm's president knew there were problems with its loan underwriting as early as 2005, according to the lawsuit.
Upper management at MortgageIT "knowingly, wantonly, and recklessly permitted egregious underwriting violations to continue unabated," the lawsuit alleges. "These failures caused the government millions of dollars in losses."
In one example of the firm's reckless attitude, an outside auditor's reports that found "serious underwriting violations" at MortgageIT were "literally stuffed in a closet and left unread and unopened" in 2004, according to the suit.
The firm should have had up to eight employees reviewing loans it peddled to FHA. Instead, it never employed more than one person, the suit claims. By the end of 2007, that one person was producing loans, instead of reviewing them.
On three separate occasions in 2003, 2004 and 2006 the firm was told by federal authorities to fix its deficient review practices. Each time, MortgageIT said it had complied. And each time, it lied, the suit claims.
Twice in 2005, employees at the firm went to upper management to complain about poor underwriting practices. Management did nothing, the suit claims.
"These companies repeatedly and brazenly breached the public trust," said Preet Bharara, the U.S. Attorney in Manhattan. "This lawsuit sends them -- and other lenders -- the message that they cannot get away with lies and recklessness. They cannot casually assign the prospect of being caught to the cost of doing business."

READ the lawsuit:
Support HuffPost
The Stakes Have Never Been Higher
Related
Popular in the Community