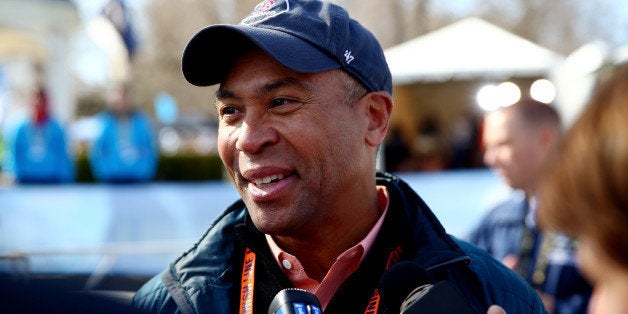 BOSTON, Aug 6 (Reuters) - Massachusetts Governor Deval Patrick signed a bill into law on Wednesday requiring health insurers to cover up to two weeks of inpatient treatment for people battling drug addiction, the state's latest move to take on soaring rates of opioid drug abuse.
The measure is intended to make accessing treatment for drug addiction on par with other medical treatments, which experts see as a key step to reduce the rising rate of deaths by drug overdose. More than 16,000 people die in the United States each year from overdoses of prescription painkillers alone, with more succumbing to heroin and other illegal narcotics.
"This law puts Massachusetts on the leading edge of access to addiction treatment and recovery services," Patrick, a Democrat, said at a statehouse ceremony to sign the bill. "Those battling the effects of addiction should never face barriers to treatment."
Patrick in June unveiled a $20 million package of proposals to tackle what he called a crisis of addiction in the state and convened a meeting with four other New England governors to develop ways for the states to work together on fighting addiction.
U.S. Senator Edward Markey of Massachusetts, speaking at an event earlier in the day, said the nation as a whole should follow the state's lead in stepping up its battle against addiction to opioid drugs, both legal prescription painkillers such as Vicodin and Percocet, as well as heroin.
Expanding access to treatment for addicts should be a national priority, he said.
"We know what has to be put in place if we're going to dramatically reduce the number of deaths," Markey, a Democrat, told reporters. "It begins with education and prevention but it goes through law enforcement and also treatment as well." (Reporting by Scott Malone; Editing by Eric Beech)
REAL LIFE. REAL NEWS. REAL VOICES.
Help us tell more of the stories that matter from voices that too often remain unheard.
BEFORE YOU GO
PHOTO GALLERY
United States Governors