This summer, California couple Emily and Richard Staley went through one of the most devastating experiences parents can endure when Emily delivered a stillborn baby girl. But thanks to the help of one photographer, their tragedy might help break down the silence around the little-discussed topic of stillbirth.
After about eight months of pregnancy, Emily Staley had grown accustomed to her unborn daughter's energetic kicking, Fstoppers reports. So she knew something was wrong one morning when she didn't feel the baby moving at all. A hospital visit and ultrasound revealed the painful truth: Her baby had died in utero. Reeling from shock and grief, Staley arranged to deliver her stillborn daughter via C-section early the next morning, when Richard could be by her side. And, through the help of a friend, she arranged to have a photographer at the hospital to capture this important time for her family. This practice is not uncommon, as individual photographers and organizations like Now I Lay Me Down To Sleep have been providing "remembrance photography" to parents for many years.
Photographer and mother of three Lindsey Natzic-Villatoro takes pictures of terminally ill, healing, and even deceased subjects for a series she calls "Forever Loved." When a friend of the Staley family reached out to her to request her services, she called the mother immediately, she wrote in a post on her Facebook page. The morning of the delivery, Natzic-Villatoro was present in the operating room and subsequently spent hours with the family at the hospital, photographing them with their stillborn daughter Monroe Faith Staley. "Any image that came to mind, I shot," she wrote in her Facebook post. "I wanted this family to have every possible memory of this child I could physically give them."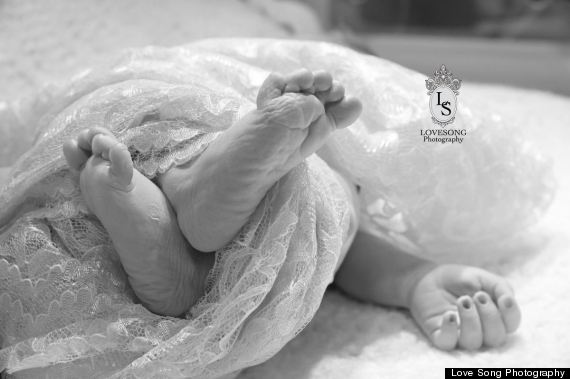 When the photographer shared the pictures and emotional story on her Facebook page, it went viral, leading to an outpouring of support for the family -- including monetary donations to a fund set up to pay for Monroe's funeral service. The link to the fund was removed from the post after the family's goal was "far exceeded," Natzic-Villatoro told The Huffington Post.
Although Natzic-Villatoro photographs stillborn babies fairly often, this particular experience really hit close to home for her. "This was very hard for me because this baby was delivered in the same hospital where I had my 11-month-old," she told The Huffington Post. "Two of the nurses that delivered my baby delivered hers. It was surreal experience because it was like, this could've been me." She added that she hoped the photographs and the Staleys' story could bring comfort to families who have gone through the same thing. "I want to be able to touch other people, not just the clients I'm shooting," she said. "If they're willing to share their story, I want to shine a light on it that can inspire other people."
Furthermore, she said that she hopes her photography can help break down the silence surrounding stillbirths, particularly the parents of stillborn children. "It's almost like people classify them as not even having a child. They don't give them that validation at all. But I firmly believe that you are a mother when you have a stillbirth. You are still a mother regardless of the fact that your child is not living."
The photos collected here are sensitive in nature -- beautiful and devastating all at once.
CORRECTION: This article had been updated to remove potentially misleading medical information.