It's been two days since Valsamma Thampy last spoke to her mother-in-law, an 80-year-old woman who is trapped inside a house in southern India by heavy monsoon floods.
Thampy, who lives in Mumbai, told HuffPost that by Wednesday night, the elderly woman had retreated to the second floor of her two-story house in Pandanad, a village in the state of Kerala that lies right on the banks of the Pampa River. The woman, who usually lives alone, has been joined by neighbors whose own one-story house had been engulfed by the flood waters.
Thampy said she hasn't been able to contact her mother-in-law since Wednesday night ― she thinks the woman's cellphone has run out of charge due to the lack of electricity. There's food and medicine stored in the house, but Thampy said she's not sure if it will last. 
She's hoping for the best.
"The neighbors are there, so for that we are very much relieved," Thampy told HuffPost. "We are trusting in God."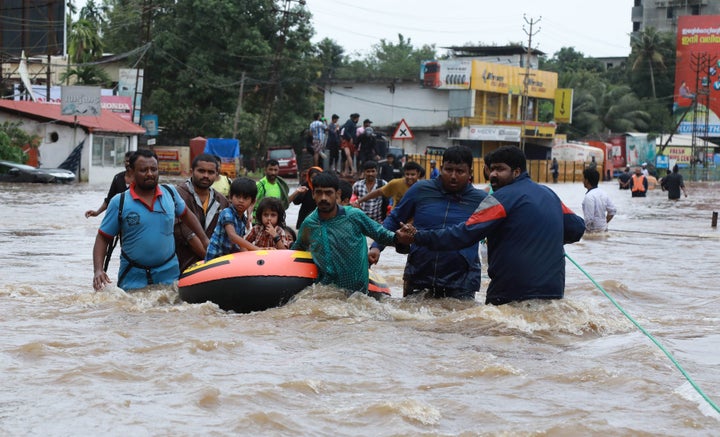 Thousands of people were still stranded on their rooftops after days of heavy rains caused extensive flooding, landslides and building collapses in Kerala. Rescuers were using helicopters and boats to evacuate people to 1,500 state-run camps on Friday.
The state's chief minister, Pinarayi Vijayan, told The Associated Press that at least 324 people had died over the past nine days, while more than 220,000 have sought shelter in the camps.
Vijayan said the crisis was "extremely grave." 
"We're witnessing something that has never happened before in the history of Kerala," he told reporters.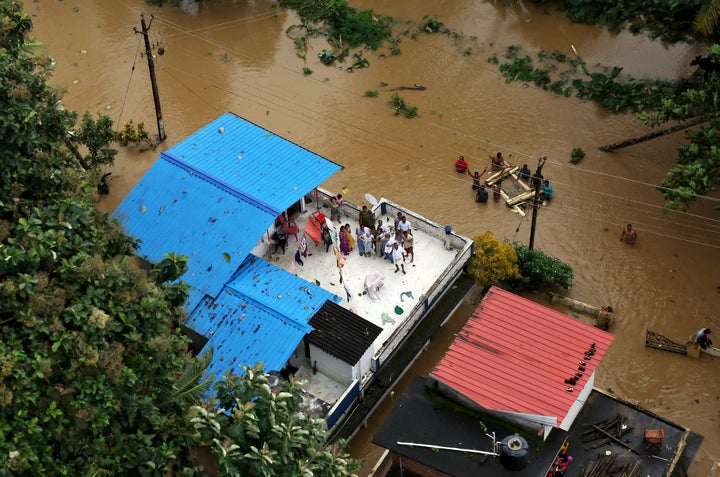 The monsoon floods occur every year in India, but the severity of this year's flooding is unprecedented. Train services have ground to a halt in the state, and an international airport in Cochin has been shut down.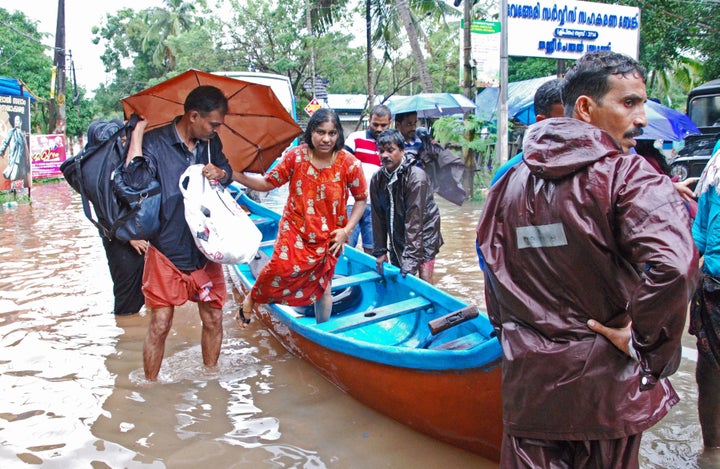 Twelve of the Kerala's 14 districts are severely affected, with the most damage happening in the north and central regions of the state. Some hospitals are facing oxygen shortages and gas stations are running out of fuel. Residents are worried about obtaining clean drinking water. Mobile networks and landlines throughout the region have become unreliable, which has made relief efforts harder to coordinate.
One man in the town of Chengannur managed to post a video of himself standing in the flooded first floor of his home, with the water rising nearly to his neck. The undated video has been shared widely on WhatsApp.
On Friday, Kerala's finance minister tweeted that roads leading to the town of Chengannur had been completely cut off. 
The lack of communication has also left family members in other regions of India and in the broader diaspora frantic for news about their relatives. 
Malayalis began migrating to the U.S. in droves after immigration restrictions were lifted in 1965. Decades later, many of these immigrants' elderly parents are still living in Kerala ― which means news of the floods has hit American Malayali communities hard. 
"Everybody has parents there, has siblings there," said Jiby Thomas, general secretary of the Federation of Malayalee Associations of Americas. "There are lots of old parents, sick parents. It's kind of a real commotion in the community." 
Thomas said his group is trying to funnel requests for information from Malayalis in America to police officers and rescue teams in Kerala. 
The floods are occurring during Onam, a major annual harvest festival that is observed in Kerala and in the diaspora. Thomas said that many Malayali organizations in the U.S. and Canada are canceling their Onam celebrations this year and instead donating funds to relief efforts.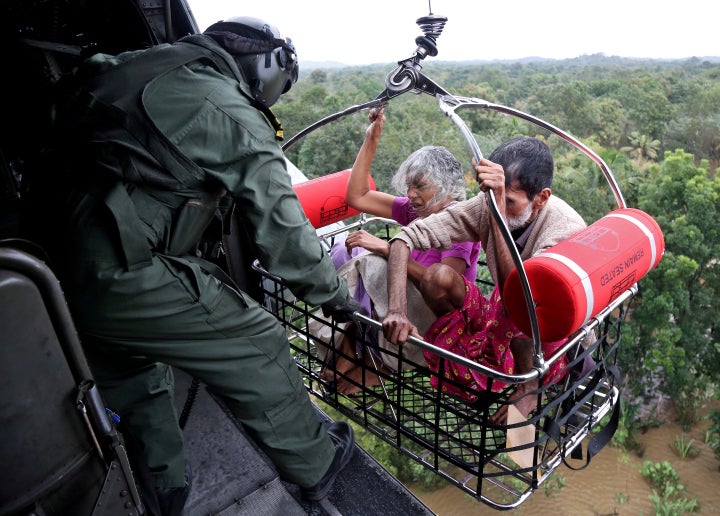 The monsoon floods have also resulted in deaths in the states of Uttar Pradesh, West Bengal, Maharashtra, Gujarat, Assam and Nagaland. In total, Indian officials estimate more than 1,000 people have died in the country during this year's monsoon season. 
Thampy told HuffPost that she can't remember another time when the monsoon in Kerala was this severe. She said she's worried about both the physical and psychological damages the floods will have on her home state.
"Pray for Kerala, that's the only thing we can do." she said. "It's God's own country, he will take care of his own country." 
Calling all HuffPost superfans!
Sign up for membership to become a founding member and help shape HuffPost's next chapter
BEFORE YOU GO
PHOTO GALLERY
Devastating Monsoon Floods Hit Kerala, India