One of the small things Ellen Stern struggles with now is what to say when a new acquaintance asks her how many kids she has.
"Twice now, I've said that I have three children," said the 43-year-old mother from Malibu, California. "And then I rush in and tell them that I just lost a son to cancer."
She has considered saying she has three kids and then skipping the detail that one of them just died. But that also feels wrong to her. "I don't ever want to feel that I've done a disservice to Jonah by not mentioning him. He fought so hard and valiantly for those 10 months," she said.
The unspoken answer -- the one she can't come to grips with -- is that she now has two surviving children: Jonah's twin brother Joshua is 11, and their sister Sydney is 13. Understandably, that's too hard a reality to accept. Jonah lives in her heart and fills her thoughts every day. She catches a glimpse of him occasionally in the face of his twin brother, and thoughts of "What else, what more could we have done?" haunt her frequent sleepless nights.
She sleeps with Jonah's blanket, save for the small swatch of it that she buried with him. She has kept a candle burning in the kitchen for him 24/7 since his funeral, and the room he shared with his brother remains just as it was the last time he saw it. And somehow she gets out of bed every morning and gets through the day, caring for her family and herself as best she can.
"There is no choice, is there?" she asked.
"Childhood cancers are rare. They are a different beast than adult cancer, ferocious and aggressive," she said. The accuracy of her words is borne out by statistics from the National Cancer Institute, which says that in 2014, some 15,780 children in the United States will be diagnosed with cancer and 1,960 kids will die of the disease.
Jonah Stern's 10-month fight against a rare cancer known as Alveolar Rhabdomyosarcoma -- a soft-tissue cancer -- ended on May 14, three days after Mother's Day. Rhabdomyosarcomas account for only about 3 percent of all childhood cancers, with just 350 new cases occurring each year in the U.S., according to Jonah's doctor, Leo Mascarenhas, head of oncology at Children's Hospital Los Angeles. Alveolar Rhabdomyosarcoma occurs in one in a million children under age 15, Mascarenhas said. Jonah was that one-in-a-million kid.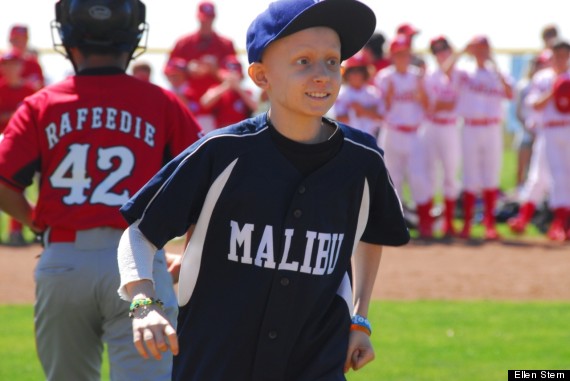 Jonah's first symptoms occurred while the family was on a long-planned trip to London and Israel in June 2013. On the plane to Tel Aviv, he had an inexplicable nosebleed, and the ensuing days brought a sharp pain in his eye, a swollen lymph node, headaches and more nosebleeds.
"We knew something was going on," Ellen recalled. "We just never imagined it would be this."
Just hours after arriving back home, Jonah's symptoms worsened in the middle of the night, and he was taken by ambulance to the hospital emergency room. He was admitted, and for the next five days he underwent a barrage of medical tests. Ellen and her husband, Geoff, never left his side. Their jet lag was simply absorbed into the hospital's circadian rhythms. Night and day blurred while they waited for the news, and when it came, it was their worst-case scenario: A cancer mass the size of a golf ball was lodged between Jonah's sinus cavities. Test results were inconclusive about which stage the cancer was, but the consensus was clear: Their son was seriously ill, and treatment needed to start immediately.
Jonah, a smart and intuitive child, listened intently to the news when his parents delivered it, Ellen said. "We told him he had cancer and explained what that meant. We told him how the doctors wanted to treat it," she said.
Then Jonah, with words that cut straight through his parents' hearts, asked, "Am I going to die?"
"We answered honestly," said Ellen. "We said that we were focused on getting him better. We said there would be times that the medicine would make him feel not very good, but that everyone in the family would be there with him all the time, that he would never be alone."
For each hospital stay, he had to undergo pre-admissions tests. There were countless doctors' visits and endless hours waiting around for test results; his dad was there by his side for each one. Blood was drawn frequently. He had a peripherally inserted central catheter put in, and a G-tube was inserted for feeding. Chemo sessions left him vomiting and exhausted for days. When Jonah's hair fell out, Geoff let Jonah shave his own head in solidarity and posted the photo on Facebook to hundreds of likes and comments. Support from friends, family and community was "crucial," said Ellen.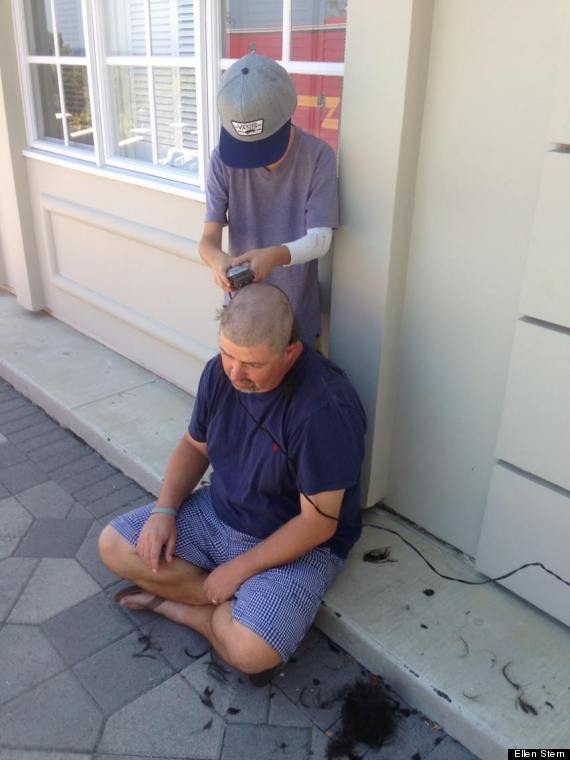 And life was lived in the gaps.
Between 60-mile roundtrip visits to the hospital or clinic in LA, the family played baseball, the kids went to school. Jonah had a teacher come to the house to keep him current with his fifth-grade schoolwork. For the six weeks Jonah was getting treatment in Houston, the family rented a condo-hotel nearby. Every night that Jonah spent hospitalized, one or both parents slept at his side.
On the days between treatments, they went to ball games, visited the Space Center Houston and went to the park. They took a side trip to Galveston, where they walked the boardwalk. Because of Jonah's weakened immune system, crowded movie theaters were off-limits -- although they did once get the doctors' permission to go see "Spiderman," because Jonah wanted so very much to see it.
It was hardly life as "normal," but it became "our new normal," said Ellen.
In November, when Jonah completed his radiation treatment in Texas, the family posted on Facebook a photo of him ringing the gong at MD Anderson. It was a symbol of the finality of his treatment. And when he concluded his chemotherapy at Children's Hospital LA in April, the staff gathered to sing "Hit The Road Jack" to him. Scans and tests had been done in December 2013, and all looked good.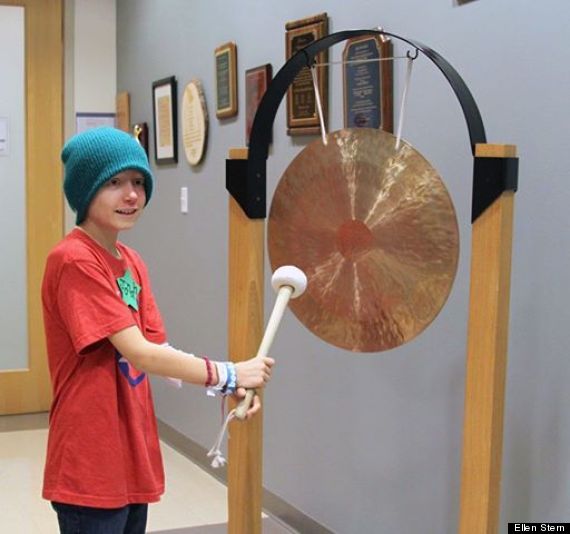 But with the end of the cancer road in sight, Jonah's health took a U-turn. While he was at the hospital for his routine end-of-treatment scans, he had his first seizure. The cancer, after being controlled, had spread to his brain.
The doctors delivering the grim news said it wasn't the outcome they were expecting. They said there was not much more they could do for Jonah.
"We would not accept it," said Ellen. "How can you ever stop trying?" The doctors switched the treatment protocol.
Jonah remained hospitalized until a few days before his 11th birthday. When asked what he wanted for his birthday, Jonah said it was to spend it at home. The doctors gave him his birthday wish. Ellen presented Jonah and his twin brother Joshua with individual birthday cakes, as she has done every year. They invited some friends and family over and had pizza and salad. A few days later, Jonah had another seizure -- one from which he never fully awoke. He died about two weeks later, surrounded by family, his parents both holding him.
More than 800 people attended Jonah Stern's funeral at Mount Sinai Cemetery in Los Angeles. His fifth-grade class launched a toy drive and delivered more than 1,200 toys to sick children at Children's Hospital LA in tribute. His elementary school honored him at the fifth-grade promotion ceremony, and planted a lemon tree in the school's garden. His classmates each wrote a word or drew a picture on a tile to portray what Jonah meant to them, and then read aloud what they had written as they placed their tile in the soil by the lemon tree.
For Ellen, days now just come and go, sometimes punctuated by an innocent comment from a well-meaning friend or acquaintance. Recently a woman in her Pilates class asked how "the kids" were. It doesn't get easier to answer, "Well, Jonah died in May from cancer," Ellen said.
It's a "new normal" all over again, she said, and she is doing her best to adjust while keeping Jonah close. After 10 months of having her family's daily life shaped by caring for a child with cancer, there is a void in both her heart and her day. Friends often don't know what to say to her, she observed. She smiles a lot and has tried to wear bright colors to project a happy image.
"If I have a bad day, I light a candle," she said. "But the hole won't go away."
[CORRECTION: A previous version of this article cited Dr. Leo Mascarenhas, head of oncology at Children's Hospital Los Angeles, as saying that one in a million children under the age of 10 get Alveolar Rhabdomyosarcoma. A representative for the hospital told HuffPost after publication that in fact it is one in a million children under the age of 15.]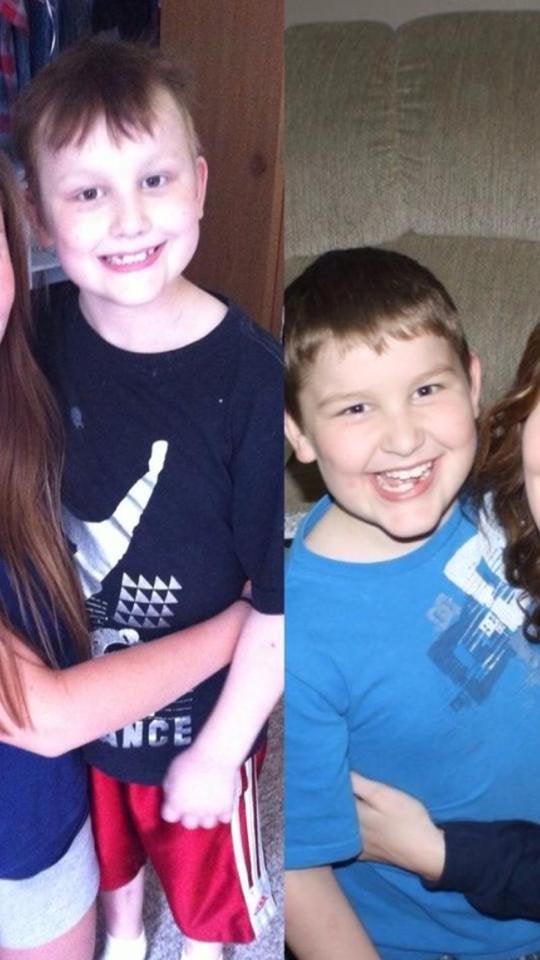 This Is What Pediatric Cancer Looks Like